The first day of autumn is tomorrow, but I don't think summer has gotten the memo. The afternoons are still very hot, and everything is lush and green. Autumn has started tiptoeing around the edges though, and I'm definitely enjoying the cooler mornings and nights and cannot wait until the trees start turning color.
In celebration of my favorite season I made apple cider donuts, and the smell while they're baking is incredible! The last time I enjoyed them was years ago in Vermont. I was with a couple of friends, and we were heading home after a day of "leaf peeping." We stopped in at a family farm, after seeing a sign announcing fresh apple cider and homemade apple butter. Still very much in love with both of those. 💖 The couple had also just made apple cider doughnuts, and they shared a big plateful with us. I honestly will never forget how good they were. Still warm and dusted with cinnamon and sugar. The thinnest of crispness to the outside, and OH MY GAW the inside was so tender and fluffy. You could smell and taste the fresh apples and spices. I practically begged them to adopt me. haha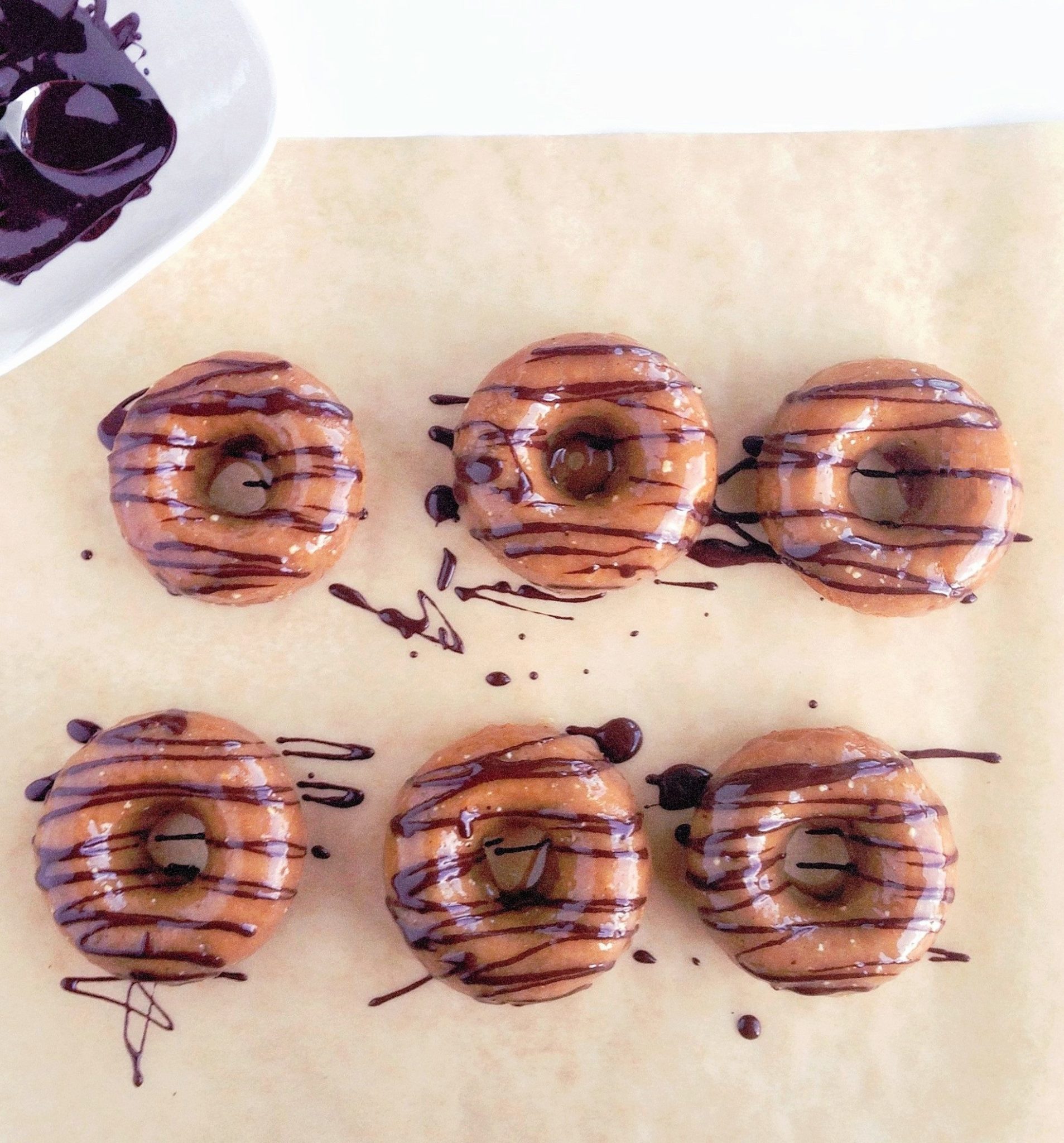 You could probably get a pretty similar texture by frying these, but I have a fear of deep frying (not kidding). Also, I wanted them to be a healthier treat. And now that I think about it, you would probably have to make the batter more sturdy. If you decide to play around with the recipe, and go that route, let me know how it turns out.
Ingredients
1 tablespoon flaxseed meal

3 tablespoons water

3/4 cup white spelt flour or unbleached flour

1/4 cup almond flour

1 tablespoon tapioca starch

1/3 cup coconut sugar

3/4 teaspoon baking powder

1/8 teaspoon baking soda

1/2 teaspoon ground cinnamon

1/8 teaspoon salt

1/2 cup apple cider, at room temperature*

1 1/2 tablespoons melted coconut oil

1/2 teaspoon vanilla extract

Caramel Glaze:

1 tablespoon raw coconut butter (or coconut oil)

3 tablespoons plain almond butter

3-4 tablespoons maple syrup
Instructions
1
To make the flax egg, stir flaxseed meal and water in a small bowl; cover and refrigerate for 45 minutes. Stir once more and leave on the counter. Preheat oven to 350°F. Lightly coat a 6 donut pan with non-stick cooking spray; set aside.
2
In a medium bowl, whisk the flours, tapioca starch, coconut sugar, baking powder, baking soda, cinnamon, and salt together; set aside.
3
In a small bowl (I used the glass measuring cup with the cider in it) stir the apple cider, coconut oil, flax egg, and vanilla extract together. Pour into the flour mixture and stir just until combined.
4
Spoon the batter evenly between the donut wells. Smooth the tops and bake for 15 minutes, or until a toothpick inserted in one comes out clean. Remove pan to a wire rack, and allow donuts to cool in pan for 5 minutes, and them tap them out onto a cooling rack to cool completely.
5
Caramel Glaze or Drizzle: Stir all the ingredients together until smooth and thin enough to glaze (but not too thin, or it won't set). If your maple syrup is cold, and makes the mixture too stiff, you can microwave it about 10-15 seconds. Dunk the donuts into the topping, or drizzle it on instead. I'm going to do that the next time, because it was a little too heavy as a glaze for my taste.
Notes
*If you use apple juice, instead of apple cider, then increase the ground cinnamon to 1 teaspoon.