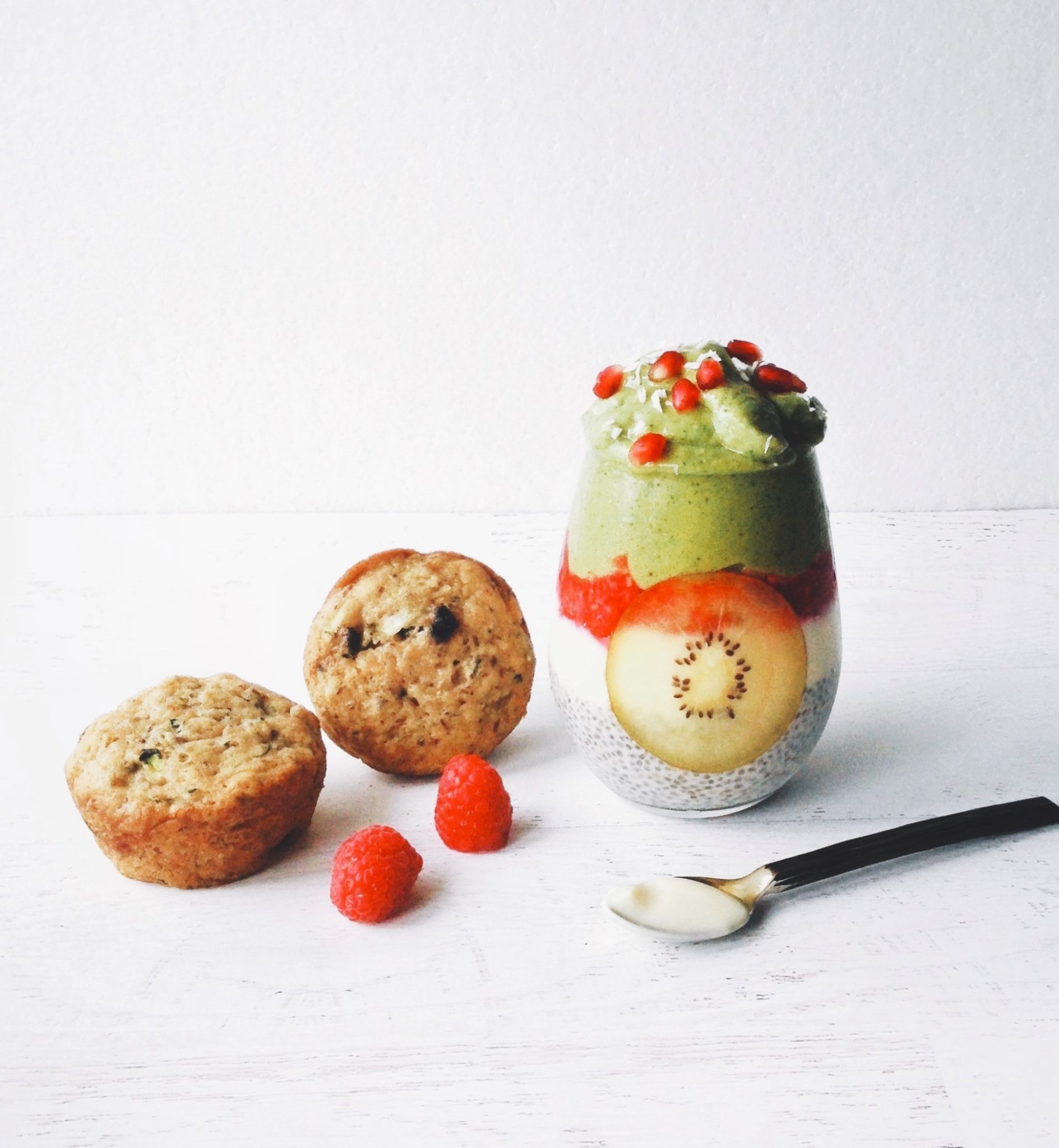 The local farmer's market had some beautiful deep green zucchini, so I got a bunch to make into zoodles. I ended up using all but one for another dish though, so I decided to make them into a small batch of autumn style muffins instead. I used warm spices and tart cranberries, and I would have used walnuts too but was out of them. They add another lovely layer of taste and texture, so I'll definitely toast some next time I make them.
These muffins turned out so good, and the moisture from the zucchini was perfect- not too dense, just right. They taste even better the next day when the spices mingle more. I'm going to try this with shredded apples too. If you do sub in apples, be sure to drain them though. I mentioned two ways to do that in the notes below.
Ingredients
3 tablespoons water

1 tablespoon flaxseed meal

1/4 to 1/3 cup chopped walnuts, optional

1 1/2 cups unbleached white wheat flour

3/4 cup coconut sugar

1 1/2 teaspoons baking powder

1/2 teaspoon baking soda

1 teaspoon ground cinnamon

1/2 teaspoon pumpkin pie spice

1/4 teaspoon fine sea salt

1/3 cup melted coconut oil

1 teaspoon pure vanilla extract

1 1/2 cups grated fresh zucchini*

1/2 cup dried cranberries, optional
Instructions
1
To make the flax egg, stir flaxseed meal and water in a small bowl; cover and refrigerate for 45 minutes. Stir once more and leave on the counter.
2
In the meantime. Heat a large skillet over medium heat. Add the walnuts to the hot, dry pan. Cook, stirring frequently, until the walnuts start to brown and they smell toasted, about 5 minutes. Watch carefully, because they can burn pretty fast. Transfer the walnuts to a plate large enough where they can cool in a single layer. They'll continue to "toast" from their heat.
3
Once the flax egg is ready, and the walnuts cool, preheat oven to 375°F. Coat 10 muffin tins with non-stick cooking spray. (I didn't use liners, because I think the muffins would stick to them.)
4
In a medium mixing bowl, whisk the flour, sugar, baking powder, baking soda, cinnamon, pumpkin pie spice, and salt; set aside
5
In a large mixing bowl, whisk the coconut oil and vailla together. Stir in the flax eggs, and then stir in the zucchini until mixed.
6
Stir the flour mixture into the wet until almost combined. Then fold in the cranberries and walnuts just until incorporated. Do not over mix.
7
Scoop about 1/4 cup of batter into 10 muffin cups, and fill the remaining 2 empty cups a little less than half full of water. Bake for 20 or until a tester inserted in the top of one of the muffins comes out clean.
8
Remove the pans to a cooling rack for 5 minutes, before removing the muffins to a wire rack to finish cooling.
9
You can store the muffins in an airtight container, at room temperature, for a couple of days. They will stay fresher in the refrigerator, 5-7 days, or in the freezer for up to 3 months. Defrost in the fridge overnight.
Notes
* Most recipes tell you to squeeze the grated zucchini in paper towels or drain in a strainer. I didn't do either, and my muffins turned out really moist, but not soggy. I used a smaller zucchini though. If you're using a large one, you may want to put the grated portion in a strainer over a bowl to drain (discard liquid).