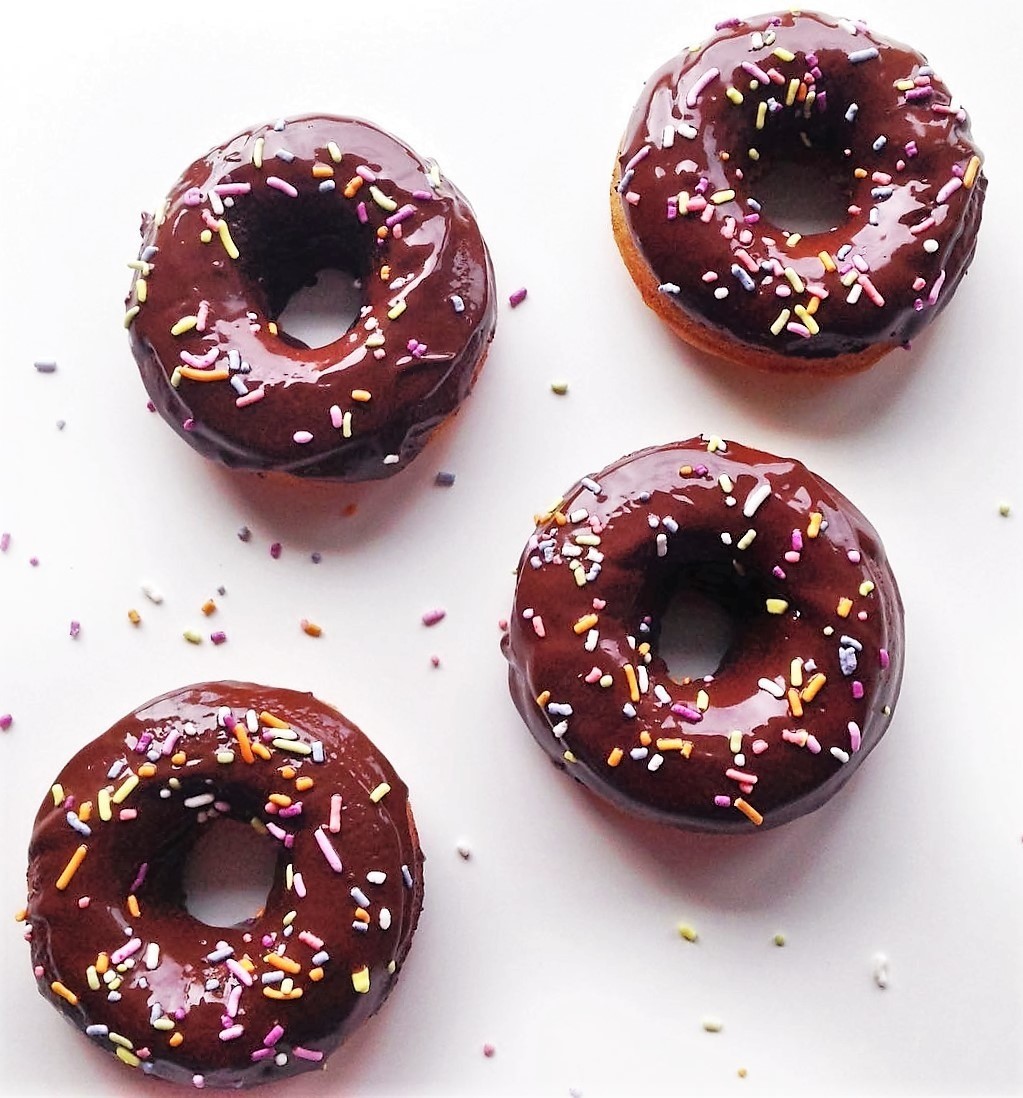 When I was growing up, my dad would go to a little bakery early Saturday morning and get doughnuts for us. It wasn't often, just a special treat. My favorite had more to do with the name than actually liking the taste. I was pretty bummed years later to find out that it wasn't really called "Barbarian" Cream. hah
I haven't eaten doughnuts in years, because I almost always feel sluggish and not that great afterward. I was curious about the vegan donuts I've been seeing on Instagram though. I decided to see if I could make a healthier version. After a couple of test runs and tweaks I came up with these mango donuts. They're very tender, and taste really good! The best part is I haven't experienced any of the downsides I remember from regular donuts. I already have ideas about apple cider donuts, and savory cornbread ones to eat with chili when cold weather comes back.
Ingredients
1 tablespoon flaxseed meal
3 tablespoons water
3/4 cup unbleached flour
1/4 cup almond flour
1 tablespoon tapioca starch
1/3 cup coconut sugar
3/4 teaspoon baking powder
1/8 teaspoon baking soda
1/2 teaspoon ground cinnamon
1/8 teaspoon salt
1/2 cup mango juice, at room temperature
1 1/2 tablespoons melted coconut oil
1/2 teaspoon vanilla extract
Chocolate Glaze:
1/3 - 1/2 cup non-dairy chocolate chips
Instructions
1
To make the flax egg, stir flaxseed meal and water in a small bowl; cover and refrigerate for 45 minutes. Remove to counter and preheat oven to 350°F. Lightly coat a 6 donut pan with non-stick cooking spray; set aside.
2
In a medium bowl, whisk the flours, tapioca starch, coconut sugar, baking powder, baking soda, cinnamon, and salt together; set aside.
3
In a small bowl (I used the glass measuring cup with the juice in it) , stir the mango juice, coconut oil, flax egg, and vanilla extract together. Pour into the flour mixture and stir just until combined.
4
Spoon the batter evenly between the donut wells. Smooth the tops and bake for 15 minutes, or until a toothpick inserted in one comes out clean. Remove pan to a wire rack, and allow donuts to cool in pan for 5 minutes, and them tap them out onto a cooling rack to cool completely.
5
Chocolate Glaze: Place the vegan chocolate chips (I used mini chips) in a small microwave safe bowl. Melt the chocolate chips in 30 second increments. Stirring after each increment until the chocolate is melted and shiny. It only took me a total of 1 minute. I used a small dinner knife to coat the donuts.
Notes