I know the title makes quite a large claim, but oh these cookies!! They are so luscious when they're still warm from the oven. The chocolate adds a deep flavor, and the addition of coconut oil makes the texture very soft and silky, but fluffy too. It's like biting into a chocolate truffle in cookie form. The next day they turn into a dreamy, classic chocolate chip cookie. The bottom is firm, without being hard. The top and sides have a thin whisper of crisp crumb, and the inside is both tender and chewy. Yum, Yum, Yum!! So you have a treat that starts out like a truffle, and ends up tasting like the best of chocolate chip cookies.
Finding the perfect combination took a few tries. I made different variations of it to see what worked and what didn't. The recipe I posted here is the one we loved the best. You might have a different preference though, so I'm going to break down the details of it. That way you can adjust it to suit your taste.
Bread flour makes cookies thicker and chewier, but if you'd like less of that texture then replace some or all of it with all-purpose flour. Whatever flour you use, try and find unbleached. I haven't tried these with all spelt flour yet, so I don't have the measurement adjustments for it. Spelt flour doesn't have as much gluten as regular flour and also absorbs less liquid than regular flour. You'll need to play around with the leavener and liquid measurements if you use spelt.
My first test run was with all coconut oil. I made half of the dough using softened coconut oil. The other half of the dough I melted the coconut oil and cooled it for about 3 minutes before using. In both cases the cookies turned out too greasy, so the next batch I used Earth Balance stick butter instead. They tasted a little too strongly of vegetable oil. The best cookies were made using half stick butter and half coconut oil. It was the happy balance I was looking for. I didn't taste any vegetable oil or even coconut either. They also didn't spread out, so you don't have to worry about overlapping cookies.
The other areas where you can change the taste and texture are the sweetener, egg replacement, and leavener. When it comes to sugars, use less of the brown and more of the cane sugar for a crisper cookie. If you want a richer flavored one, then use more of the dark and less of the white. Using dark brown sugar, versus light brown sugar, will give you a darker cookie with more of a caramel-molasses taste. You can also adjust the amount of sugar to make it less or more sweet. My brown sugar is coarser, and so is my coconut sugar and cane sugar. If you're using fine or superfine sugar, then your cookies will be sweeter with these measurements.
I haven't tried baking with any of the commercial egg replacers, so let me know what you think about them. There are a bunch of different options you can use, but I have only tried these cookies with flax egg. Since this recipe has nuts in them, you can't taste the flax. If you aren't using nuts, then you should probably use a chia egg. They have a neutral flavor. Although I just had a great idea. If you can't use nuts, due to a reaction to them, you can still get the taste of them by using a flax egg for a nuttier flavor.
And the last area is the leavener. If you use much less of the brown sugar, or omit it completely, then you're going to need to change the leavener amounts and choice. Otherwise the baking soda won't have the brown sugar to react with, and your cookies could have a bitter taste. The following information will help you make any adjustments you need to- using baking soda and using double-acting baking powder.
This last test run I made half of the dough with dark chocolate chips and pecans, and the other half with dried cranberries, pistachios, and 1/2 teaspoon of pumpkin pie spice. (Use 1 teaspoon if using the full recipe). The very first time I tested the recipe, I also added crystallized ginger to the cranberry cookies. I actually ended up preferring the cookies without the ginger. They would work better in a different type of cookie though, and I found a recipe for homemade crystallized ginger. It uses maple syrup, and not that much of it either. I do think it would be perfect in a cookie with almonds and dried fig chunks, and I can't wait to try that idea.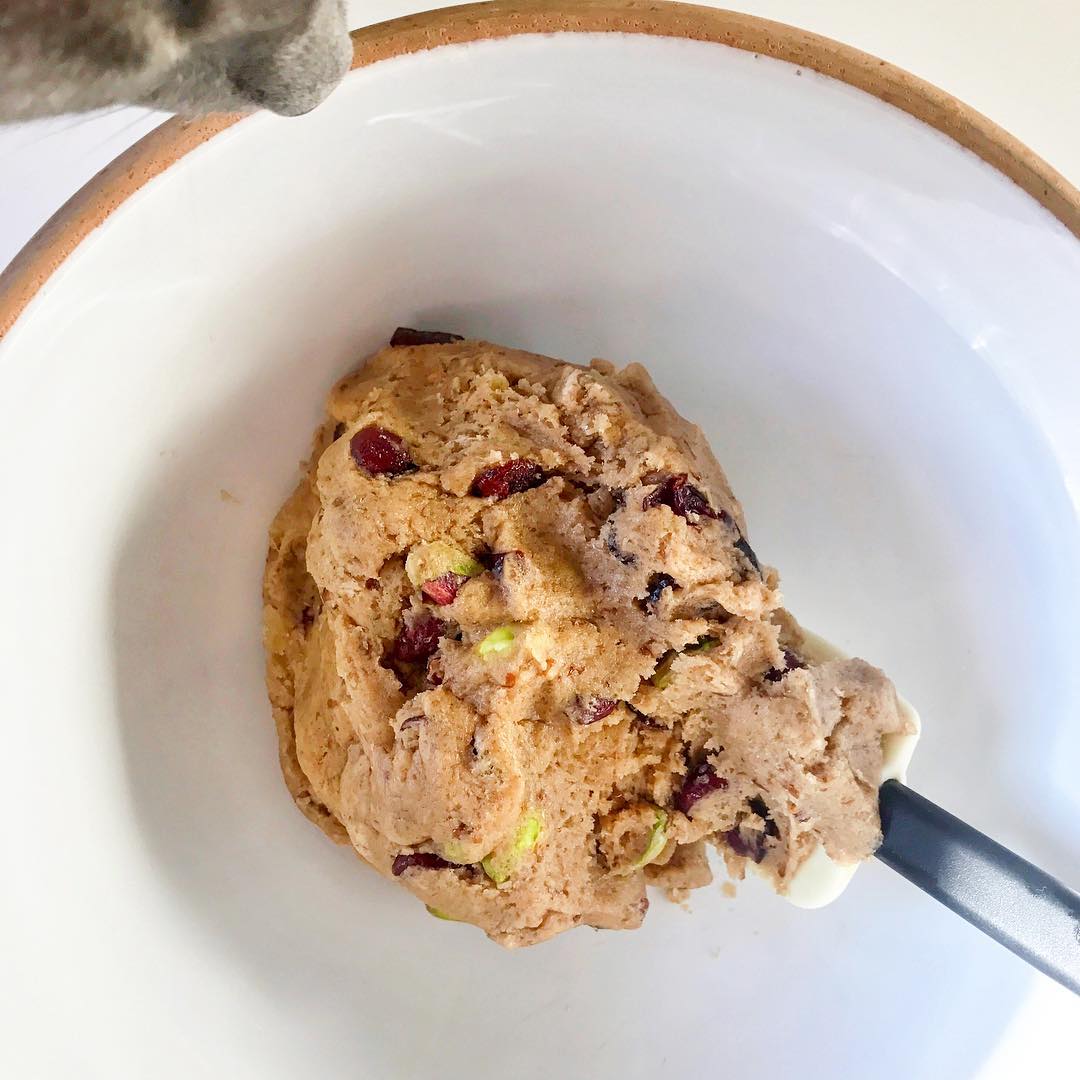 The picture above was the cranberry pistachio gingersnaps. (I scooped the dough out of my very shiny and glaring bowl, so you could see the dough better. This was taken on my photo board, so my cat isn't up on the counter. lol She does loves picture taking time for some weird reason.)
Ingredients
3 tablespoons water

1 tablespoon flaxseed meal

1 cup bread flour

1/2 cup white spelt flour, or all-purpose flour

1/2 teaspoon baking soda

1/8 teaspoon baking powder

1/4 teaspoon fine sea salt

1/4 cup coconut oil, softened but not melted

1/4 cup vegan stick butter*, at cool room temperature

1/3 cup + 2 tablespoons organic brown sugar

1/3 cup coconut sugar, or cane sugar

1 teaspoon pure vanilla extract

2/3 to 3/4 cup chocolate chips**, dried fruit, or a mix

1/3 cup chopped nuts, optional
Instructions
1
To make the flax egg, stir flaxseed meal and water in a small bowl; cover and refrigerate for at least 1 hour. Stir once more and leave on the counter.
2
Preheat the oven to 350°F. Line 2 large baking sheets with parchment paper; set aside.
3
Stir up the flours a bit, and then spoon the flour into the measuring cups; level off the top with a knife. This will help ensure that you don't use too much flour, and it really does make a huge difference. Pour the measured flours into a medium bowl, along with the (pumpkin pie spice if using), baking soda, baking powder, and sea salt; whisk until combined and set aside.
4
In a medium mixing bowl, cream the oil, butter and sugars on medium speed until fluffy, 1 1/2 minutes up to 2 minutes. Stir in the flax egg and vanilla extract. Add the flour mixture and beat on low speed just until almost combined. It will look dry and crumbly, but it'll come together. This is when you add your preferred add-ins to the dough. You can stir it at this point, but I like to use my hand. If you've ever made yeast bread by hand, then it's like kneading. Just pick up the dough with one hand and press gently down, and keep turning and folding the dough over until the dough is mixed and the add-ins blended evenly. Don't over stir or knead though, because it will make the cookies oily.
5
Scoop the dough by rounded 1 tablespoonfuls 1 1/2 to 2 inches apart onto the prepared baking sheets. Bake for 10 to 12 minutes, or until edges are lightly brown and tops look set. You can also make "monster" cookies by using 3 rounded tablespoonfuls for each cookie. You'll need to increase the baking time to 14-16 minutes. Remove pan to a cooling rack, and let cookies cool for 7-10 minutes on the pan before removing them to a wire rack to cool completely
6
Store in an airtight container for 3 to 4 days, or in the fridge for a week.
Notes
* I used 1/2 stick of Earth Balance stick butter, but I'm going to try it with this vegan butter next time.
** I used Enjoy Life dark chocolate Morsels (I only use 2/3 cup of add-ins, because I like a more even balance of dough.)