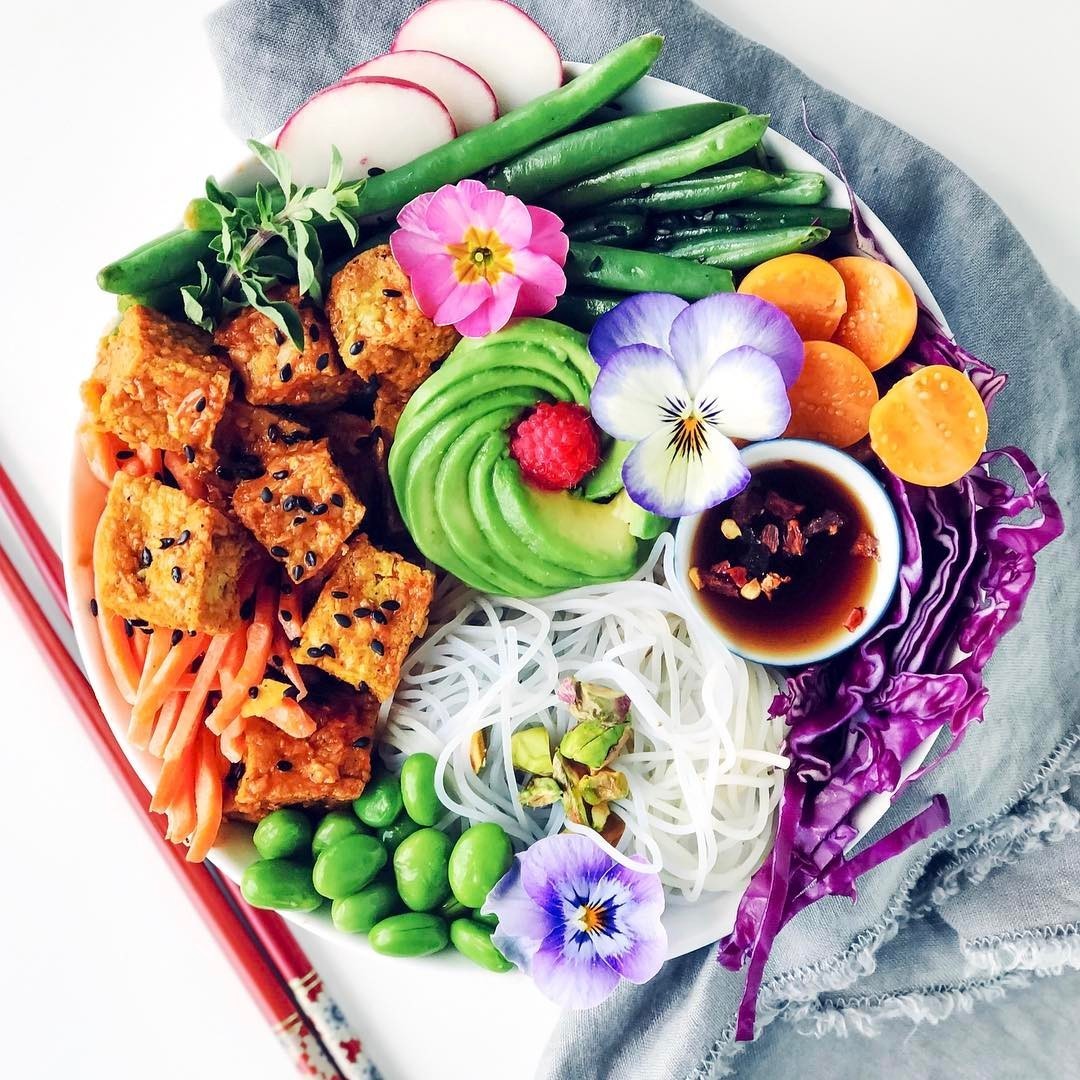 Just foraging some more posts from my Instagram. This time the theme is Buddha bowls, which I love, and I have even more on my account if you are looking for ideas. Foraging is actually a great description of my bowls too, because that's what the majority of them are made up of… a mix of different leftovers I find in my fridge at the end of the week. There's not enough of any one to make a complete meal, but I don't want to waste food either. So I throw them together in a bowl, add in fresh veggies (and sometimes fruit too), and I make up a simple sauce to tie the flavors together.
The Buddha bowl featured above is one of the first I posted. You can read more about it here .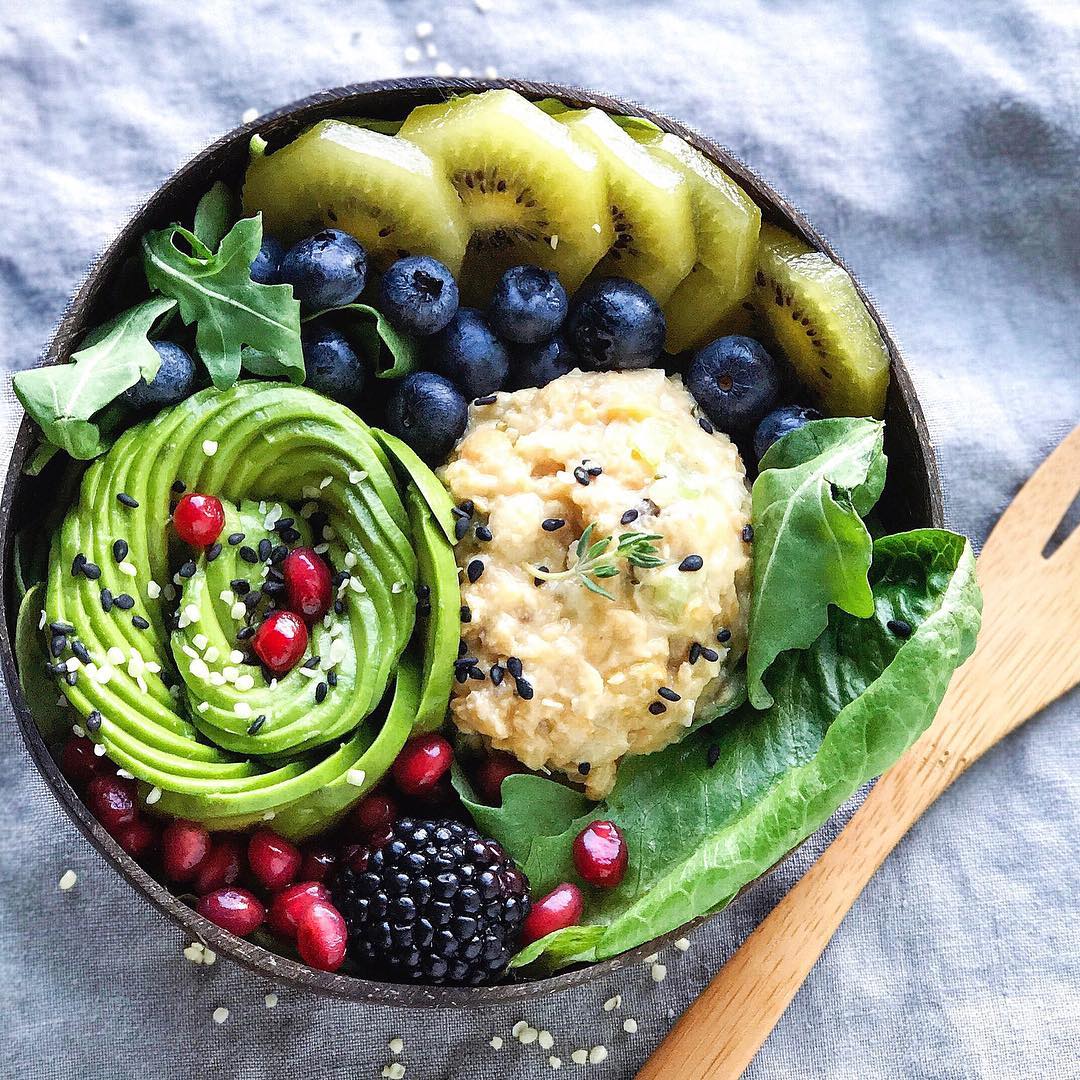 You know the other thing I've found is that eating out of a bowl makes the food better. I don't know why that is, but my husband thinks so too. I now have a bunch of different types and sizes, and we use them all quite often. Like the chickpea salad in the bowl above (recipe is on this post) . We had that on sandwiches for dinner, and then had it in this salad I threw together for lunch the following day. We both preferred it as a bowl meal. I also added fresh fruit, and that may sound weird, but fruit tastes really good in savory dishes. You should definitely play around with different pairings to see what contrasts of sweet or tart you like.
Like in the rice noodle bowl below where I added in some pomegranate arils. I wanted a little bite of texture and tartness to contrast the creamy and cool taste of the cucumbers and miso tahini sauce . It was perfect, and my husband even liked it even though he's not a pomegranate fan. lol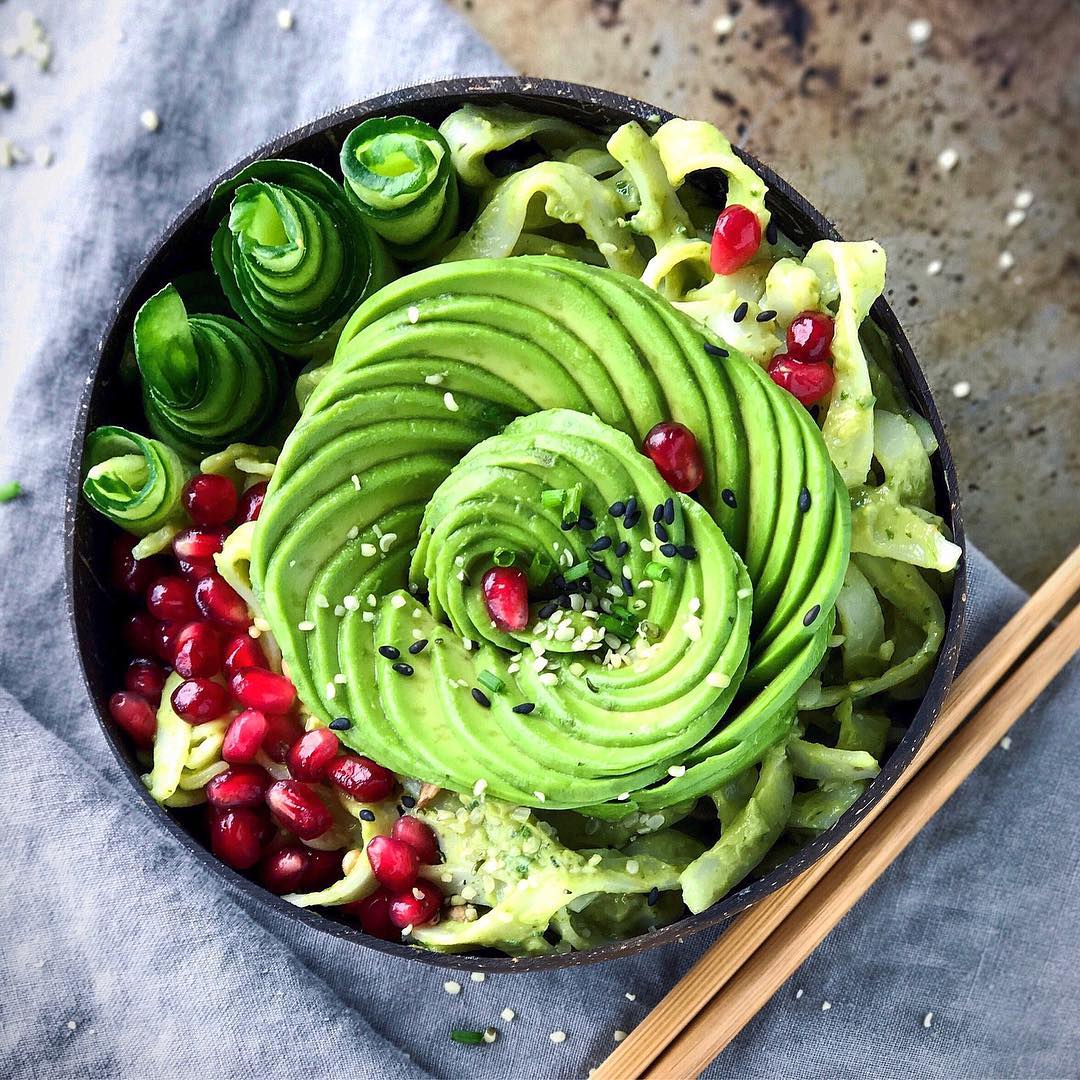 The other great thing about not plating your food is portion control. For heavier meals I'll use smaller ones, and for salad or lighter fare I'll bring out the big boys. My husband usually gets the larger ones anyway, because he has a very lean build and can consume just about anything. Ugh
Looking back over my bowls I see that the only recurring ingredient is an avocado rose. But hey, the roses dress up the bowl and also taste great no matter what the different flavors are. I also love eating very colorful food, eating the rainbow. And sometimes I'll even color the rice or dips too, because it seems to make the meal even more enjoyable and doesn't add much more time to putting it together. I use natural food dyes like beet or butterfly tea to jazz things up, like I did in with the blue hummus and pink rice in the unicorn bowl below.
Feed the body and feed the soul too. Japanese know that very well, and they do such gorgeous food presentation. Not that I have those same type of skills lol, but I too believe in the presentation of food for the eyes.
So the next time you're really hungry, short on time, and just have leftovers that you're bored with… instead of picking up the phone to call delivery, grab a bowl instead. Mix those leftovers with some salad, fruit, and drizzle over a simple homemade or bottled sauce. You'll end up with something more magical and healthy than takeout, and you can use the money you saved on something else. Like a thank you gift to me. haha