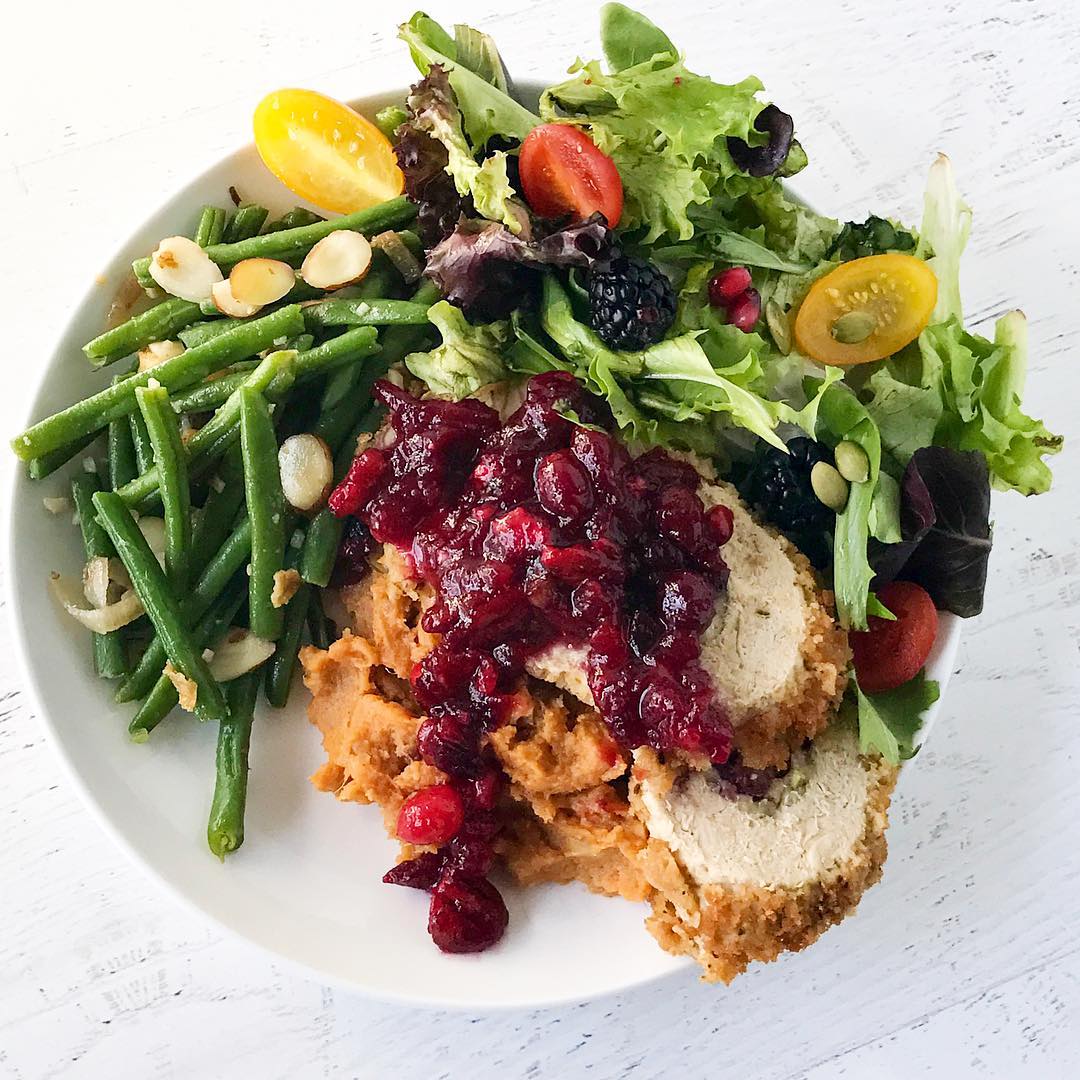 This is such an excellent meal for the holiday season, because both vegans and omnivores will love it. Another huge plus is that it's easy to put together, and oh the flavors!
I made a Gardein stuffed holiday roast for the main dish at Thanksgiving, and it definitely will be making another appearance for the upcoming holidays.
For the cranberries, I make Kate's Naturally Sweetened Cranberry Sauce recipe with a few changes. Use pure maple syrup as the sweetener and don't add orange zest. After you cook the cranberries, and let them cool completely, add the following: 2 stalks of finely diced celery, 1 cup of walnuts coarsely chopped, and 1 to 2 tablespoons of marmalade. I use this brand- Ginger & Orange Marmalade.
For the mashed sweet potatoes, you'll need 4 large sweet potatoes, 6 tablespoons non-dairy butter, 1/4 cup pure maple syrup, 1 teaspoon Ceylon ground cinnamon, 1/2 teaspoon pumpkin pie spice, 1 teaspoon pure vanilla extract, and a couple of minced fresh thyme sprigs.
Scrub the potatoes, prick the top with a fork a couple of times and place on a parchment lined baking sheet. Roast at 350 degree F. in an oven for about 1 1/2 hours. Once baked, remove the skins and place in a large bowl with the rest of the ingredients. Mash together and then whip it with a beater to make it fluffy.
Ingredients
1 pound of haricot verts

1 large or 2 medium shallots, thinly sliced

1 to 2 garlic cloves, minced

couple of sprigs of minced fresh thyme

couple of sprigs of minced fresh rosemary

sea salt and pepper to taste

1/3 cup lightly toasted thinly sliced almonds
Instructions
1
Boil water in a large pot, add the beans, and cook for 3-5 minutes. You want them still crisp but not raw. Drain in a colander and rinse with cold water to stop the beans from continuing to cook; set aside.
2
In the pot you boiled the beans in, heat 1 to 2 tablespoons of olive oil over medium heat. Add the shallots and cook, stirring occasionally, until browned and tender, about 5 minutes. Add the beans, garlic, thyme, and rosemary and cook stirring constantly until the beans are just heated and the garlic fragrant. Season with salt and pepper. Remove to a serving dish and sprinkle the almonds over top.