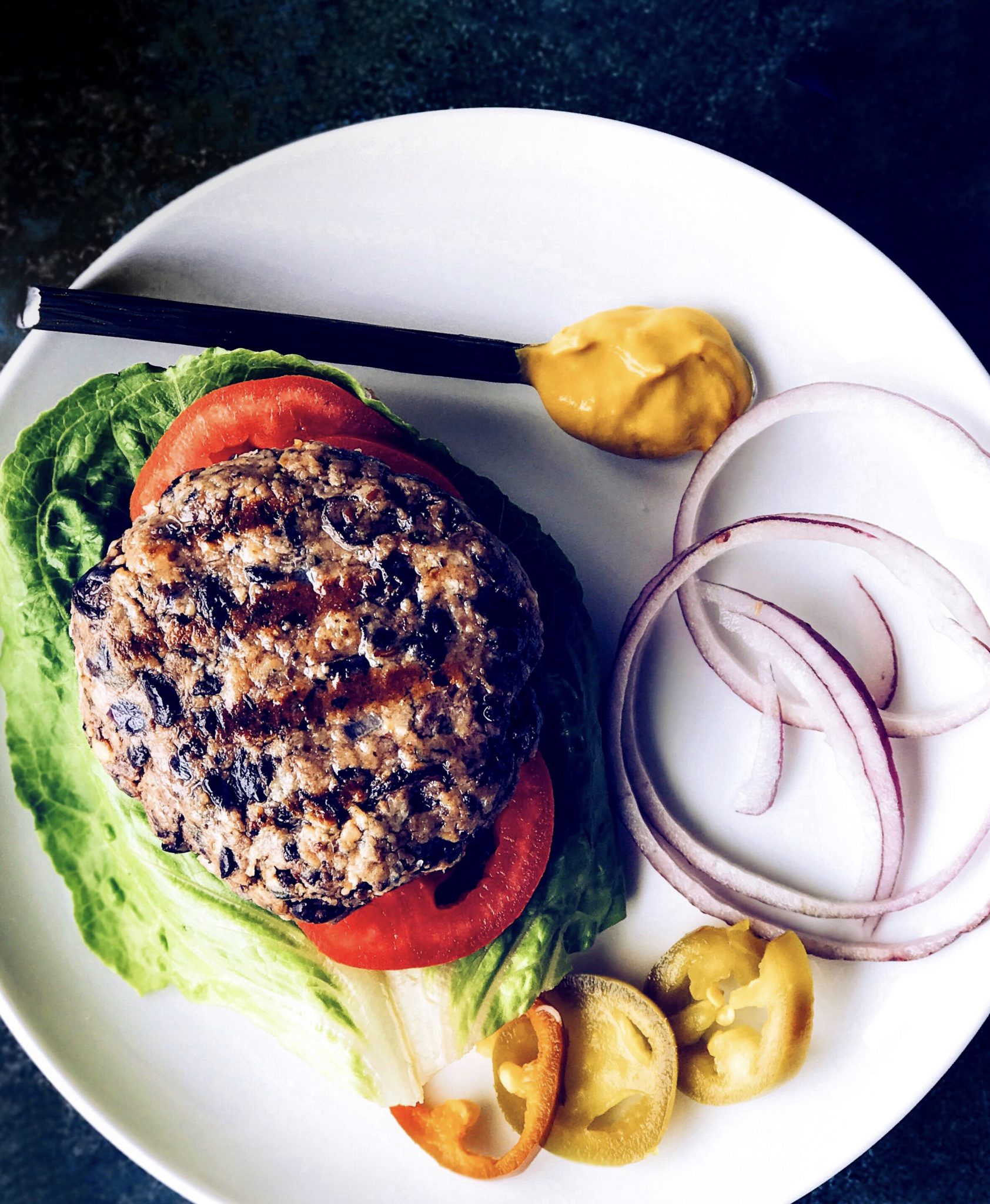 I love the taste of black bean burgers. The only problem is the texture. As soon as you bite into one they flatten out… until now. I have finally found the perfect black bean burger. These are even firm enough to grill, and they don't crumble or get mushy when you bite into them. Black bean burgers that don't fall apart or squish down? Hallelujah!!
You can either pan-fry or grill these burgers. The photo above is grilled, and the one at the bottom of the post was cooked. I like them made in a skillet best though, because of that little bit of crisp crust you get when you pan fry them. My husband prefers them grilled, so next time I'll just do them half-half.
The burgers have cilantro in them, so if you aren't a fan of it I've added some alternative suggestions in the recipe notes. I can't believe I love cilantro now. I used to absolutely hate it! If there was even the tiniest little speck in my food I couldn't eat it. Then a couple of years ago my daughter had me try something with cilantro as the starring role. The only reason I tasted it was because she grew up with me always telling her to just try a bit, because your tastes change. I couldn't believe I loved the dip! It's kind of funny how some of your parental advice turns out to be true.😂
Another great thing about vegan burgers is you can taste the raw mixture and make any seasoning adjustments. If you aren't going to cook them right away though, just know that the flavor will intensify a bit. You might want to go lighter on the seasonings and make adjustments right before you make them into patties.
Oh, and one last thing. I made these burgers with red onion and 1/4 teaspoon of garlic powder, and I put the onions in the mix raw. It was a little too strong for me, so the instructions below say to use sweet onion and sauté it with some fresh garlic instead. My husband loves onions though, and he thought it was perfect the way I made them. So if you love onions, then just make the burgers like I described them above.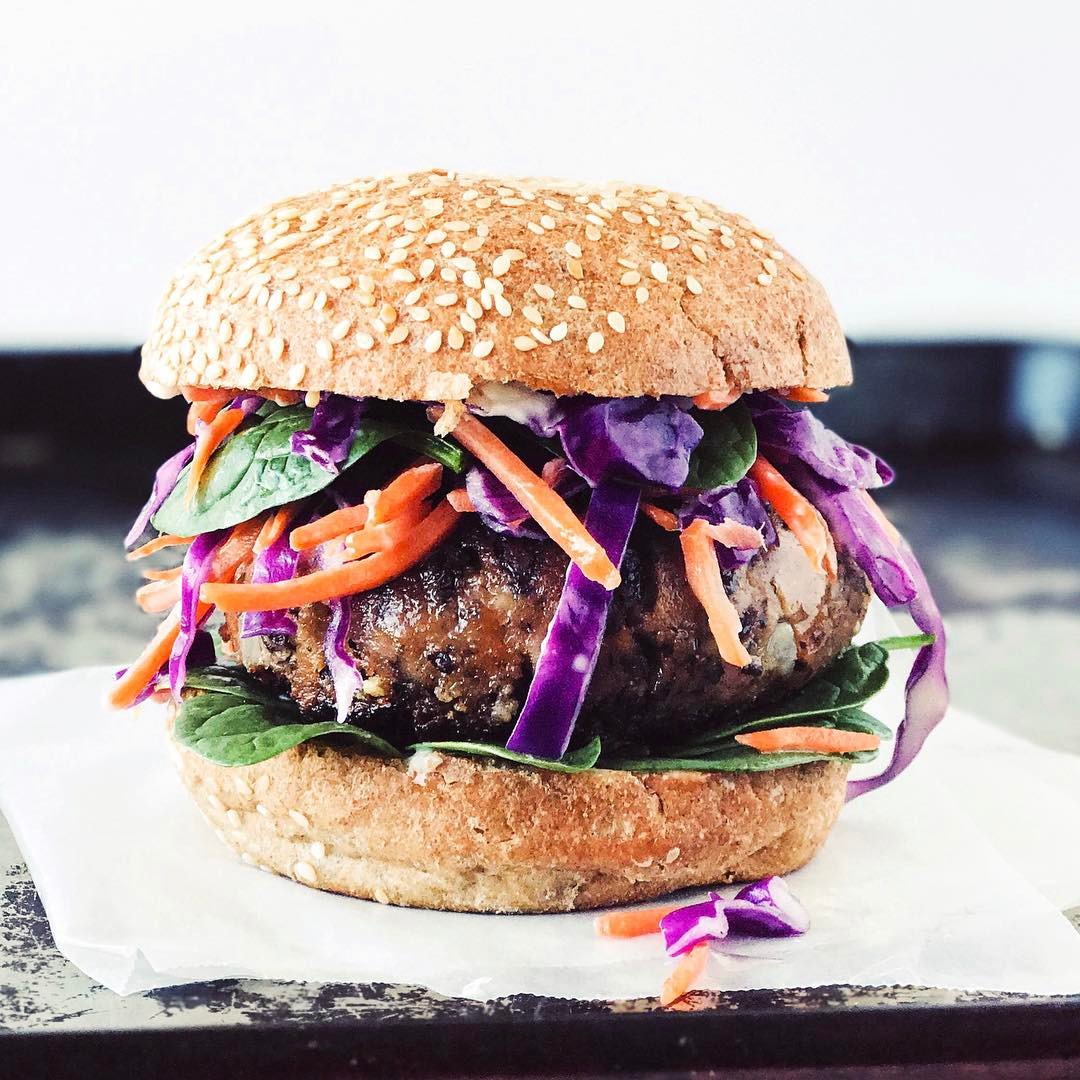 Ingredients
1 tablespoon flaxseed meal

3 tablespoons water

1 (15.25 ounce) can low sodium black beans, rinsed and drained

1/3 to 1/2 cup diced sweet onion

1 small garlic clove, minced

1/3 cup oat flour

1/4 panko bread crumbs

1/4 slightly heaping cup roasted cashews

1/2 tablespoon Old Bay Seasoning

1 teaspoon ground cumin

1/4 teaspoon chili powder

1/4 cup packed cilantro leaves

2 tablespoons vegan mayonnaise

sea salt and ground pepper or to taste
Instructions
1
Stir the flaxseed meal and water in a small bowl; cover and refrigerate for at least 1 hour. I've made flax eggs and stored them in the fridge for 5 days before, and they were still fresh and worked perfectly.
2
Adjust oven rack to center position and preheat oven to 350°F. Spread black beans in a single layer on a parchment paper lined rimmed baking sheet. Place in oven and roast until beans are mostly split open, about 15-20 minutes. Remove from oven and allow to cool slightly.
3
While the black beans are roasting, heat 1 tablespoon olive oil in a small skillet over medium-high heat. Add the onions and sauté, stirring occasionally, for about 5 minutes until tender. Lower the heat to medium if they start to brown too fast. Turn off the heat and add the garlic, cooking until fragrant; about 30 seconds. Scoop into a small bowl; set aside.
4
In large bowl bowl, whisk the oat flour, panko, Old Bay Seasoning, cumin, and chili powder. Place the cashews in a food processor and pulse just until they are broken down into coarse small pieces; stir into the oat flour mixture.
5
When the beans are cooled, transfer to the food processor and pulse a couple of times just until beans are roughly chopped. You only need to pulse a couple of times, because you don't want them mushy; add to the oat mixture.
6
Finely mince the cilantro and add them, the onions, flax egg, and mayonnaise to the oat mixture and fold the ingredients gently together with your hands. Taste a bit and season with salt and pepper if needed. At this point you can cover and refrigerate overnight, or form them into 4 patties of equal size. (The burgers become more flavorful when the ingredients have time to meld and can be refrigerated up to 48 hours.)
7
Heat 1 to 2 tablespoons of oil in a large skillet over medium heat. Add the burgers and cook until well browned, about 4-5 minutes. If the burgers brown too fast, then turn the temperature down to medium low. Flip the burgers and cook the other side for an additional 4-5 minutes. Since it's still winter here I grilled them on my indoor grill for about 6 minutes each side (or 7-10 minutes if the patties are cold) on medium heat (350 degrees F). Serve immediately.
Notes
Note: If you don't like cilantro you can use fresh parsley or I guess up the amount of the mayo by 1 tablespoon. I haven't done the latter, so I would start out with maybe 1/2 tablespoon first.