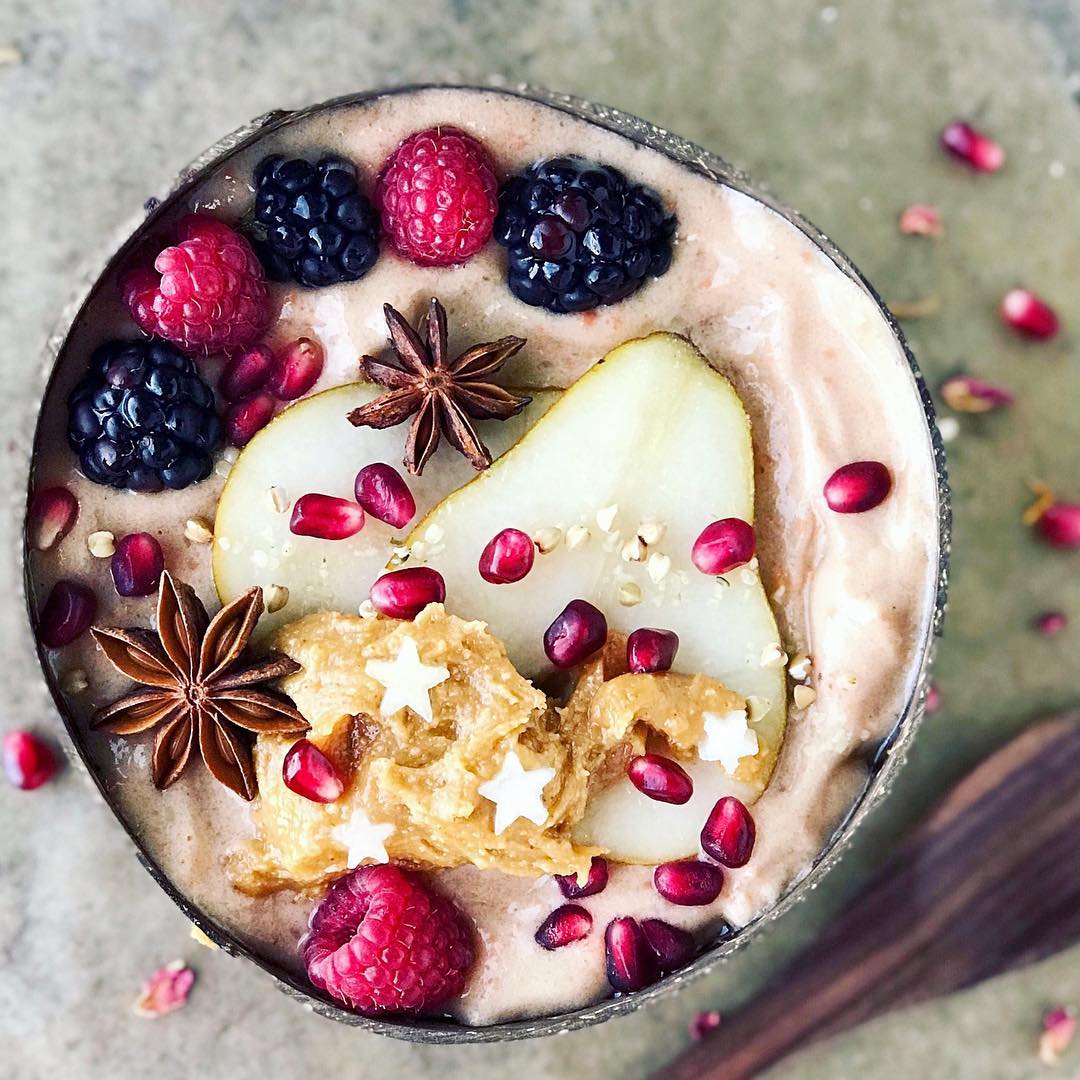 I know it might seem weird to be writing about an autumn smoothie with Christmas right around the corner, but it actually is still autumn. The first day of winter isn't until next Thursday, so I still have time for this. Also smoothies are perfect year round, and they make great toppers on hot porridge too. Yeah, definitely so YUM! The other reason is who knows what Instagram is going to do to my account next, and I want to save some of my favorite recipes I posted over there.
This one has an unusual ingredient that I love, and it works so well in smoothies. You can't taste it, but it lends such a creamy fluffy texture to every smoothie I've made with it. It's perfect if you don't want the taste of bananas overlaying your nice cream or smoothie. It's also a great alternative if you don't like the taste of bananas or you can't eat them. The ingredient I'm talking about is frozen riced cauliflower. If you haven't used it before you're probably thinking "yuck." It really isn't though, and you honestly cannot taste it. I love eating healthy, but not at the expense of taste, so give it a try. I swear you'll be amazed.
I also added frozen riced sweet potato and mesquite powder. If you haven't tried mesquite powder it adds a caramel flavor to your smoothie. It is sooo good! And speaking of another super YUM caramel taste- that's vegan caramel on top of my smoothie, and it tastes really, really scrumptious on just about everything. The recipe is right below, and you can make it with all nut butter, or all tahini, or a combination of the two.
Also I want to take this time to wish a Happy Hanukkah to my friends who start celebrating at sundown today. The traditional food tends to be heavy in dairy, so I found a couple of recipes links for veganized Hanukkah food.
Hanukkah with a Vegan Touch
Vegan Hanukkah
Recipes for a Vegan Hanukkah
Classic Vegan Hanukkah Recipes
And here is the very simple recipe for vegan caramel sauce that I mentioned above.
Vegan Caramel Sauce
2 tablespoons nut butter or a tahini or a mix
1 – 2 tablespoons maple syrup
Stir the nut butter, and / or tahini, and maple syrup until blended. For less sweet just use less maple. You can increase the amount and store in a lidded container in the fridge.
Ingredients
1 large banana sliced & frozen*

1/4 cup riced butternut frozen

1/4 cup riced cauliflower frozen

1 scoop plant based protein powder

1 teaspoon mesquite powder
Instructions
1
Set frozen fruit and veggies on the counter for about 10 minutes to thaw just a bit. It makes it easier for your food process and blender to handle, and you also won't need to add any liquid. This is key if you want to make a thick smoothie bowl.
2
Add all ingredients to a high speed blender or food processor and blend until creamy. Pour into a bowl and top with fruit, seeds, nuts, and with vegan caramel sauce. For a drinkable smoothie add plant based milk to thin it.
3
Note:*If you aren't using banana then just use more of the cauliflower / sweet potato mix. Also, I found out that Green Giant makes a resealable bag of frozen Riced Veggies Cauliflower & Sweet Potato, and it's perfect in smoothies. Don't cook it first. Just take the amount you need out of the bag.