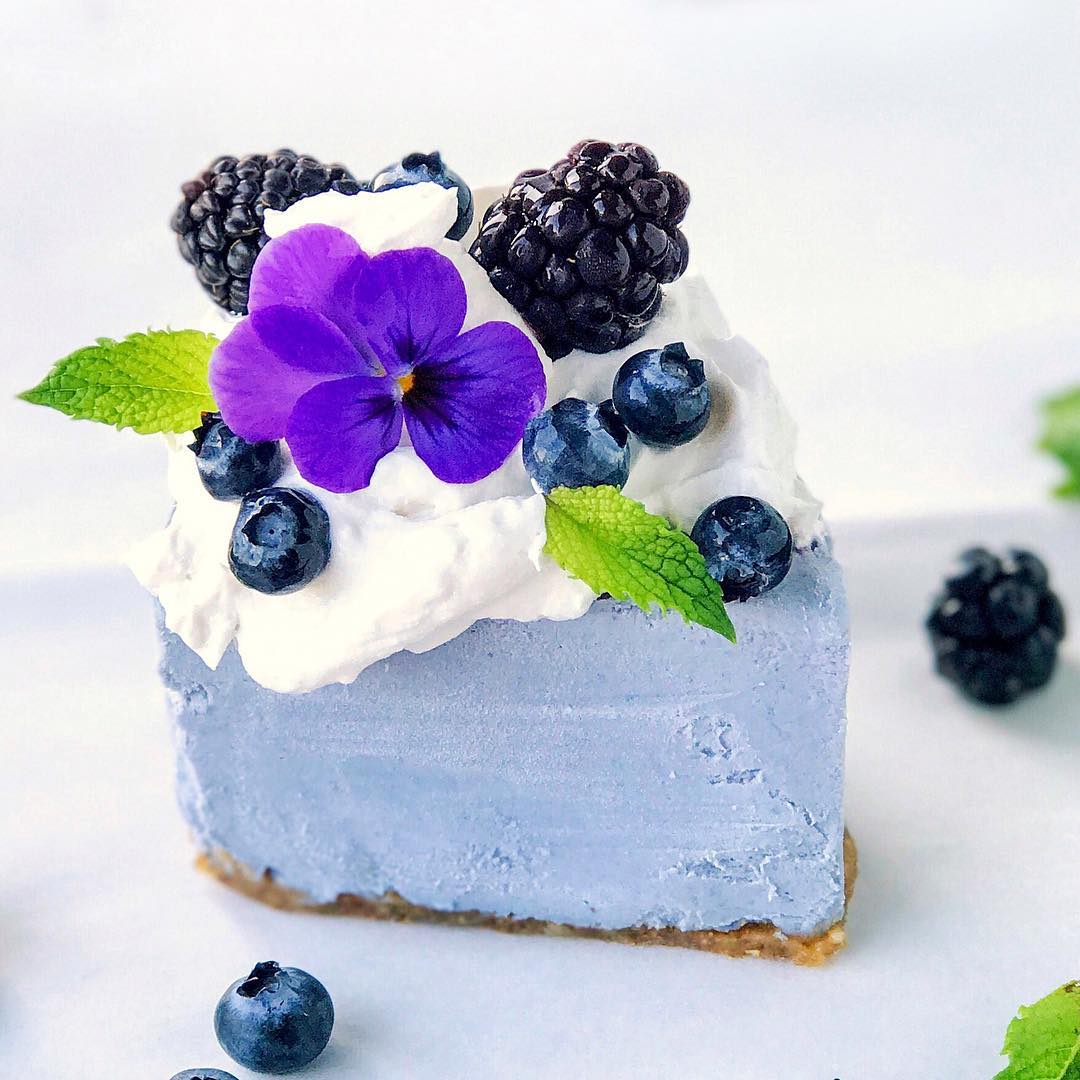 I've been wanting to make a raw cheesecake, since I first saw it on Instagram. I don't know why it's taken me so long to make one, but I wish I had done so much sooner. They are much easier to make than a baked one, and I think prettier too. This is also a perfect dessert as for warm weather… no heating up the stove or oven!
This recipe is made up from quite a few others that I had bookmarked. I pulled out bits here and there that sounded interesting, and then I blended them together and adjusted measurements. I think it turned out fantastic!. If you use blue tea powder you won't taste it, and the color is very pretty. The type I used was Blue Matcha, and it is made from butterfly pea flowers. It started out a deep purple when I first placed it on top of the lime juice in the blender, but when I blended it the color turned to a light lilac blue.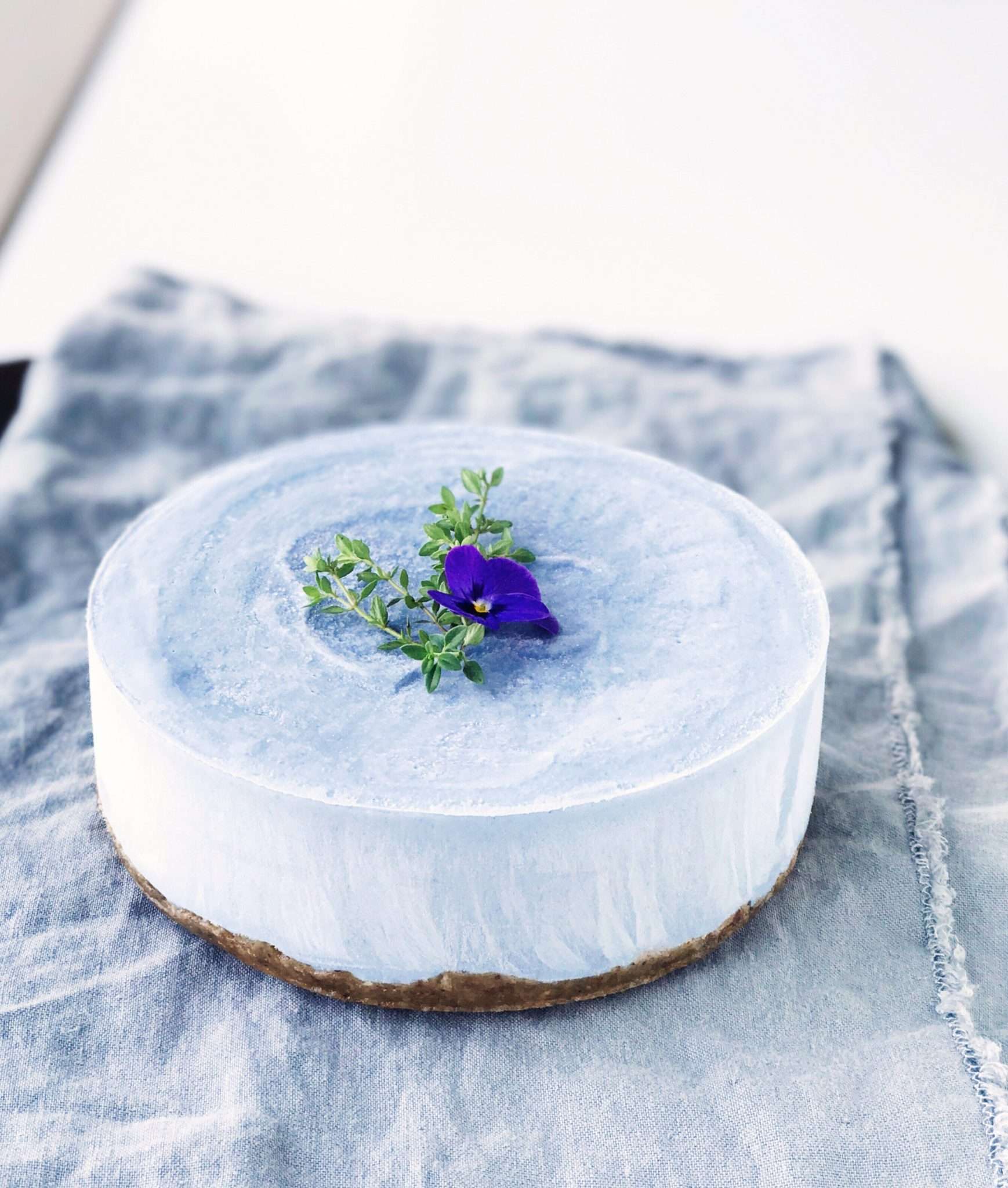 This cake tastes like a lusciously mellow key lime pie. That's a big favorite of mine, so I am very happy with how it turned out! I love that it is almost raw too. The only portions that aren't are if you use maple syrup and canned coconut milk instead of raw. It's vegan, gluten free, and refined sugar free too. When you taste it you're not going to be thinking it's a healthy treat though, because it is so creamy and delicious!
Oh, and I almost forgot to mention the photos. I was having the hardest time capturing the true color of it, but the photo at the top is much closer to what the cake really looks like. I love that the blue deepened the longer it set, but my husband and I think the taste is perfect no matter what the color is.
Ingredients
Crust:

1/2 cup of walnuts, pistachios, or almonds

5 to 6 pitted medjool dates*

Filling:

1/3 cup fresh key lime juice (or regular lime)

Zest of one lime

1 teaspoon matcha or 2 tsp. blue matcha

1/4 cup coconut oil, melted

2/3 cup coconut cream or canned coconut milk

1/4 to 1/3 cup maple syrup or less for agave syrup

2 cups raw cashews, soaked
Instructions
1
1 to 2 hours before making the cake place the cashews in a medium bowl. Cover with hot tap water and let soak at least 1 hour and up to 2 hours. Rinse the cashews thoroughly and drain.
2
Make the Crust: Add the nuts to a food processor and pulse into a meal. Don't process too long or it will start turning into butter. Remove the nuts to a small bowl; set aside.
3
Add 5 of the dates to the processor and blend until small bits remain and it forms into a ball. Add the nuts back in and blend until a loose dough forms. It should stick together when you squeeze a bit between your fingers. If it's too dry, add the 6th date, but I only needed 5. It's going to depend on the size and softness of your dates. If you don't need the extra date you can eat it, or seal it in a bag and keep in the fridge for a week.
4
Remove the upper part of your springform pan. Line a 6" (for taller cake) or 8" (for thinner cake) springform pan with parchment paper, making sure there is enough paper to stick out the sides. Place the top of the springform pan back onto the base, locking it shut, with the parchment paper sticking out the side of the pan.
5
Press the crust mixture into the base of your prepared pan. Push down firmly until it is well compacted and even. I placed a layer of plastic wrap over the dough and used the bottom of a small glass to press the crust down. I then used a small flexible spatula to even out the sides. Once the crust is ready, place in the freezer to set while you prepare the filling. You can make the crust the day before too, just cover and place in the refrigerator.
6
Make the Filling: Add all the filling ingredients, in the order listed, to a high speed blender, and blend until very smooth and creamy, scraping down the sides as needed. I would start with 1/4 cup of maple syrup first, and then taste and adjust with more maple syrup as needed. Make sure to make the adjustment to the sweetness level 1 tablespoon at a time.
7
Remove crust from freezer and scrape the filling over top. Tap the pan down onto the counter a few times to release any air bubbles; smooth the top until the layer is even. Cover the top of the pan with plastic wrap and freeze for at least 4-6 hours, or until firm.
8
Before serving, remove the sides of the springform pan, and then lift the parchment paper up to remove the cake from the base. You can serve it frozen or let sit on the counter for 10 to 15 minutes to thaw a bit. Decorate with whipped coconut cream and fruit if you like.
9
Store in an airtight container, in the freezer, for up to 2 weeks.
Notes
Note: * If you dates are hard are have been refrigerated soak them in warm water for 10 minutes and then drain thoroughly; pat dry on paper towels.