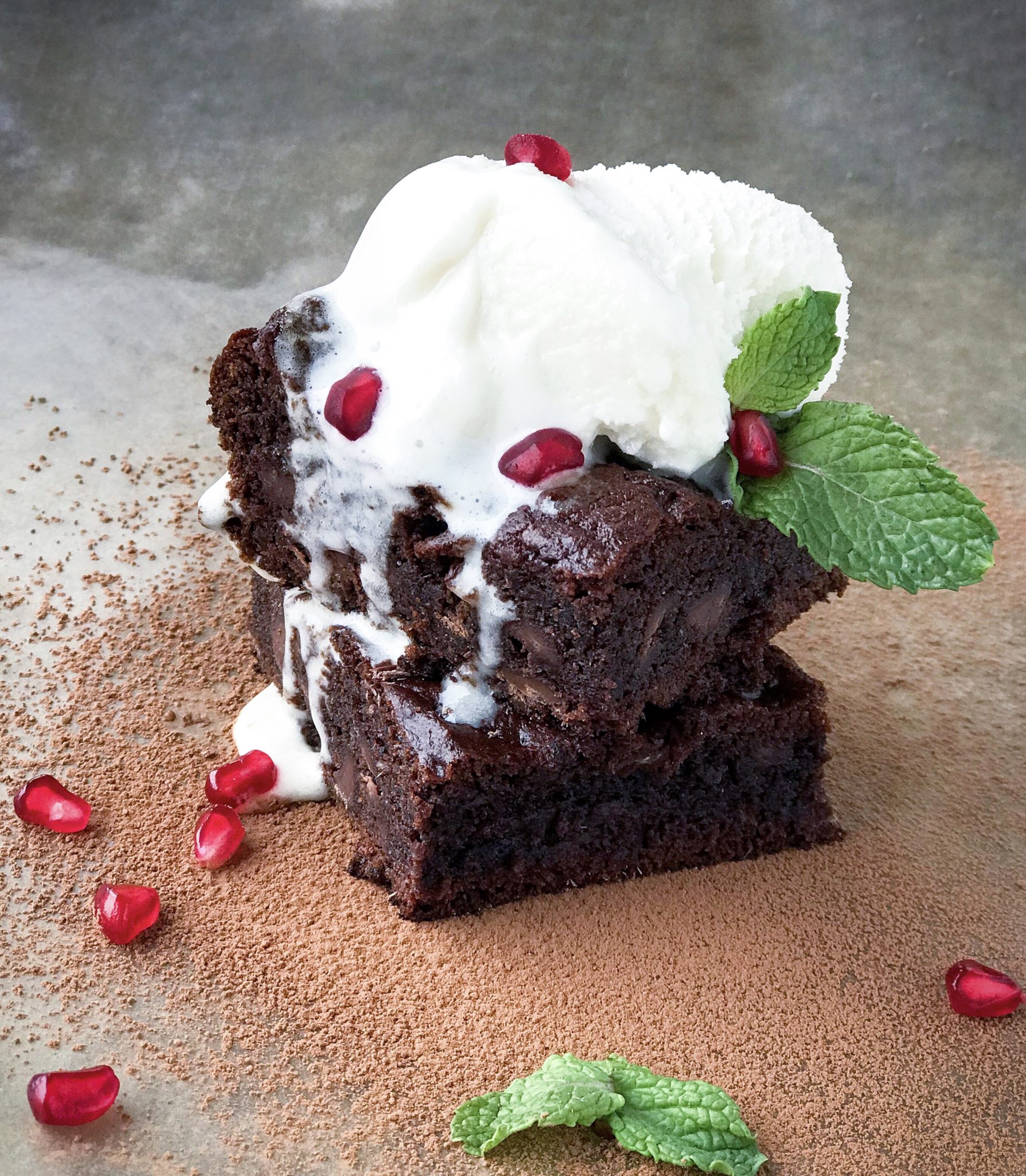 I'm still on the hunt for the perfect brownie recipe. I want it to have a rich chocolate flavor with a dense but chewy texture, something between fudge and cake. And good lord I'm going to keep trying until I find it or pop, hopefully the former. lol In the meantime I'm savoring this really tender and very delicious peanut butter and chocolate chip brownie cake, so yummilicious.
It's gluten free, refined sugar free, and whizzing the wet ingredients in the blender really ups the fluffy yum factor. I think that has a lot to do with the aquafaba. You can't taste it, but it adds a soft cloud-like texture to your treat.
My husband has a sweet tooth, although he'll never admit it, so he tops his with a scoop of coconut nice cream. I love it plain and think it's perfect that way. His warmed up cake with a scoop of nice cream on top and melting chocolate inside does make for a lush tasting dessert though, so I may have to rethink that plain deal.
We actually had this as part of our breakfast the other morning, but hey… childhood may be magical and fun, but one of the benefits of adulthood is being able to say "Screw it! I'm having dessert for breakfast!" If you have kids at home though, just make sure they're still asleep first. haha
Ingredients
1/4 cup oat flour

1/3 cup cacao powder

1/3 cup coconut sugar

1 teaspoon baking soda

1/8 teaspoon salt

1 cup *pitted dates, not packed

1 cup smooth peanut butter

1/4 cup aquafaba

1/2 cup non dairy milk

2 teaspoons pure vanilla extract

3/4 cup dairy-free chocolate chips
Instructions
1
Preheat oven to 350 degrees F (180 degrees C ). Line a 9" x 9" square baking pan with parchment paper.
2
In a medium bowl, whisk the flour, cacao powder, coconut sugar and salt until combined; set aside.
3
Add dates, peanut butter, aquafaba, milk, and vanilla extract to a high speed blender and blend until smooth and fluffy. Scrape into the flour mixture and stir just until combined; fold in the chocolate chips.
4
Pour batter into prepared baking pan and bake for 25-35 minutes (it depends on your oven so test at 20 minutes) or until tester comes out with just a few crumbs attached. Place pan on cooling rack for 15 minutes before lifting parchment and brownies out to cool completely on wire rack.
Notes
*If your dates aren't squishy soft, soak them in a bowl covered with hot tap water for 10 minutes; drain and pat dry on paper towels.