We are almost into December and YAH! YAH! Christmas!! Yeah I am a child haha. Ok, moving on to something else I love… this crispy sweet & spicy tofu bowl with coconut peanut noodles, and a really delicious salad that I drizzled miso tahini sauce on.
The tofu is crispy outside and meltingly tender inside, and OMG the sauce is yummilicious!! The noodles are a mix of brown rice and spiralized sweet potato, and I made a coconut almond butter sauce for it. You can see the recipe on this post. I have a rough outline of the miso tahini sauce below. I keep forgetting to write it down, but you can adjust it to your personal taste. I use it as a sauce for rice noodles and also love dipping raw vegetables and baked fries in it too. If you aren't a fan of cilantro though, you can always use fresh parsley or omit it. The taste will be different, and I've never made it with those adjustments.
1/4 to 1/3 cup tahini
2 to 3 tablespoons white miso
3 to 4 tablespoons or more water
1 tablespoon rice vinegar
1/2 to 1 tablespoon lime juice
1/2 to 1 teaspoon oil
1/4 to 1/2 teaspoon tamari
1/2 cup cilantro, chopped
1/2 garlic clove, minced
1 tablespoon chopped chives, optional
1) Mix all ingredients in a high speed blender, adding more water as necessary, until the sauce reaches desired consistency. Taste and adjust seasoning.
2) Store in fridge and add additional water if it thickens too much.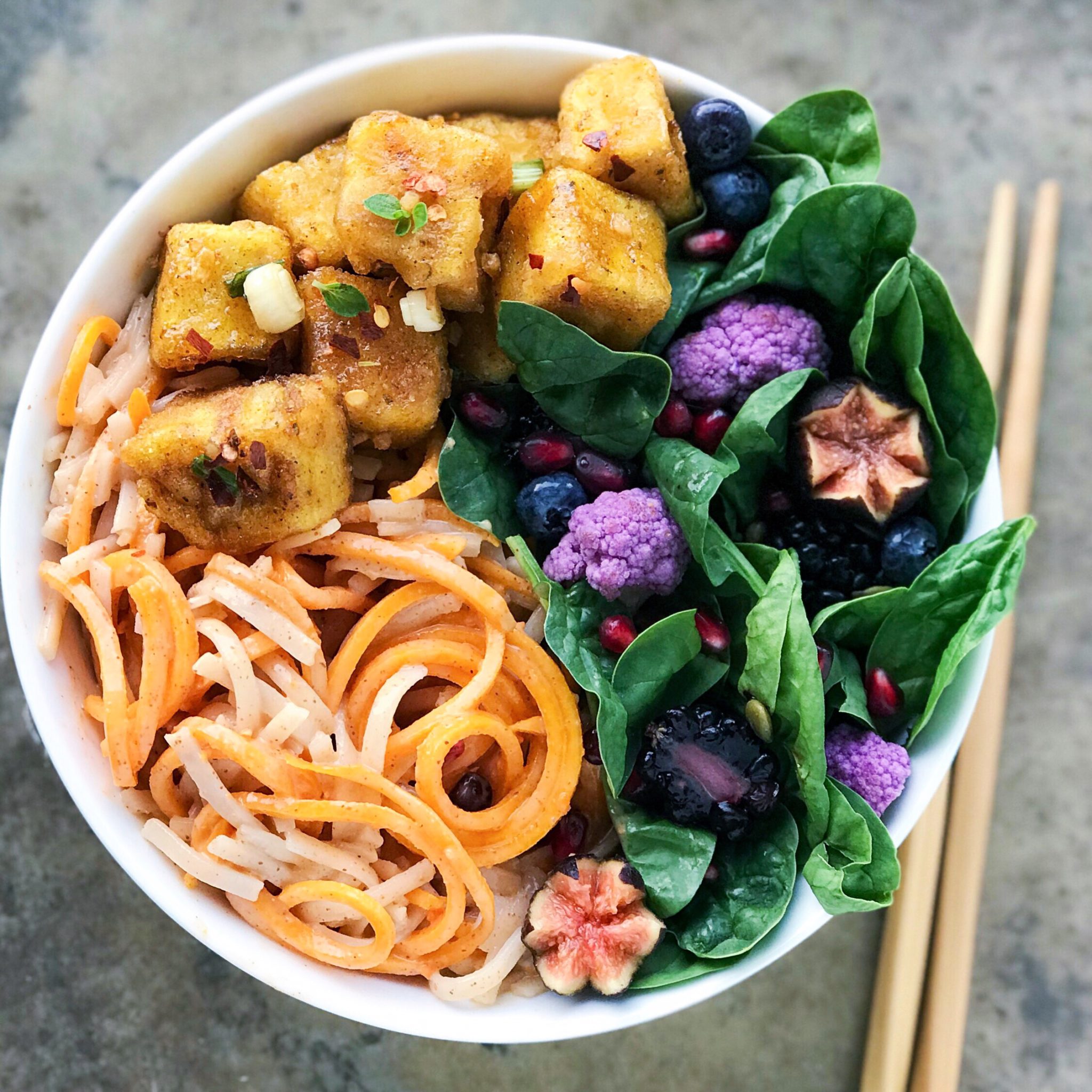 Ingredients
extra firm tofu drained and cubed

1/4 - 1/3 cup corn or tapioca starch

2 - 3 tablespoons coconut aminos

1 - 2 tablespoons pure maple syrup

fresh minced ginger, to taste

1 garlic clove, minced

1/8 - 1/4 teaspoon Sambal Oelek

finely chopped scallions
Instructions
1
Place cornstarch in a bag. Add a couple tofu cubes at a time and shake gently to coat; place on a paper towel lined plate.
2
Add enough oil to cover the bottom of a large skillet and set heat to medium.
3
Fry tofu in two batches (don't crowd the pan), gently stirring to cook all sides to a golden brown. Remove to a plate and drain the pan.
4
Lower heat to low and add the rest of the ingredients, stirring until sauce is heated. Return the tofu to the pan and gently stir to coat