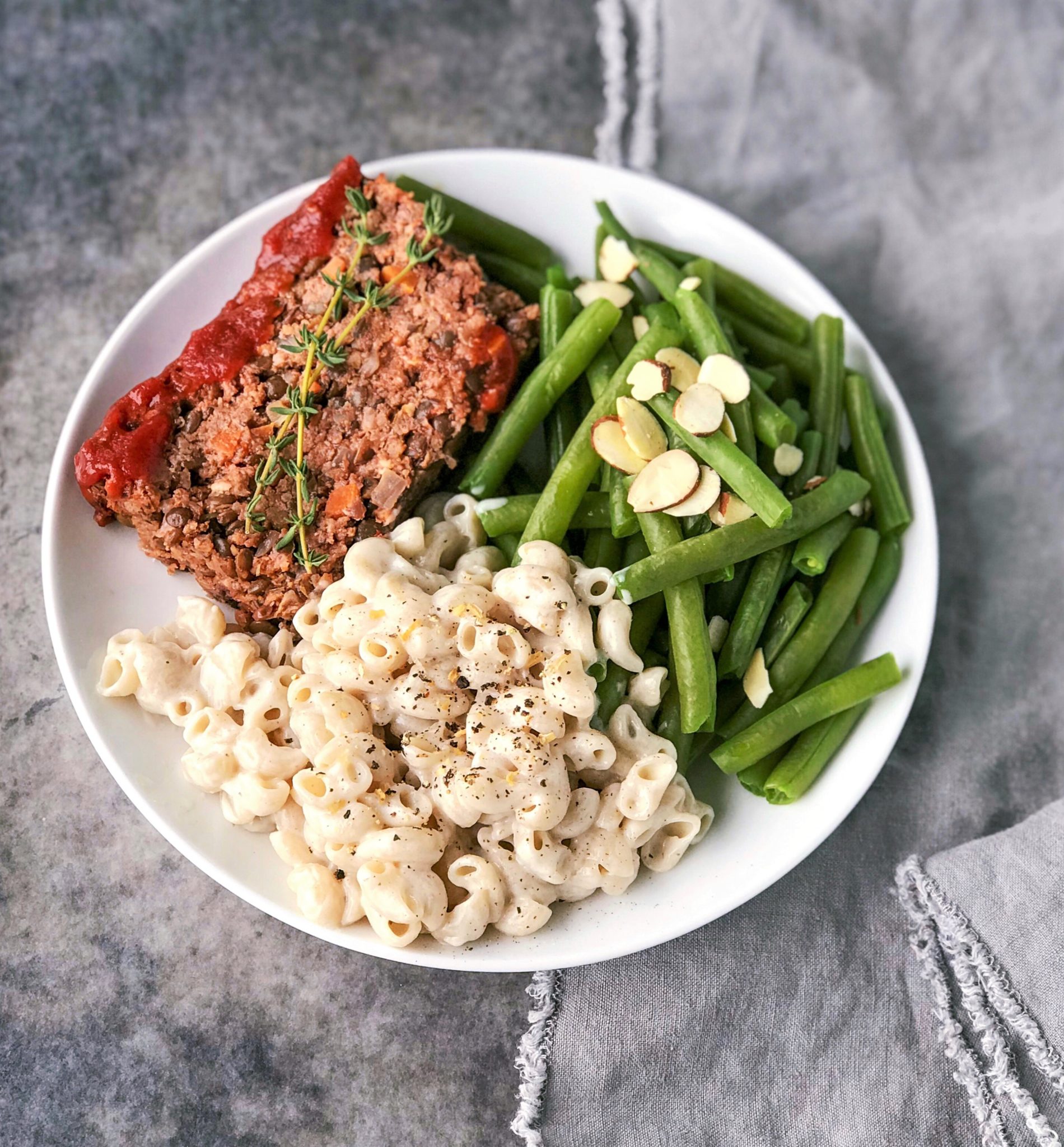 Your leftovers are going to make a wonderful lunch the next day and are also perfect for busy weeknights when you need fast and healthy food. But your first meal is going to take place on a relaxing weekend, or when you're not rushed. Pour yourself hot tea or sip a glass of wine, choose a great selection of music, and then savor some mellow time creating a truly magical meal.
The other enjoyment I got out of this were the scents and taste of the herbs in this walnut lentil loaf. It reminds me of Thanksgiving day, and I know that this will be the main feature of the next feast we have. I can't believe this is the very first lentil loaf I've made. I'm so glad that I chose Gena Hamshaw's amazing and very delicious Lentil Walnut Loaf recipe, because it's the best introduction you could hope for. (I made a few minor changes to her recipe and added additional instructions.) This may not be a quick meal to throw together, but it's not complicated. Just chopping, stirring, tasting… a really enjoyable time in the kitchen.
Making this is satisfying, but the best part is eating it. The pictures were actually taken the day after. That's because when I pulled it out of the oven it smelled sooo good, and then the little piece I ate while slicing was oooh my gawd delicious. There was no way I was waiting to take photos before eating. My husband was definitely agreeing wholeheartedly with that. haha So this is leftovers, which we had with vegan mac and cheese, green beans, and a big mixed greens salad. The lentil loaf still looks great and tastes even better… perfect any time of the year, but especially wonderful during this freezing weather.
BTW, Oh My Veggies has "A Comprehensive Guide to Lentils" , so you can experiment cooking and baking with different lentil types. I used a mix of French green and regular green (brewer lentil), because I prefer a combination of firm and tender. This is such a yummiliciouis dish, no matter what type you use, so don't feel like you need to hunt down a specific one. The more important thing is just making it, because you're absolutely going to fall in love with how good it tastes!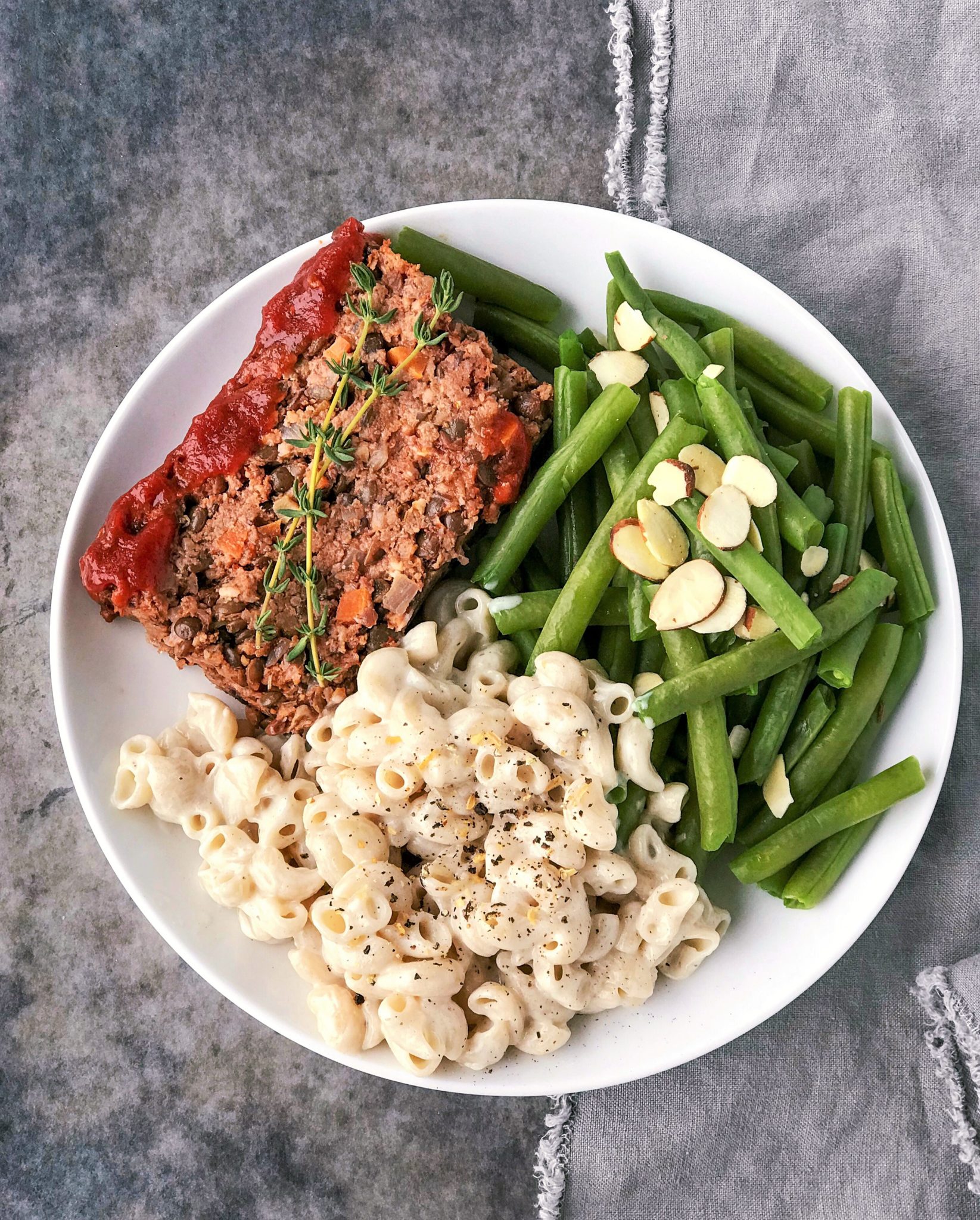 Ingredients
1 tablespoon flax meal

2 tablespoons warm water

1 1/2 cups walnuts (toasting them optional)

1 1/4 cups panko breadcrumbs

1 cup dry french green lentils*

1 cup dry brown lentils*

2 cups vegetable broth, plus more as needed

1 tablespoon olive oil

2 cups diced sweet onion

1 cup diced celery

1/2 cup diced carrot

3 cloves garlic, minced

1 teaspoon dried thyme

1 teaspoon dried rosemary, crushed

1/2 teaspoon rubbed sage

1/2 teaspoon salt

1/8 teaspoon or a couple of grinds black pepper

1/4 cup tomato paste

1/4 cup ketchup (Sir Kensington's is the best!)
Instructions
1
Preheat oven to 350 degrees F. with oven rack in the middle position.
2
To make the flax egg, stir the flaxseed meal and water in a small bowl and set aside on the counter while making the loaf.
3
Place the walnuts in a food processor and process until the walnuts turn into meal. Don't process too long though, or you'll make walnut butter. You just want a coarse type of meal flour. Scrap into a large bowl and whisk in the breadcrumbs; set aside.
4
Sort through the lentils, discarding the bad ones and then rinse thoroughly and drain. Add to a medium size pot along with the broth. Bring the broth to a boil and lower it to a simmer. Simmer the lentils until they've absorbed all of the liquid and are tender but not mushy. Add more broth as needed. When the lentils are done, remove them from heat and set them aside.
5
Heat the olive oil in a large skillet over medium heat. Add the onion, celery, and carrot and sauté, stirring often, until the onion is clear and the carrots are tender (about 8 to 10 minutes). Add the garlic and cook until the garlic is fragrant, about 30 seconds. Remove from heat and stir in the thyme, rosemary, sage, salt, and pepper. Taste and add more salt and pepper if needed.
6
Mix in the tomato paste and flax seed until combined and then add the lentil mixture to the large bowl with the walnuts. Combine it thoroughly with a spatula or your hands. Lightly coat an 8 1/2 x 4 1/2 inch loaf pan with non-stick spray, or brush the pan with a little oil. Press the mixture very firmly and evenly into the pan. The pan will look too small, but it works perfectly and helps keep the loaf tender. (I think a larger loaf pan would lead to a crumbly and dry lentil loaf.) Smooth the top and then glaze with the ketchup.
7
Place in the oven and bake for 40 - 45 minutes, or until it looks set and you can see the side (where it's slightly raised above the pan)are browned. Allow it to sit for 15 minutes before slicing and serving.
Notes
*you can use whatever type of lentils you like. See the link in my post above for ideas.
Slight changes (and additional recipe instructions) to Gena Hamshaw's
Lentil Walnut Loaf
recipe.