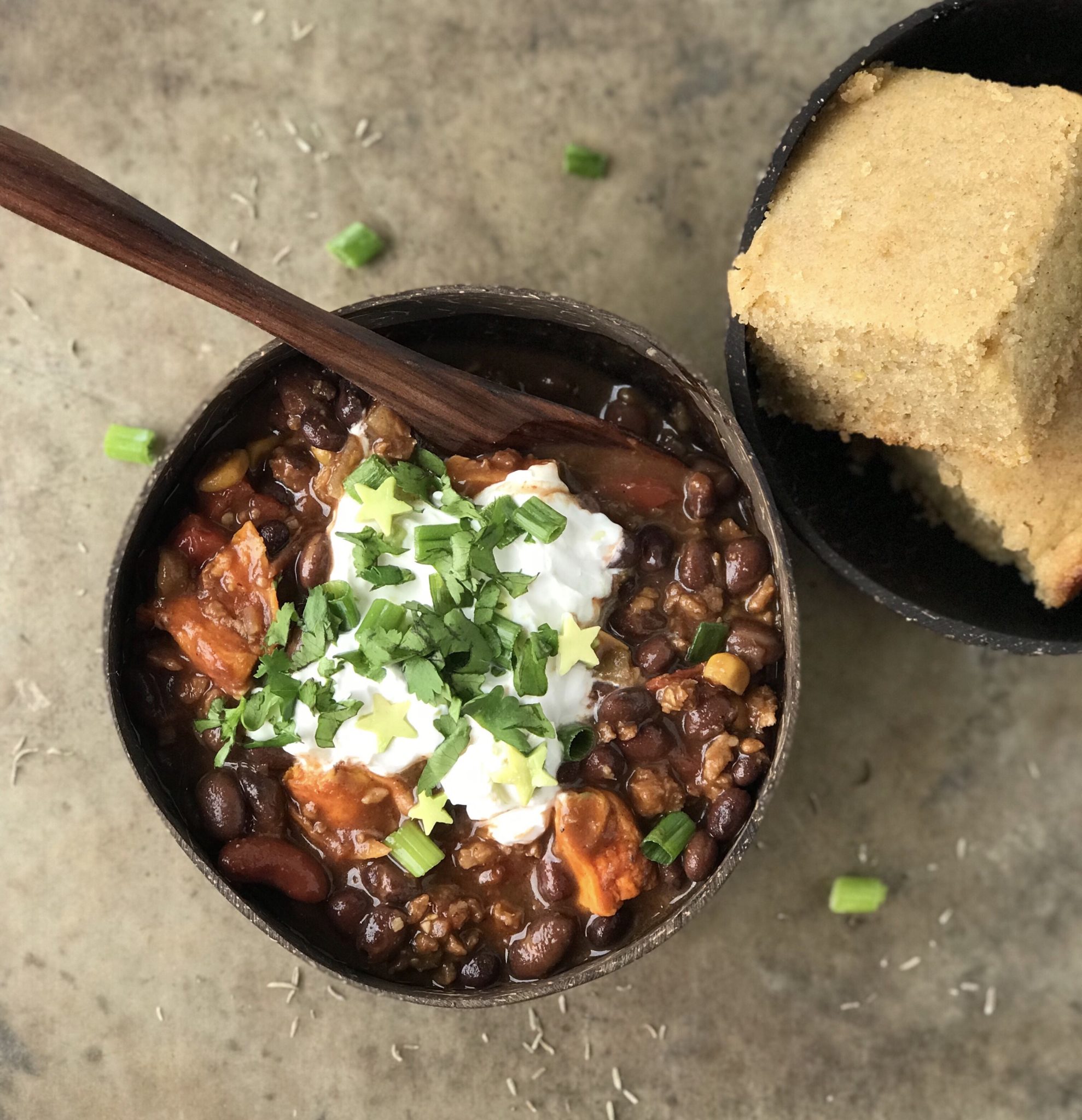 I love homemade chili and cornbread together, and each time it's a little different. Sometimes I'll add a variety of beans or add-ins. I made this pot with vegan "beef" crumbles, but I honestly prefer the taste of minced mushroom when I want a meatier texture. My husband really doesn't like mushrooms, but he loves them the way I prepare them for chili.
The great thing about this recipe is you can customize it to your own taste. This time I added sweet potato, corn, and vegan meat crumbles and let it simmer in my slow cooker all day. Oh it is sooo good to come home and have this aroma greet you when you walk in the door! The cornbread has a touch of sweetness from the maple syrup and tastes so good with the chili. I'll have to write down the recipe for that and share it in another post.
Ingredients
2 tablespoons olive oil

2 medium sweet potatoes, cubed (optional)

1 large sweet onion, diced

1 red bell pepper, diced

1 green bell pepper, diced

2-3 garlic cloves, minced

1 (28 oz) can crushed tomatoes

1 (14 oz) can black beans, drained

1 (14 oz) can kidney beans drained

2 fresh tomatoes, cubed

1 -3 tablespoons chili powder (depends on heat of powder)

1 tablespoon ground cumin

1-2 teaspoons sea salt, or to taste

water, to thin if needed
Instructions
1
Heat the olive oil in a large skillet over medium heat (if cooking in a slow cooker), or a large pot (if cooking on the stove top). Add the sweet potatoes (if using) onions and bell peppers and cook, stirring occasionally for 7 minutes until onions are tender. Add in the garlic and continue cooking for about a minute more, or until fragrant .
2
Slow Cooker: Scoop the onion mixture into the slow cooker and add the rest of the ingredients. Turn it to medium heat and cook for 4-6 hours, or until the sweet potato is tender. Taste again and adjust seasonings to preference.
3
Stop Top: Add the rest of the ingredients to the pot, and bring to a boil. Stir, and lower heat to low. Simmer at least 30 minutes so the chili has time to mellow and the flavors mingle. Stir occasionally and taste to make any adjustments to the seasonings.
Notes
If I use a milder chili powder, then I add about 3 tablespoons. If I use ground chipotle chili powder though, then I'll only use 1 tablespoon. It's always best to take a tiny taste of the chili powder first to see how potent it is.
You can change up the beans or omit them. Add in corn or anything else you like. If you use vegan ground "beef" or minced mushrooms add them in after you've cooked the veggies in the skillet and before adding in the garlic. Mushrooms will only take about 3 minutes to cook. Cook the meat according to the manufacturer's instructions.