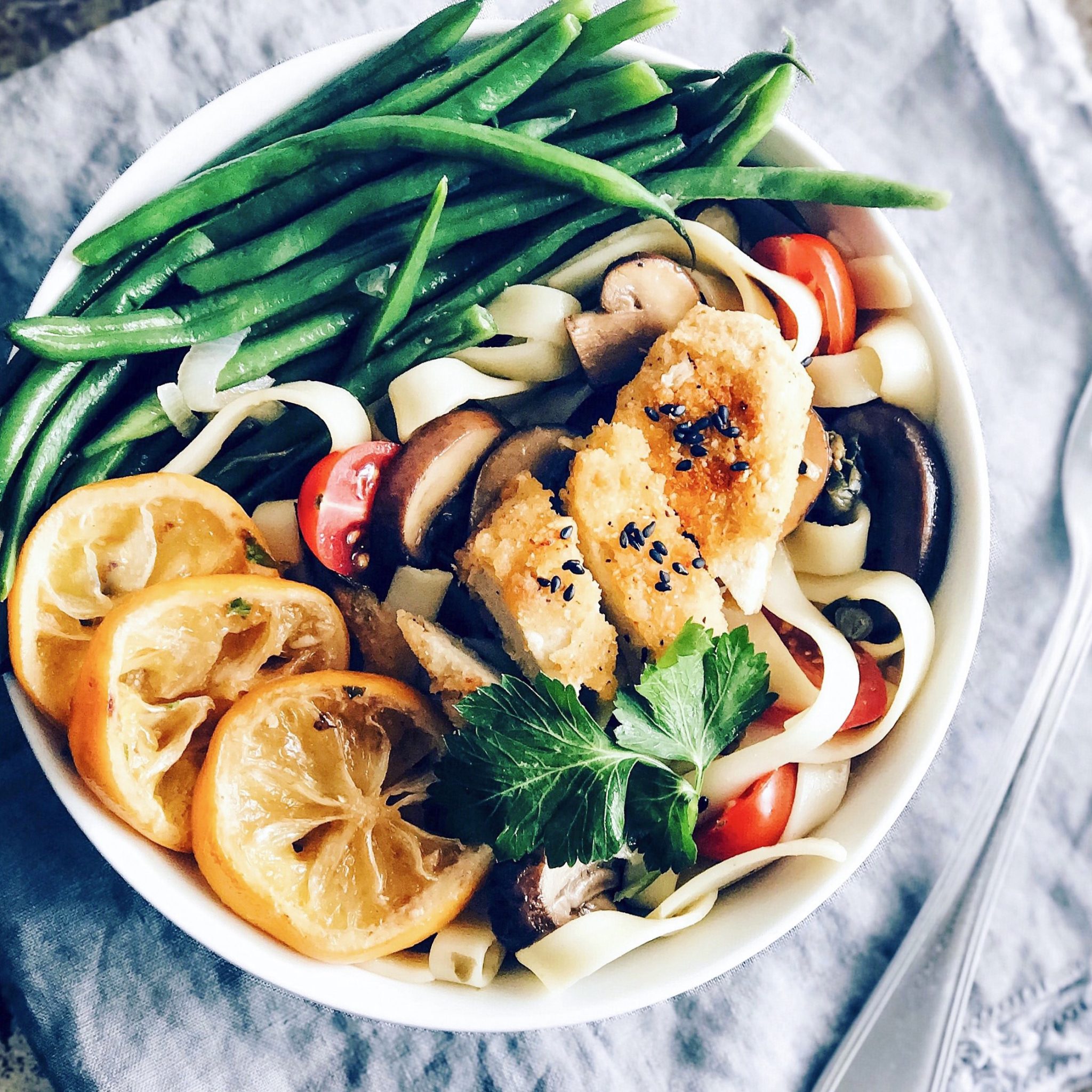 This meal makes a beautiful presentation for a special dinner, but it's simple and quick enough to make on a weeknight too. I like slicing the vegan chick'n and layering it over steamed rice or thick pasta, and then I spoon the sauce over top. This time I lightly sautéed some baby bella mushrooms and small heirloom tomatoes and folded them into the pasta also.
Serving it alongside haricot verts with shallots and toasted almonds is really pretty too, and the tastes go so absolutely fantastic together! You can find the recipe for them here. I know I'm going to be making this again for Valentine's day and maybe add a colorful salad and some garlic bread.
Ingredients
1 (9 ounce) package Gardein 7 Grain Crispy Tenders

1 to 2 Meyer lemons, sliced ¼ inch thick

1 garlic clove, minced

3/4 cup vegetable broth

1/8 cup heaping cup brined capers

2 tablespoons fresh Italian parsley, chopped

salt and pepper to taste

additional Italian parsley for garnish
Instructions
1
Bake the Crispy Tenders according to the manufacturer's directions. Meanwhile start making the rest of the meal.
2
In a large skillet, over medium heat, add 1 tablespoon olive oil. Add the lemon slices and sear until browned, about 1-2 minutes, and then flip and sear the other side for about 1-2 additional minutes. Transfer to a plate.
3
Add the garlic to the pan and cook for 30 seconds or until fragrant; stirring often. Stir in the broth and capers. Turn heat up to medium-high heat and cook, stirring often for about 3-5 minutes, until the liquid is reduced by half. Add the parsley, and the lemon slices along with the juice to the pan and continue cooking for 1 to 2 minutes longer. Taste and season with sea salt and freshly ground pepper if desired.
4
Spoon the sauce over the chick'n and serve with rice or pasta. I like to slice the "meat" and arrange it on top of the pasta or rice. Then I spoon the sauce over top.