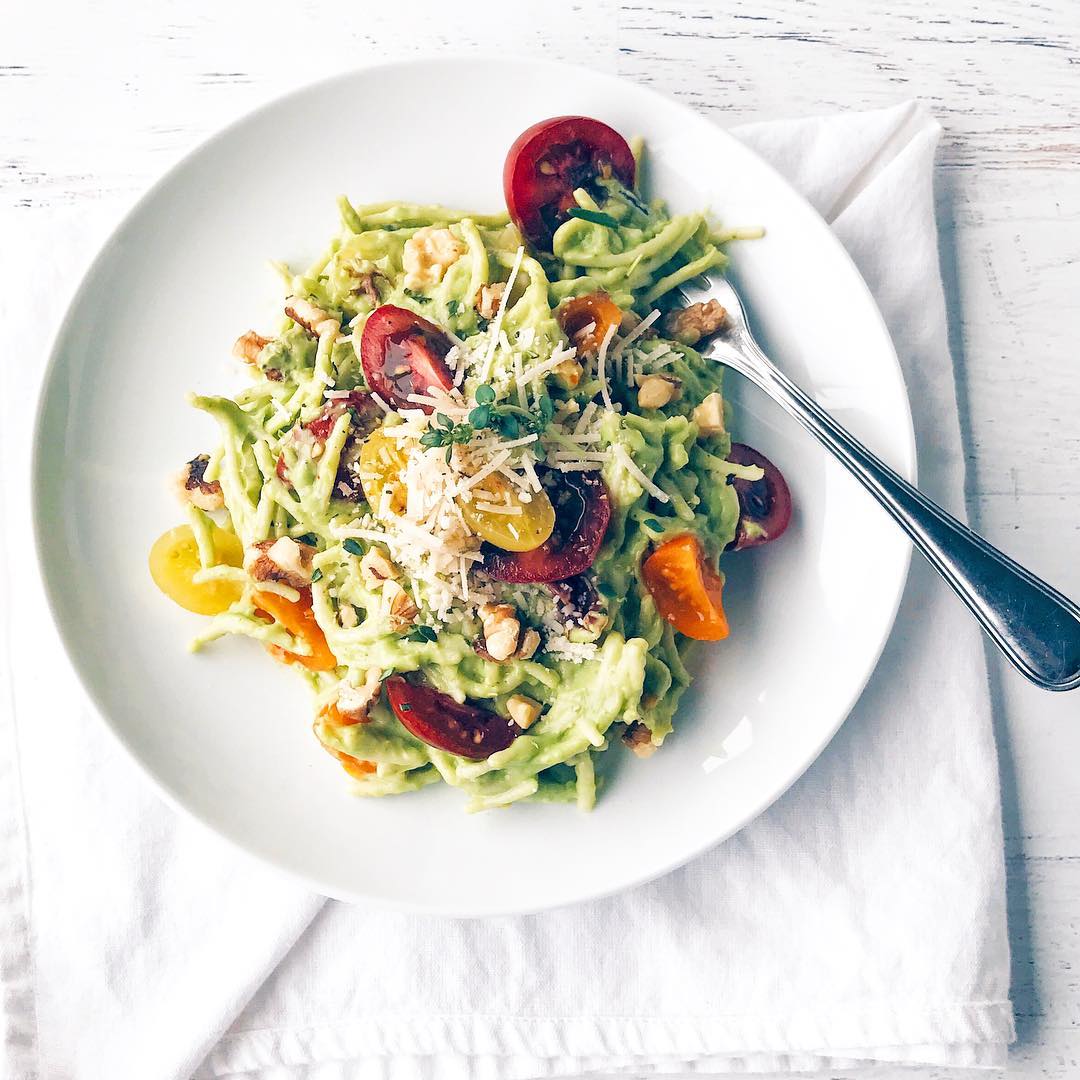 I came up with this very fast (only took me about 15 minutes, and that's including clean up) sauce when I was hungry but really didn't feel like cooking. I had a couple of overripe avocados, a small mix of spinach and arugula leaves, and some fresh herbs, so I threw them into my food processor. I folded the sauce into some leftover pasta I had, along with a few ripe tomatoes, and had a healthy meal that I put together quickly with little clean up.
I also added pickled jalapeños, and they gave a nice little kick to the creamy mildness of the sauce. Next time I'll leave out the fresh garlic though, because that was a little too strong. I would also sub in pine nuts for the walnuts. Everything else was perfect though. I love that you can adjust the ingredients to fit whatever dish you use it with. Fresh basil and and maybe oregano would be great in it, and you could mix it into zoodles along with a side of garlic bread. And cilantro and lime would make a great sauce for Mexican stuffed sweet potatoes. You can also slather that on black bean burgers. Lots of endless ways you can change this up.
Ingredients
3 ripe avocados, peeled and seeded

1 to 2 cups spinach or arugula

3 tablespoons non-dairy shredded Parmesan cheese

1/2 small garlic clove, minced (optional)

1/2 small lemon or lime,

drizzle of extra virgin olive oil

sea salt, to taste

ground pepper, to taste

fresh rosemary and thyme, or whatever herb you prefer
Instructions
1
Place the avocados, spinach, cheese, garlic (optional), juice from the lemon or lime half, and a drizzle of olive oil in a food processor or blender. Blend until mixed. Taste and season with salt and pepper. Throw in a couple of minced sprigs of rosemary and thyme if you like. Blend again and taste to make any further adjustments to the seasonings. Scoop into a dish or top / mix into whatever meal you like.