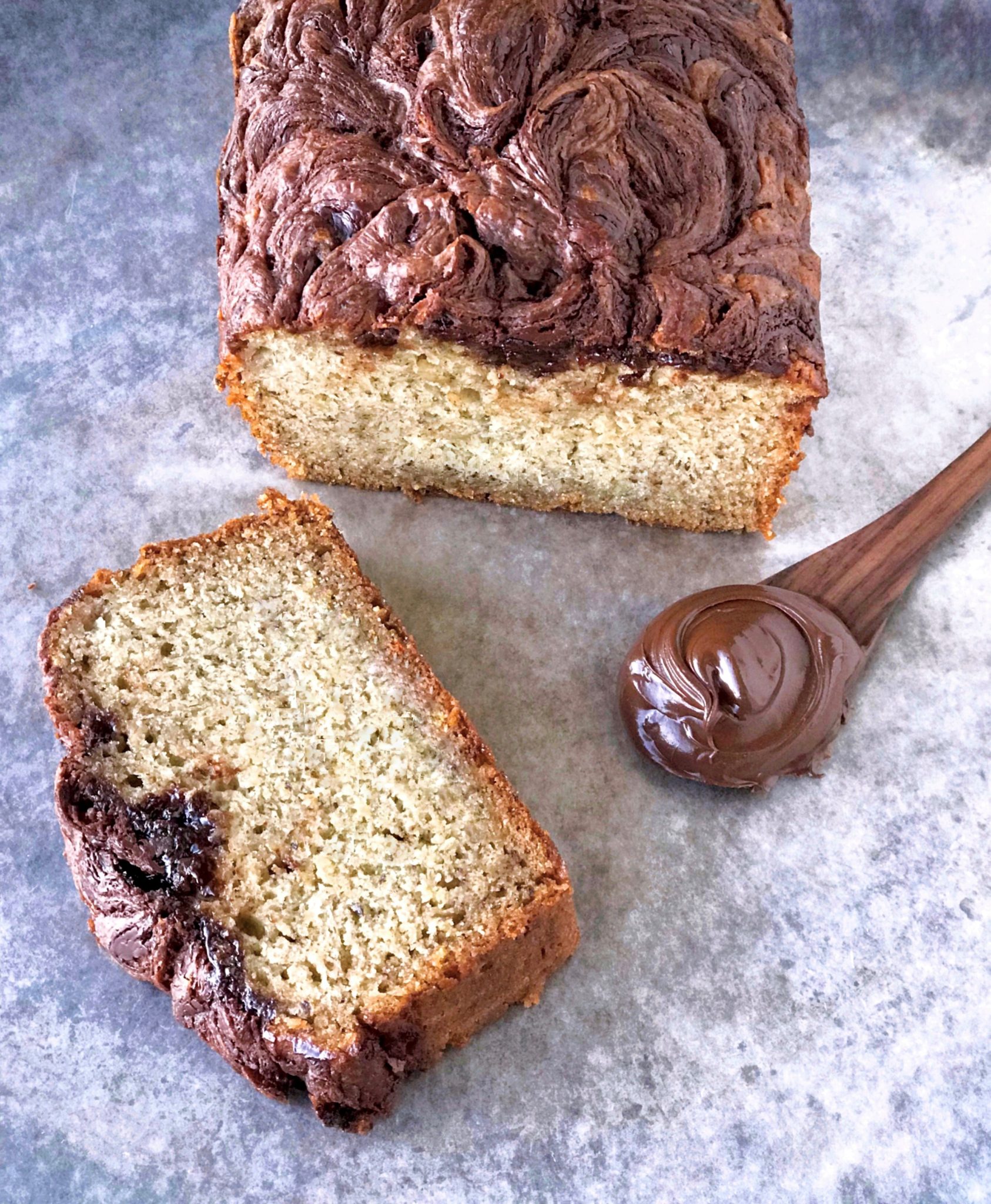 I wish you guys could be here while this oh so amazing smelling bread is baking, because the scent of warm sugar, cinnamon, and bananas literally drives any thoughts out of your head… well other than thinking about eating it.
This recipe came about as I was looking at some very overripe bananas and deciding what to do with them. Banana bread is always a good choice, so I veganzized one of my old recipes. Creaming the butter, even non-dairy, with sugar gives the bread a tender cake-like texture that is so delicious to bite into. Even the raw batter tastes amazing, which is another benefit of eating vegan… getting to eat raw cookie dough and dessert batters. Yah!
The thing to keep in mind about banana bread though, is that you should use very, very ripe bananas. Basically the uglier and brown spotted the tastier it will be. If you don't have fruit like that, you can always roast them unpeeled, on a rimmed cookie sheet lined with parchment paper, in the oven for 20 minutes at 350 degrees F. Let the bananas cool enough to handle them with your bare hands. Once they're cooled off mash and then measure out the amount needed for the recipe. I freeze any leftover amount for other uses like smoothies or baking.
I swirled on some dairy-free hazelnut spread (Rigoni di Asiago Nocciolata Dairy-Free) before baking, and the scent of melting chocolate and banana bread is pretty intoxicating. As luscious as it smells and tastes though, I still prefer my banana bread with a little cinnamon and lots of walnuts. (I did include making it with the chocolate topping in the notes below the recipe.)
Oh and one last thing. Banana bread always tastes better when the flavors have more time to mingle, so it's best to wait until the next day to eat it… and yeah good luck with that. I couldn't resist pulling off a chunk of that chocolatey topping. And yeah, I have to admit I love eating the chocolate hazelnut crust off the top of the bread when the crust is still crisp but also with pockets of melty yum. The chocolate makes the banana bread very tender-soft after a couple of days though, and I like my bread firmer. Now if I could just eat the top portion off the bread the first day and then savor the rest in the following days I would be in heaven. haha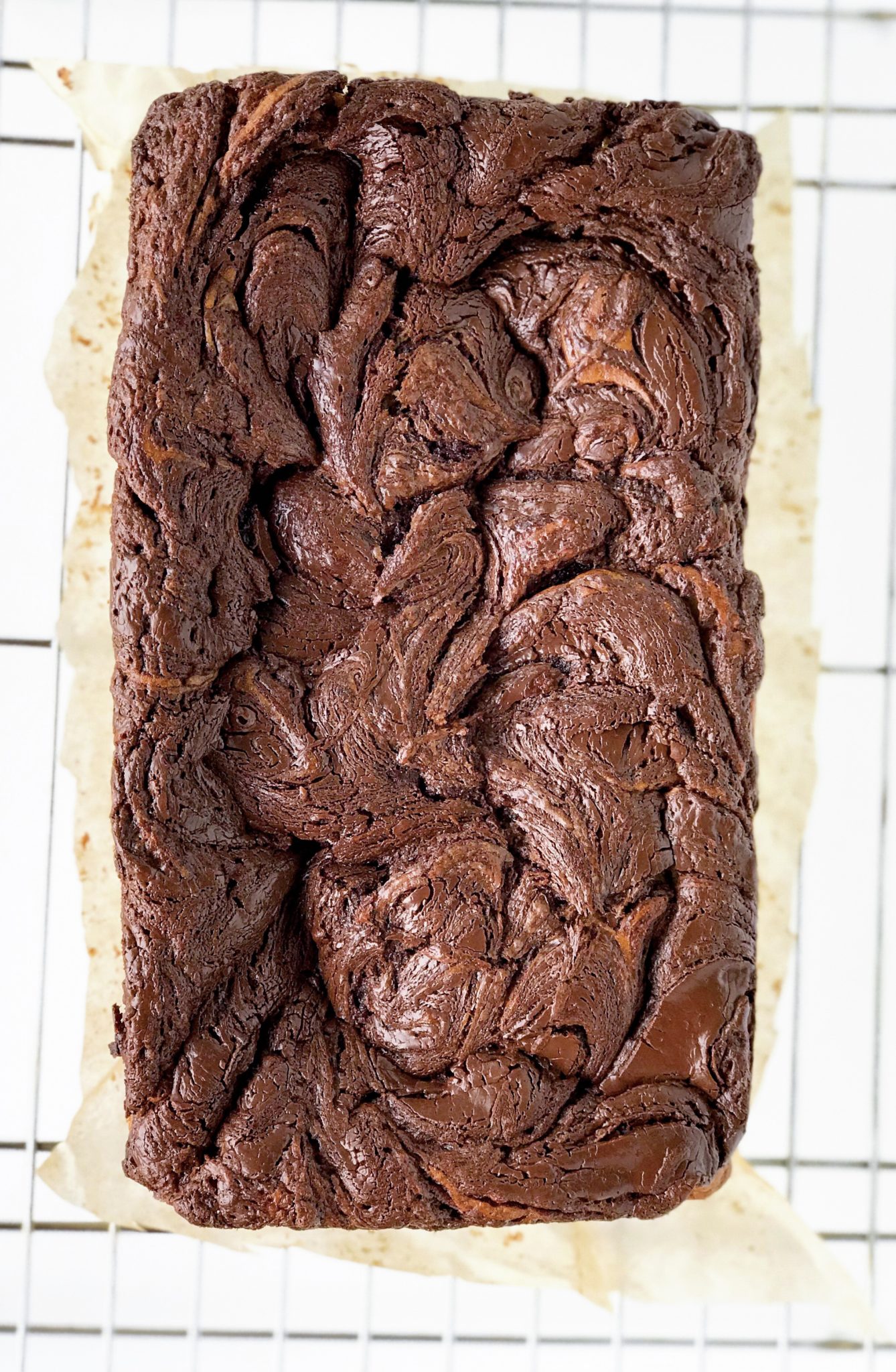 Ingredients
2 tablespoons flaxseed meal

6 tablespoons water

2 1/2 cups unbleached all-purpose flour

1 teaspoon baking soda

1/4 teaspoon baking powder

1/2 teaspoon ground cinnamon

1/4 teaspoon salt

1 to 1 1/4 cups coconut sugar*

6 tablespoons non-dairy butter, softened but firm

1 1/2 cups mashed very overripe bananas

1/2 cup canned coconut milk

1 tablespoons apple cider vinegar

1 teaspoon pure vanilla extract

1 cup walnuts, chopped
Instructions
1
To make the flax egg, stir the flaxseed meal and water in a small bowl; cover and refrigerate for at least 1 hour. Stir once more and leave on the counter.
2
Preheat the oven to 350ºF. Line a 9 x 5 x 3-inch loaf pan with parchment paper.
3
In a medium bowl, whisk the flour, baking soda, baking powder, ground cinnamon, and salt; set aside.
4
In a large mixing bowl, cream the sugar and butter together until combined, about 3 minutes. Beat in the bananas, milk, apple cider vinegar, and vanilla extract.
5
Pour half the flour mixture into the batter and beat on low speed until almost combined. Beat in the remaining flour and beat just until almost mixed; fold in the walnuts.
6
Scrap into the prepared pan and bake for 60 to 70 minutes, or until a toothpick inserted in the middle comes out clean. Remove pan to a cooling rack for 15 minutes, before removing bread to another rack to cool completely.
7
Store bread in an airtight container at room temperature for a couple of days or in the fridge for up to a week.
Notes
Chocolate Hazelnut Topping: scoop out 1/4 cup into a microwave safe bowl and heat for 20 seconds. (Do this before mixing the flour into the batter.) Leave the chocolate in the microwave while mixing the batter. Once you scrap the batter into the prepared pan, drizzle the melted chocolate over top. Swirl it lightly through the top of the batter with a chopstick or knife.
If you want more chocolate taste, omit 1/4 cup of coconut sugar from the recipe and use 1/2 cup of the chocolate. Pour half the batter into the prepared pan and swirl half of the melted chocolate hazelnut spread over it. Top with the remaining batter and repeat with the remaining chocolate.
The amount of sugar is going to depend on how sweet your bananas are. After mashing them taste a tiny bit. If they are super sweet, then you can use just 1 cup. Keep in mind that the flour is going to neutralize quite a bit of the sweetness factor.
Vegan Products:
I used
Rigoni di Asiago
Nocciolata Dairy-Free for the chocolate hazelnut and Earth Balance