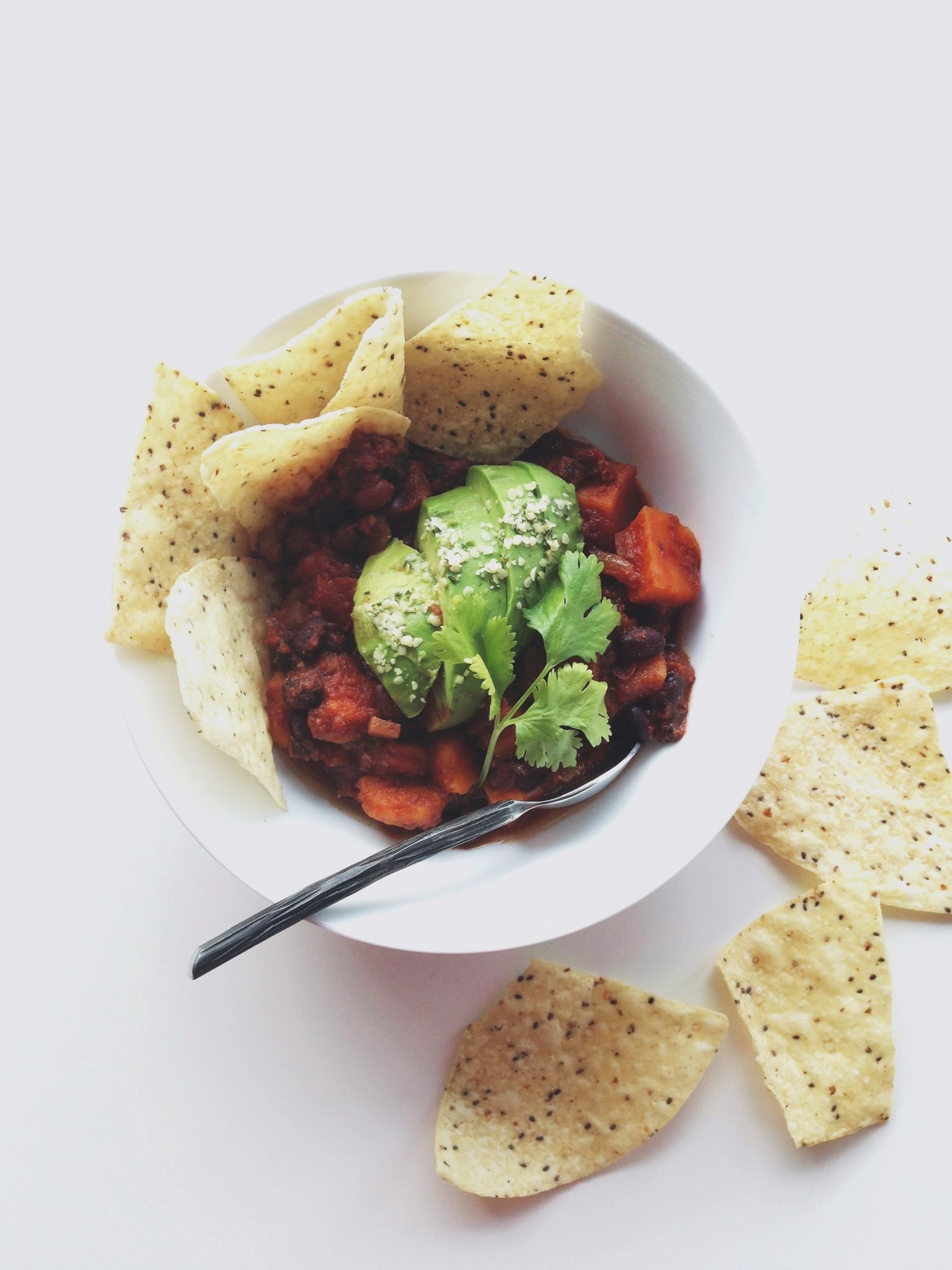 I love sweet potatoes in chili because of the spicy, mellow-sweet flavor sensation. The other great thing about this chili is you can add whatever other vegetables you like, and it's a basic recipe that can be adapted to suit your tastes. I used a mix of black beans and adzuki beans, and they add an earthy and nutty sweet taste that works really well with the sweet potato. When I want a heartier dish for cooler months, I'll also use vegan meat crumbles. This one looks really good, and if you've tried it let me know what you think.
We usually top ours with avocado, non-dairy cheese, and I especially love jalapeños for more of a kick. I've found it best to add them as toppings though, because if you put them in during cooking they can sometimes overwhelm the chili with too much heat. There are lots of ways you can serve it up too… with cornbread, tortilla chips, over pasta as chili mac, or mixed with lentils or rice.
If you're making this for a weeknight dinner, you can do the first step the night before. Then put the onion mixture in a sealed container in the fridge, and the next morning go onto the next steps if you're using a slow cooker. I've found this to be the easiest method for busy times. And the leftovers are great for lunch the following day.
Ingredients
2 tablespoons olive oil

1 large sweet onion, diced

8 ounces baby bella (crimini) mushrooms, diced

2-3 garlic cloves, minced

1 28-ounce can organic low-sodium crushed tomatoes

1 (14 ounce) can low-sodium black beans, drained

1 (14 ounce) can low-sodium kidney or pinto beans drained

2 medium sweet potatoes, peeled and cubed

2 fresh tomatoes, cubed

**1 tablespoon chipotle chili powder

1 tablespoon ground cumin

2 teaspoons fine sea salt, or to taste

water, to thin if needed
Instructions
1
Heat the olive oil in a large skillet over medium heat (if cooking in a slow cooker), or a large pot (if cooking on the stove top). Add the onions and mushrooms and cook, stirring occasionally for 5-7 minutes until tender. Add in the garlic and continue cooking for about a minute more, or until fragrant.
2
Slow Cooker: Scoop the onion mixture into the slow cooker and add the rest of the ingredients. Turn it to medium heat and cook for 4-6 hours, or until the sweet potato is tender. Taste again and adjust seasonings to preference.
3
Stop Top: Add the rest of the ingredients to the pot, and bring to a boil. Stir, and lower heat to low. Simmer until the sweet potato is tender. Cook at least 30 minutes though, so the chili and tomatoes have time to mellow and the flavors mingle more. Stir occasionally and taste to make any adjustments to the seasonings.
Notes
*If I use a milder chili powder, then I usually add about 3 tablespoons. If I use ground chipotle chili powder though, then I'll only use 1 tablespoon. It's always best to take a tiny taste of the chili powder first to see how potent it is.