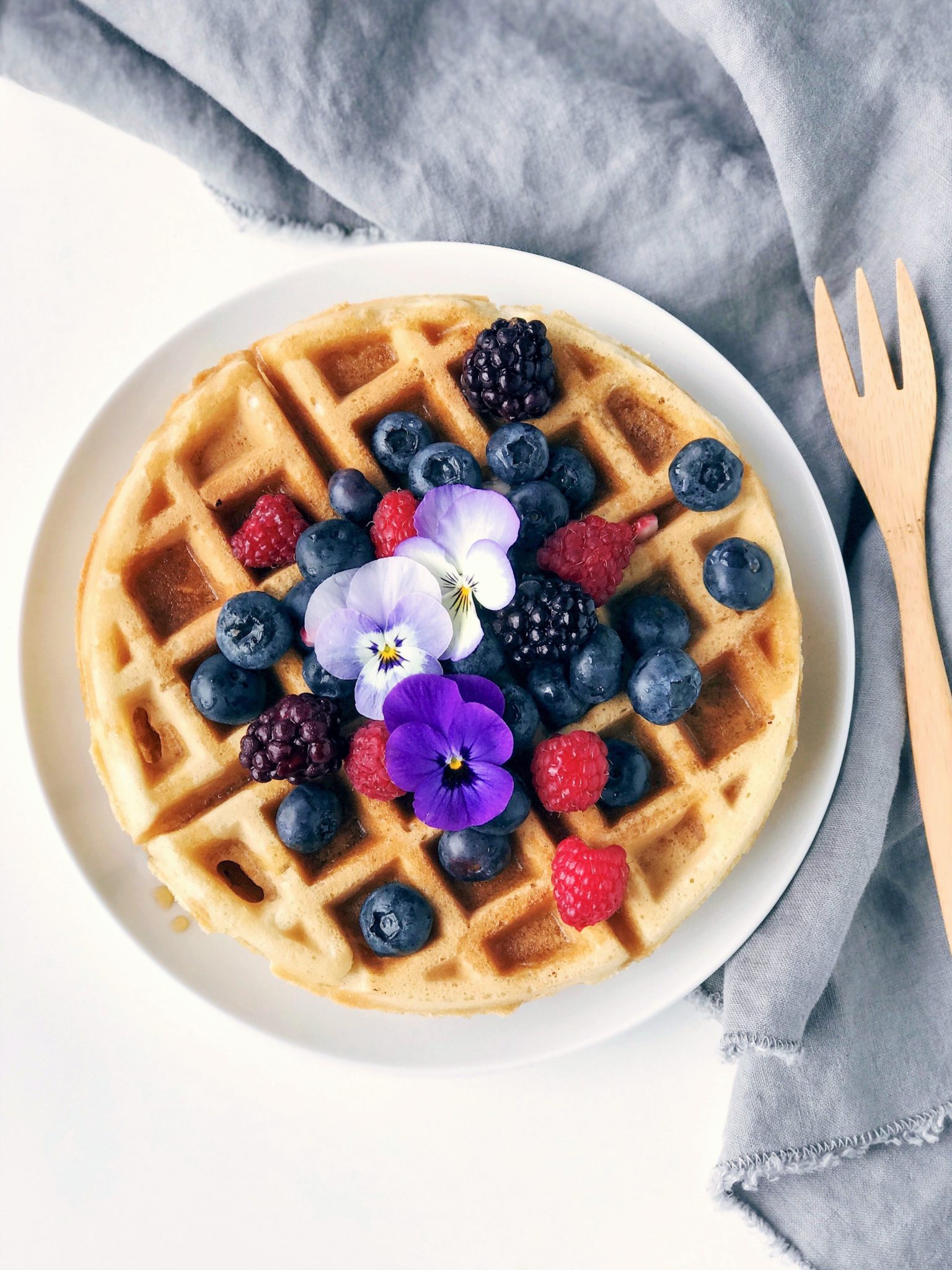 I love spring, and I'm so glad for all the beautiful flowers and growing plants. That means lots of rain though, and I took the photo of these on one of those day (there is also lots of heavy cloud cover today). These pictures aren't as pretty as I would have wished, but the taste of these waffles more than make up for that. They are perfect!
I actually have always loved waffles more than pancakes. I guess it's the thin layer of crispness on the outside, and fluffy tender inside, that woos me. You can also pile a bunch of toppings on top and drown them in maple syrup, and they will still hold together… speaking of my husband here. 😂😂
They are a tiny bit sweet (not over-sweet, just a little sweetness). I really do love them, and these are probably some of the best waffles I've ever had! I hope you enjoy them as much as we do!
Note: One thing I do want to change is our waffle maker. It makes huge ones! I was only able to make 4 waffles with it, but really they are enough for 4 people! So I'll be looking into some new machines. If you have any suggestions I would love to hear from you.
Ingredients
1 cup almond milk

1 tablespoon apple cider vinegar

1 1/2 cups unbleached flour, white spelt flour, 1 to 1 gluten-free flour

2 teaspoons double acting baking powder

1/8 teaspoon baking soda (increase to 1/4 tsp. for spelt or 1 to 1 gf flour)

1/4 teaspoon sea salt

3 tablespoons pure maple syrup

3 tablespoons aquafaba

4 1/2 tablespoons melted coconut oil
Instructions
1
Add the almond milk to a measuring glass and stir in the vinegar. Leave on counter for 15 minutes; stir.
2
In a large bowl, whisk the flour, baking powder, baking soda, and sea salt together; set aside (note: it's important to stir up your flour first. Then using a spoon, scoop the flour into your measuring cup. Level off the top with a knife. This will ensure you're not using too much, which will lead to a very heavy waffles.)
3
In a medium bowl, whisk the buttermilk, maple syrup, aquafaba, and oil together until combined.
4
Heat up your waffle griddle. Then fold the wet ingredients into the dry and stir just until there are no more streaks of flour showing. There may still be some small lumps, but they will melt away while the while the waffles cook. Don't over mix, or they won't be as tender on the inside.
5
Follow your waffle maker's instructions. I have a large Belgian waffle maker, so it made 4 large ones, and it took 4 minutes to cook.