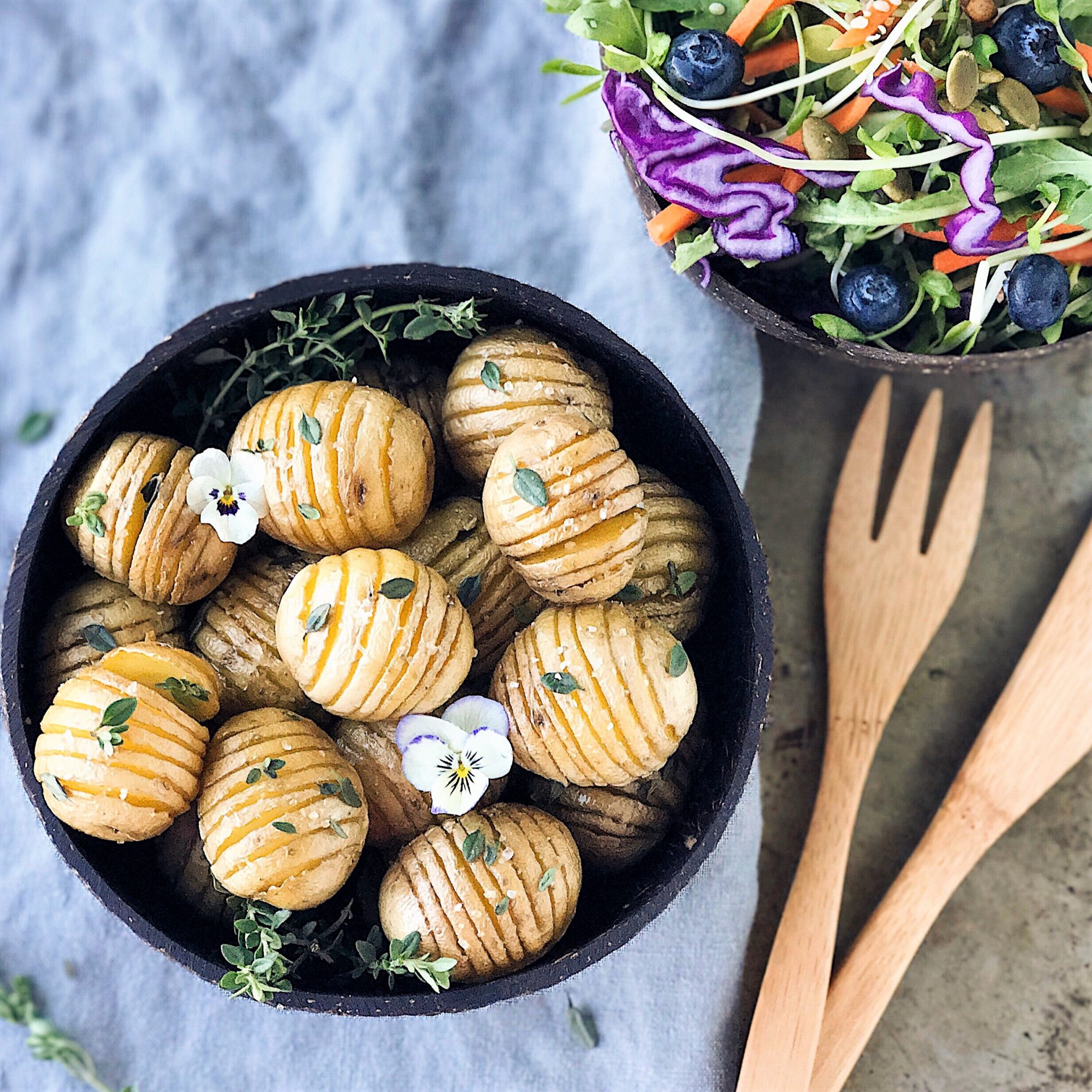 I had a bunch of tiny baby potatoes, and I was trying to figure out a new way to make them for dinner. All of a sudden "hasselback potatoes" popped into my mind. Yeah, I seem to get these flashes of inspiration when it comes to food more than anything else. lol
These potatoes are so adorable, because they are about 3/4 the size of my pinkie. The edible flowers I topped them with are actually very tiny, and the blueberries in the salad are small as well. A better comparison is looking at the lemon thyme sprigs and leaves. You can use any size potato you like, but the baking time will change depending on the type and size you use.
I didn't give exact measurements, because this recipe can be adjusted however you like. This is more about the method of making them, and also some different ideas on serving them. I mixed mine into a salad, but I think a great idea would be for snacking too. Any age would love this, and you could make up some guacamole or your favorite dip. Larger sized potatoes make a great side dish, or even as the main part of the meal by topping it with a mix of black beans, corn, and a spicy sauce. There are endless combinations you can do, and I can't wait to start trying them myself.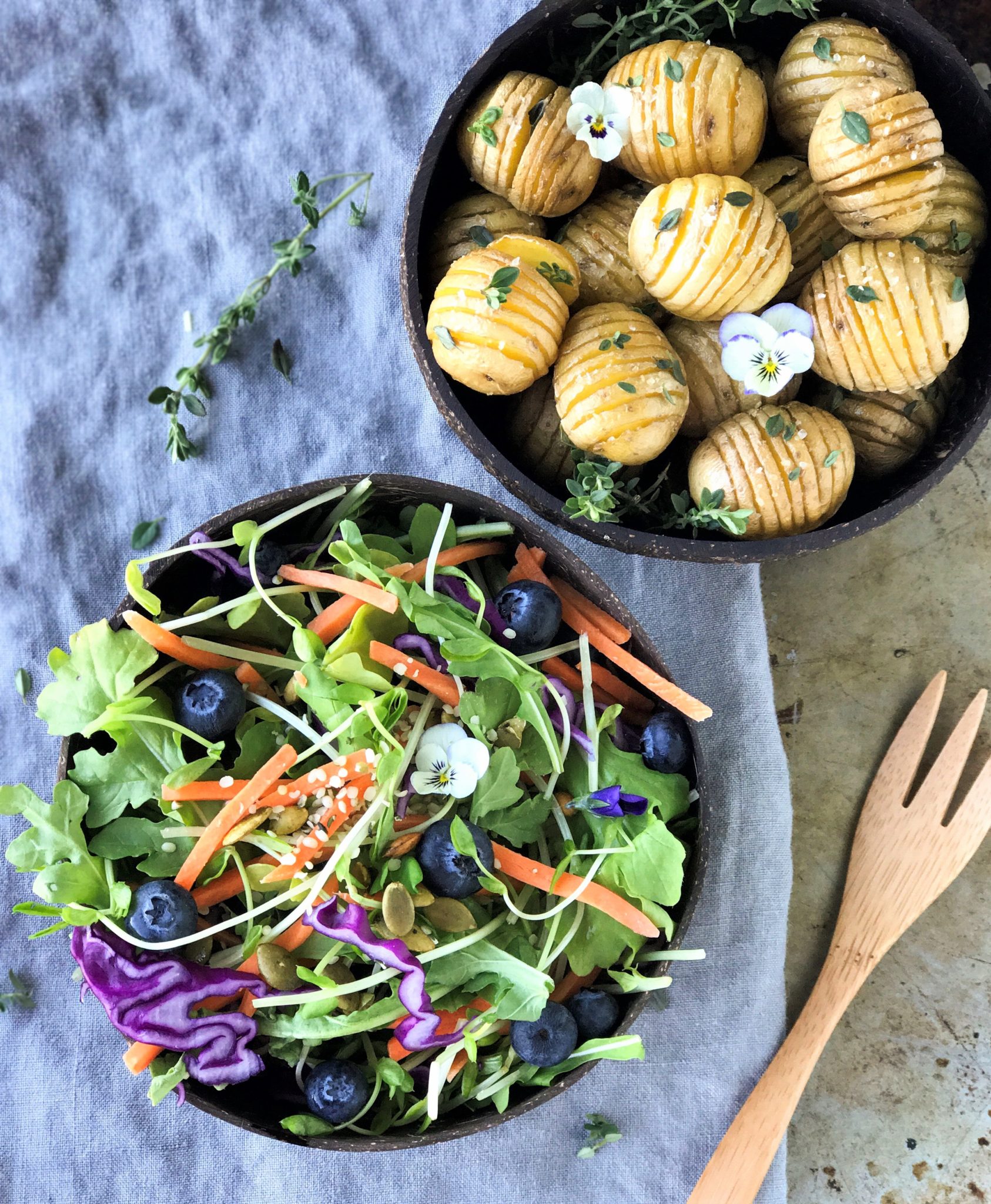 Ingredients
baby potatoes

olive oil

seasonings

dried or fresh herbs
Instructions
1
Preheat oven to 375 degree F. Many recipes call for 425 up to 450 degrees F. The crazy thing is they have the same cooking time! I chose my temperature, because these were so tiny. I wanted them to bake inside without burning up the outside. This temperature worked best for me, but everyone's oven is different. I would use whatever has worked the best for you when you made baked potatoes. It will bake faster though, because they have multiple slices for the heat to enter.
2
Line a rimmed baking sheet with parchment paper and set aside.
3
Scrub the potatoes, with the skin on, and pat them dry. I then lay my potatoes on the counter to see which side to make the cuts on. You don't want them rolling around, so make sure the flatter side is facing down. You can also cut a lengthwise slice off the bottom if your potatoes really don't have a flatter side.
4
Cut slits into the potato, slicing down 3/4 of the way to the bottom. You want about 1/4 of the potato unsliced at the bottom to hold it together. You can use two wooden spoons or chopsticks as guides. What you do is place a potato between the handles of the wooden spoons or chopsticks and slice your potatoes. Your knife won't cut past the handles on either side, ensuring that you don't cut too deeply into the potato. (I couldn't do this, because mine were too small. I didn't have any problems though.) Space your slices 1/4 inch apart. I wouldn't do it any thinner, because your potatoes won't be as tender inside.
5
Place your potatoes onto the prepared pan. Once all the potatoes are cut, brush a little oil on the top and sides of each. Bake for 30 minutes, and remove from the oven. Your potato slices will have spread more apart. Brush your potatoes with more oil, being sure to let some drizzle inside the slits. Sprinkle with your seasonings and herbs. Return to the oven and continue baking for 15 to 30 minutes, or until the potatoes are easily pierced in the middles with a paring knife. It's going to depend on the type of potato and the size.
Notes
Use whatever type of oil, seasonings, and herbs you like. I used olive oil, coconut lime sea salt, lemon pepper, and fresh lemon thyme sprigs.