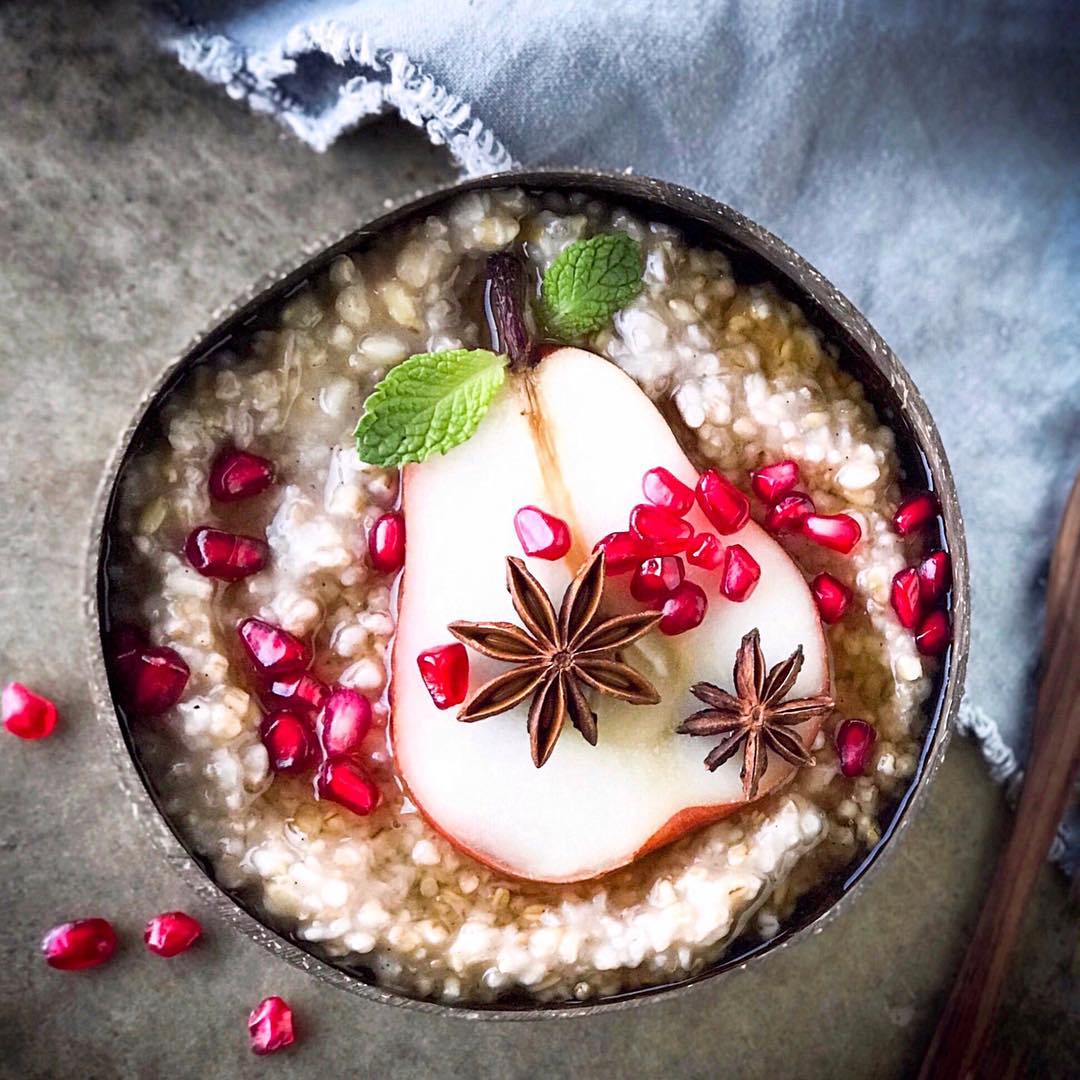 I'm actually eating a warm bowl of creamy overnight oatmeal as I'm writing this post. I mix it up the differently each time, as you can tell by the photos, but for this one (not pictured, since I wanted to eat and not shoot lol) I swirled in orange cranberry sauce and a splash of lush vegan eggnog… which of course has a dash of amaretto in it too. 😉
My oatmeal recipe is simple and easy to double or triple, depending on your family size, and I cook up a big pot Sunday evening. Just store it in a container in the fridge and scoop out however much you want each morning. It makes a perfect breakfast all through the week. It's fast to heat up, and it leaves you feeling satisfied until lunch. The other great benefit is that you won't get mid-morning hunger pangs, but you also won't feel bloated or tired like some filling breakfast can make you feel.
During the colder months I eat a bowl every weekday morning, and I never get tired of it. That's because, as I mentioned above, I use different milks, toppings, and swirl-ins. That's also why I make the porridge with only water, steel cut oats or a mix-in of quinoa, and maybe some ground cinnamon or pumpkin pie spice (recipe for the latter below). This makes it perfect for couples and families, because everyone is able to flavor their bowls how they want.
The sweeteners I use are maple syrup, plant based milks like chocolate or eggnog, or the vegan caramel from my smoothie bowl two posts back. You can also use coconut or organic brown sugar. And this is another reason I don't presweeten the oatmeal. I like less sweet, while my husband likes more. This way we can both make it the way we prefer. I also like to add nut butter. They are a perfect protein, and so is stirring in protein powder after you heat it up. Toppings of fresh fruit, seeds, and nuts are also healthy and tasty additions. A super yum treat is making a thick nice cream smoothie and letting it melt into your hot oatmeal. It tastes like a rich dessert, but it is actually really good for you. Definitely a win-win meal.
Oh and before I forget, here's the recipe for homemade pumpkin pie spice. I love using in baking and cooking, and if you put it in a dressy little jar it makes a really nice hostess or holiday gift.
Homemade Pumpkin Pie Spice
4 teaspoons ground cinnamon
2 teaspoons ground ginger
1/2 teaspoon allspice
1/2 teaspoon ground cloves
1/2 teaspoon ground nutmeg
Whisk to blend and store in an airtight jar for up to 6 months; shake to mix before using. You can change up the ingredients and measurements up to suit your taste.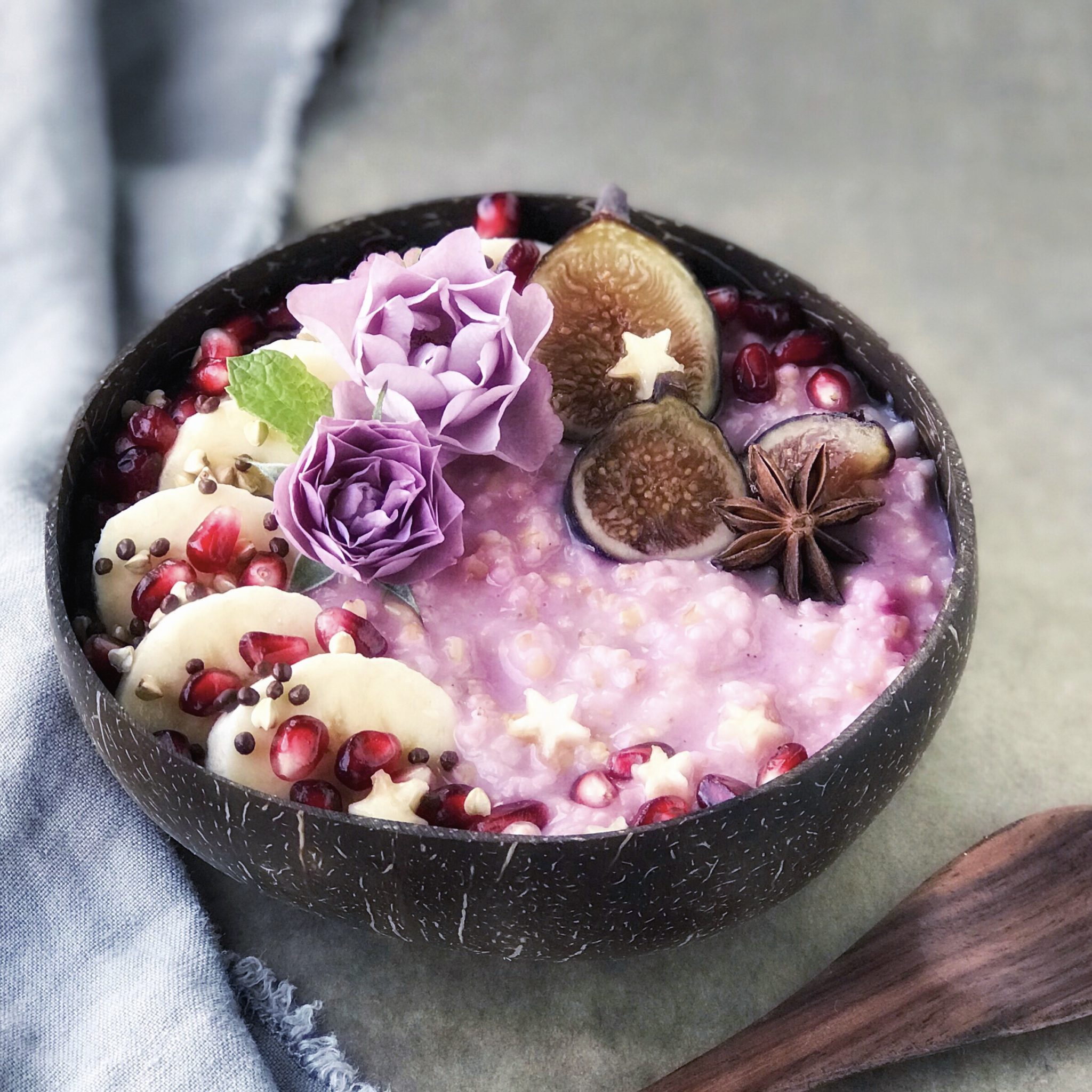 Ingredients
4 cups water

1 cup steel cut oats*

1 - 2 teaspoons cinnamon or pumpkin spice
Instructions
1
Place all ingredients in a large pot, and bring to a boil over high heat. As soon as it's bubbling, cover and turn off heat but leave the pot on the burner.
2
After 1 hour stir and scoop into a container and place in fridge overnight. For softer oats heat on the stove the next morning until it's the texture you like. I prefer chunkier porridge, so I just scoop out enough for breakfast and microwave it in my bowl for 1 1/2 minutes.
Notes
*I like to mix it up with quinoa and different types of grains. Just keep the measurements the same for whole grains. You would use less liquid and cooking time for regular and rolled oats. I tend to throw in a handful of rolled oats near the end of cooking for a chunkier porridge.