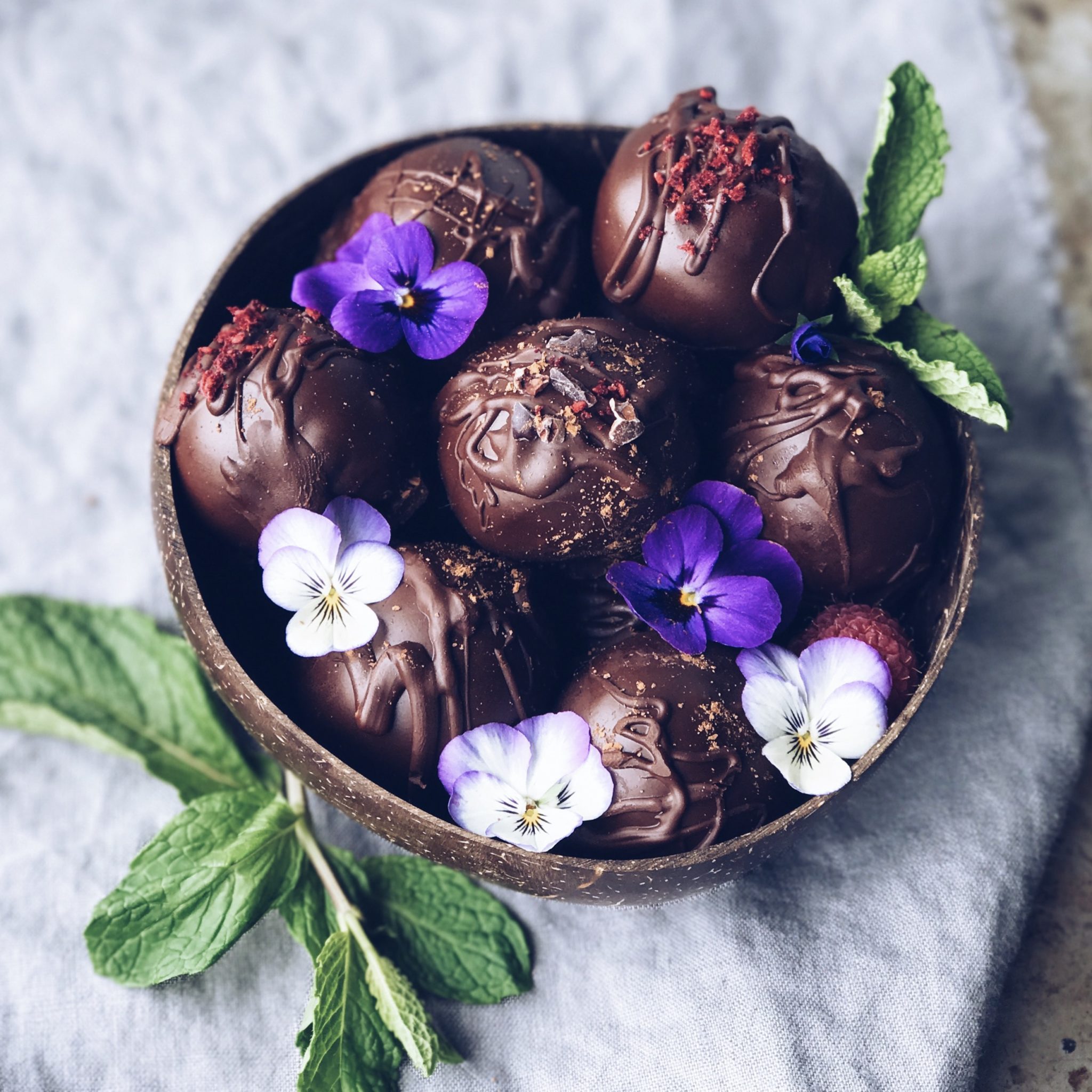 These tahini and caramel bliss balls are sooo good! You can drizzle the tops with dark chocolate or dunk the whole ball in it. I sprinkled the tops with dried raspberries, cacao nibs, and a dusting of matcha, but minced nuts and unicorn sprinkles would be great too. I have to admit that I prefer them plain though, but for special occasions or gifts they are very pretty when decorated.
The funny thing is these came about by accident. I was in the store gathering ingredients to make Heidi's (The Simple Green Blog) No Bake Salted Caramel Omega Bars. Then I saw a jar of organic tahini, and the idea to make these popped into my head. I have no idea why, but I'm so glad it did. I went home and made changes to her recipe, and it worked perfectly the very first try. That's actually pretty amazing, because I've never made bliss balls before. (I know, I can't believe I haven't either.) And I also didn't look up a recipe to see how to do it. I just worked it out in my head… so maybe I should call these "miracle" instead of bliss. lol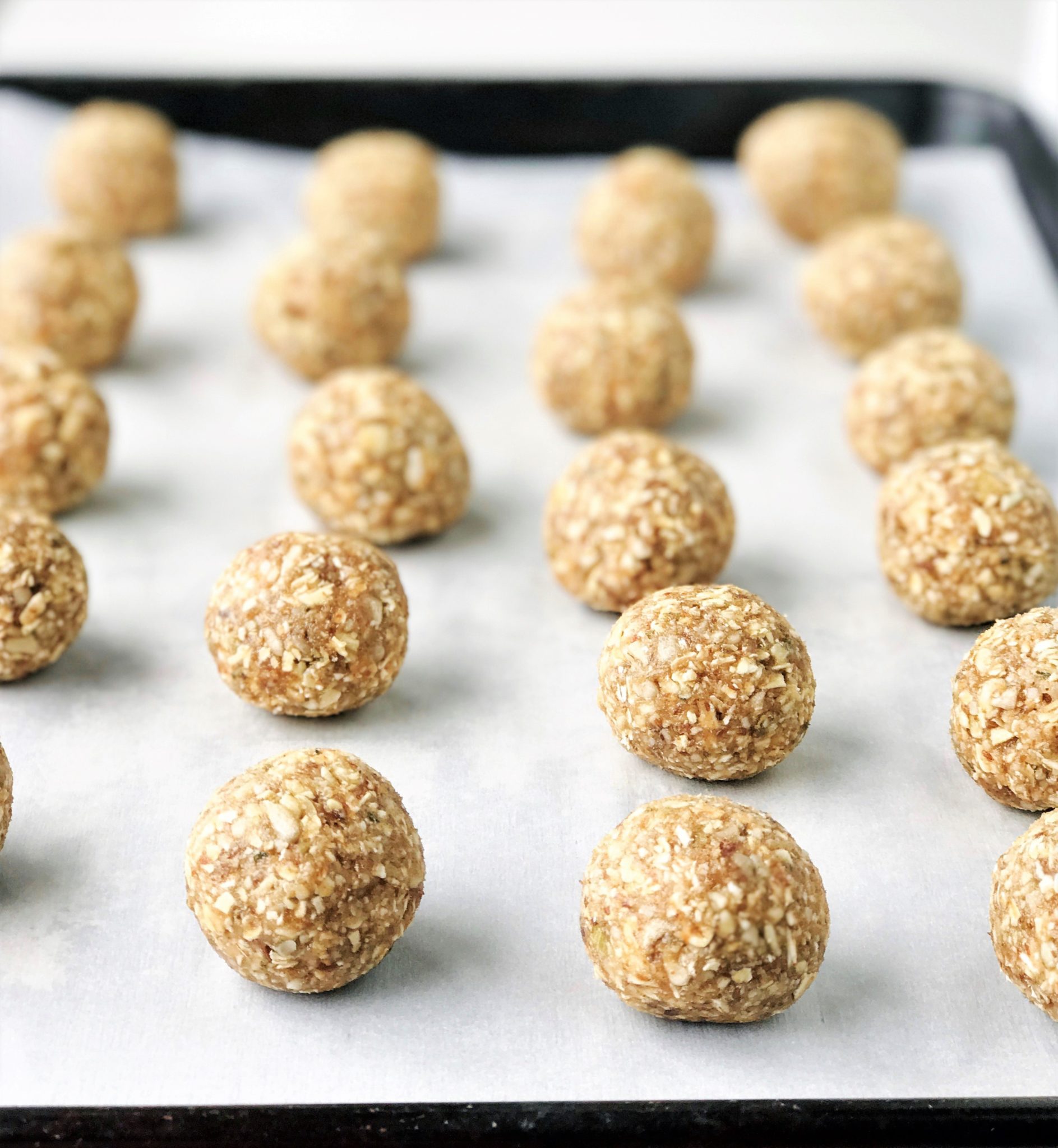 The taste of these may be blissful, but they are also very healthy. They're gluten free, refined sugar free, and full of super foods like flax seed and hemp seed, but all the all the ingredients in this snack have health benefits in different areas. Definitely a win-win and they're a prefect snack for in-between meals and little energy kicks during the day.
You should also make Heidi's bars. I'm definitely going to, because they look and sound extremely delicious! Her blog is really worth checking out and following, because it's so gorgeous and full of amazing recipes and beautiful photos.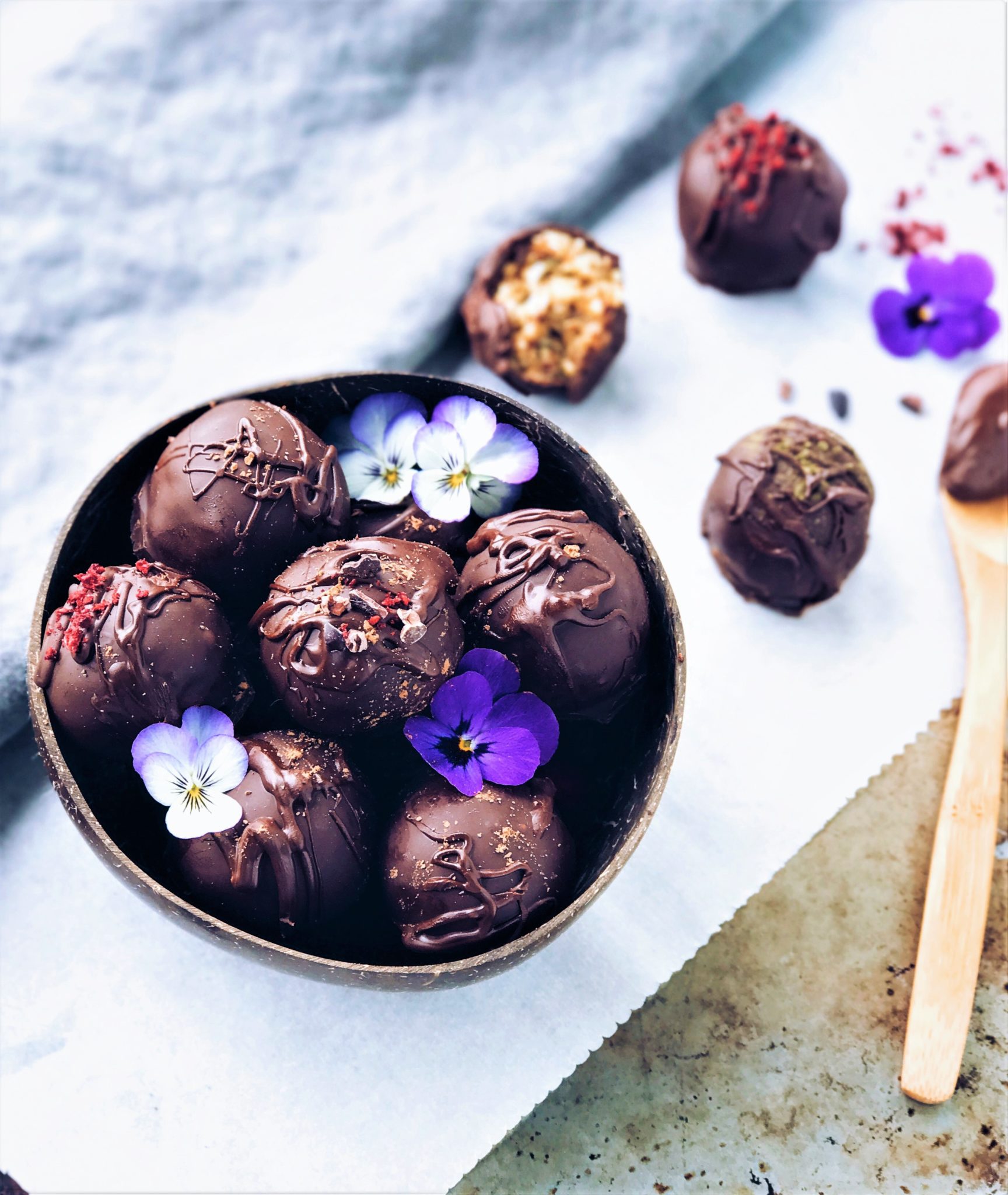 Ingredients
10 pitted medjool dates*

1 1/2 cups rolled oats

1/2 cup raw cashews

1/4 cup raw sunflower seeds

1/4 cup pumpkin seeds

1/8 teaspoon sea salt

2 tablespoons ground flaxseed meal

2 tablespoons raw hemp seed hearts

1/3 cup tahini

2 tablespoons melted coconut oil

2 tablespoons pure maple syrup*

1 tablespoon reserved date water or filtered water

1 teaspoon pure vanilla extract

Dark Chocolate Drizzle: optional

1/2 cup dark chocolate chips

1 teaspoon coconut oil
Instructions
1
If your dates have been refrigerated or are not soft, then you will need to soften them. Place the dates in a medium bowl. Pour in enough hot tap water to submerge them and soak until softened. It's going to depend on your dates, and it can take anywhere from 5 to 20 minutes (mine only took 5 minutes), so start checking at the 5 minute mark. The skin should be very loose, and the inside soft and mushy when you squeeze it.
2
In the meantime, place the rolled oats, cashews, sunflower seeds, pumpkin seeds, and salt in the bowl of a food processor and process until ground into a coarse fine crumb. You don't want any big chunks. (You can get an idea of how it should look in the middle picture. I know I should have taken a picture while it was in the processor, but yeah hindsight. ha) Pour into a large mixing bowl, and whisk in the flaxmeal and hemp seeds ; set aside.
3
Drain the dates when they're ready, and place the dates in the food processor. Don't throw away the soaking water though. You're going to use some of it for the recipe. You can store the remainder, in a sealed jar in your fridge, and use it to lightly sweeten other treats.
4
Add the tahini, coconut oil, maple syrup, water, and vanilla extract to the dates and process. until smooth and no lumps remain. Scrape the caramel into the oat mixture and use a hand or stand mixer to combine the ingredients.
5
Using a cookie scoop (I used a 1 1/2 tablespoon scooper), scoop up the dough and roll the mixture into balls with your hands. Place on a parchment lined rimmed cookie sheet. Once you have finished, place the pan in the refrigerator for 2 hours. Once they're ready, remove the sheet from the fridge and leave on the counter while you prepare the drizzle.
6
Place the chocolate chips and coconut oil in a medium-small microwave safe bowl. Heat in increments of 30 seconds, stirring after each, until the sauce is melted and smooth. You can either drizzle the chocolate over the balls or dunk the bliss balls into the chocolate with two spoons. Place back onto the cookie sheet. Place back into the refrigerator for 15 minutes, or until the chocolate is set. Store the bliss balls in an airtight container in the fridge.
Notes
*If you really love the taste of dates then up the amount to 12 and omit the maple syrup. My husband isn't too crazy about them, so that's why I used this amount. He loved these bliss balls though, so I'm going to use more the next time I make them.
Note: You can also add in mini chocolate chips, dried fruit, or change the nuts and seed mix. If you're adding chocolate chips or dried fruit though, then add it in at the same time as the flax and hemp seed.
Also if you're coating the balls with chocolate, double the amount of chocolate but leave the oil measurement the same.