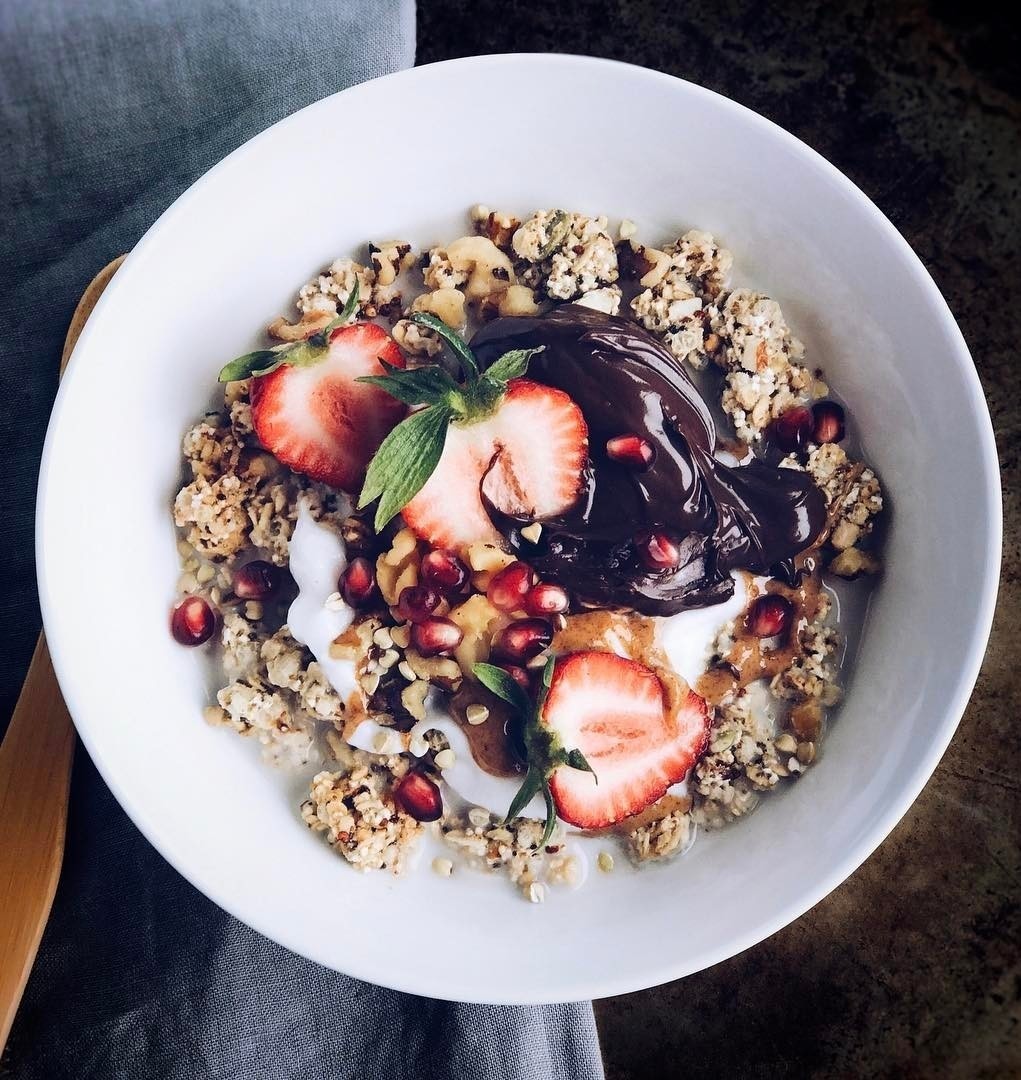 I don't have a set granola recipe, because I like to mix it up differently each time. This is a guideline of the two basic formulas I use though. Please feel free to change it to whatever suits your tastes best. Like in the first recipe, you don't have to use all the nuts, seeds, dried fruit, or spices that I do. I just listed what I like to add, so you'll have an idea of measurements and also add-ins you may not have thought of.
This first one, pictured above, I probably make the most. I like to use seasonal ingredients and also special add-ins for the holidays. It also travels really well, so this granola makes a great treat to send in the mail to someone special… like if you have kids away at school. For this chunky granola I also added in some cooked red quinoa, chia seeds and used brown rice syrup as the sweetener. It's less sweet tasting and adds a more mellow flavor. I topped it with homemade almond butter, plain coconut yogurt, Rigoni di Asiago Dairy-Free Nocciolata, toasted walnuts, pomegranate arils, and some strawberries that weren't quite ripe enough but still really good.
The second granola recipe that I use has no added oil, because the "binder" comes from the nut butter you use. I prefer almond butter, but you could make it with peanut, cashew, walnut, or sunflower nut butters.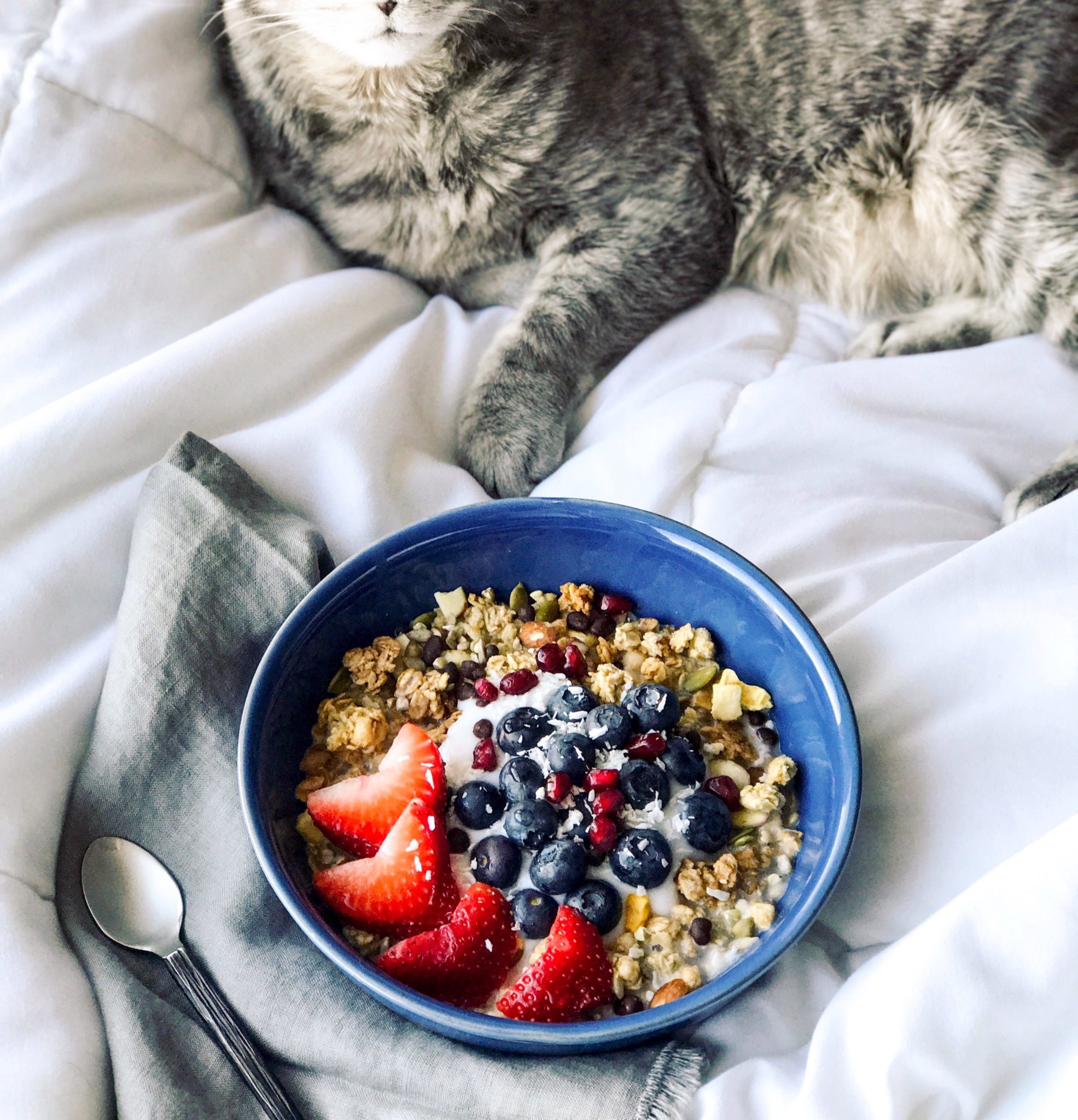 Ingredients
Granola with Coconut Oil

2 cups old-fashioned rolled oats, spelt, barley, or kamut

1 cup raw buckwheat groats

1 cup dried unsweetened large flaked coconut

1/4 cup raw pumpkin seeds

1/4 cup raw sunflower seeds

1/4 cup raw almonds, roughly chopped

1/4 cup raw pistachios

1/2 teaspoon ground cinnamon

1/2 teaspoon pumpkin pie spice

1/4 cup hemp seeds

3 tablespoons melted coconut oil

1/3 to 1/2 cup pure maple syrup or brown rice syrup

1 teaspoon pure vanilla extract

Add-Ins

1/4 cup dark chocolate chips

1/4 cup dried cranberries

crystallized ginger to taste




Nut Butter Granola

3 cups rolled oats, or add in any or all of these grains to the oats to equal 3 cups: rye, tricale, barley, golden flax

1 teaspoon ground cinnamon

1/3 to 1/2 cup nut butter, (depends on how runny or dry it is)

1/3 to 1/2 cup pure maple syrup or brown rice syrup

1 teaspoon pure vanilla extract

1/2 to 1 cup of a combination of nuts, seeds, coconut shreds, etc
Instructions
1
Instructions for Both Granolas:
2
Place one oven rack in the middle of the oven, and place the 2nd rack right above it. Preheat oven to 300° F. Line rimmed baking sheet with parchment paper; set aside.
3
In a large bowl, whisk the dry ingredients together (except the add-ins). In a small saucepan, combine your wet ingredients (except the vanilla extract). Stir over low heat until the ingredients are combined, and then stir in the vanilla. Pour over the oat mixture and stir until combined.
4
Spread the granola evenly onto the prepared pan and place on the middle oven rack. Bake for 15 minutes, before rotating the pan and placing on the upper rack. Bake for an additional 15 minutes, or until the granola is golden brown. Keep an eye on it, because it can over bake near the end.
5
Remove the pan to a cooling rack. This is when I usually sprinkle the add-ins evenly over top and press down gently. I don't stir it in though, because I want it to cool into a chunky granola, not shattered into small bits. Once it's completely cooled you can break it up into large or smaller chunks, and store it in an airtight container for up to 6 weeks.