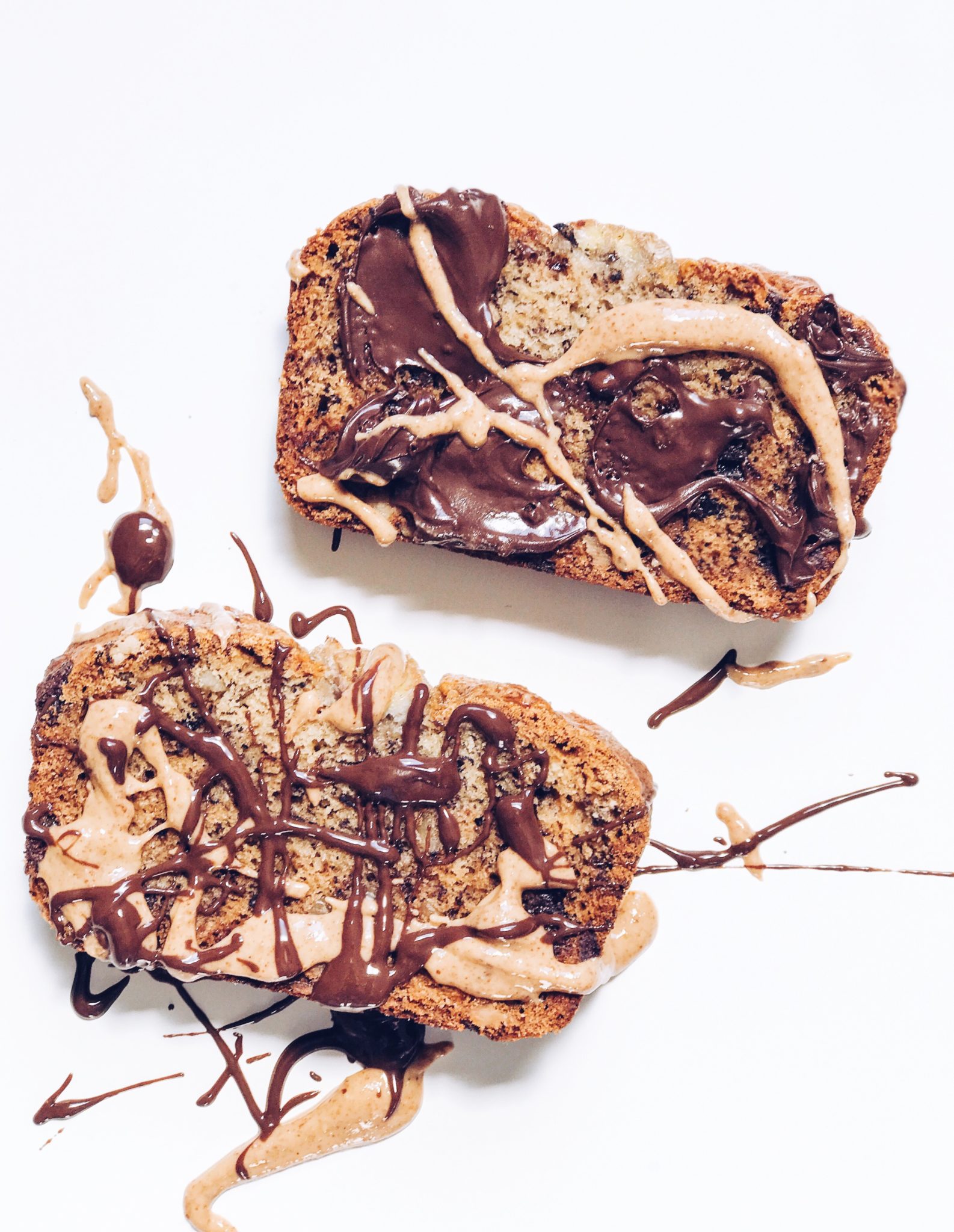 This bread smells so good when it's baking, and the taste is the ultimate! Fluffy banana bread with little pockets of melting dark chocolate and toasted walnut bites. Absolutely love this recipe!
I did over bake it by about 5 minutes, so it's a little too brown near the bottom crust. Still really good though! I drizzled a couple of slices with Rigoni di Asiago Dairy-Free Nocciolata and Once Again Creamy Roasted Almond Butter. Both items are vegan, and honestly the best I've ever tasted for "nutella" and almond butter. The Nocciolata doesn't have that almost over-the-top sweetness of Nutella. The taste is much deeper and richer, and they also have this dairy-free option. Once Again is organic, and the only ingredient in this almond butter is dry roasted unblanced almonds… no added salt, sugar, or some weird chemicals. I can't believe it tastes even better than the almond butter that I make at home, so I know the almonds they roast are excellent.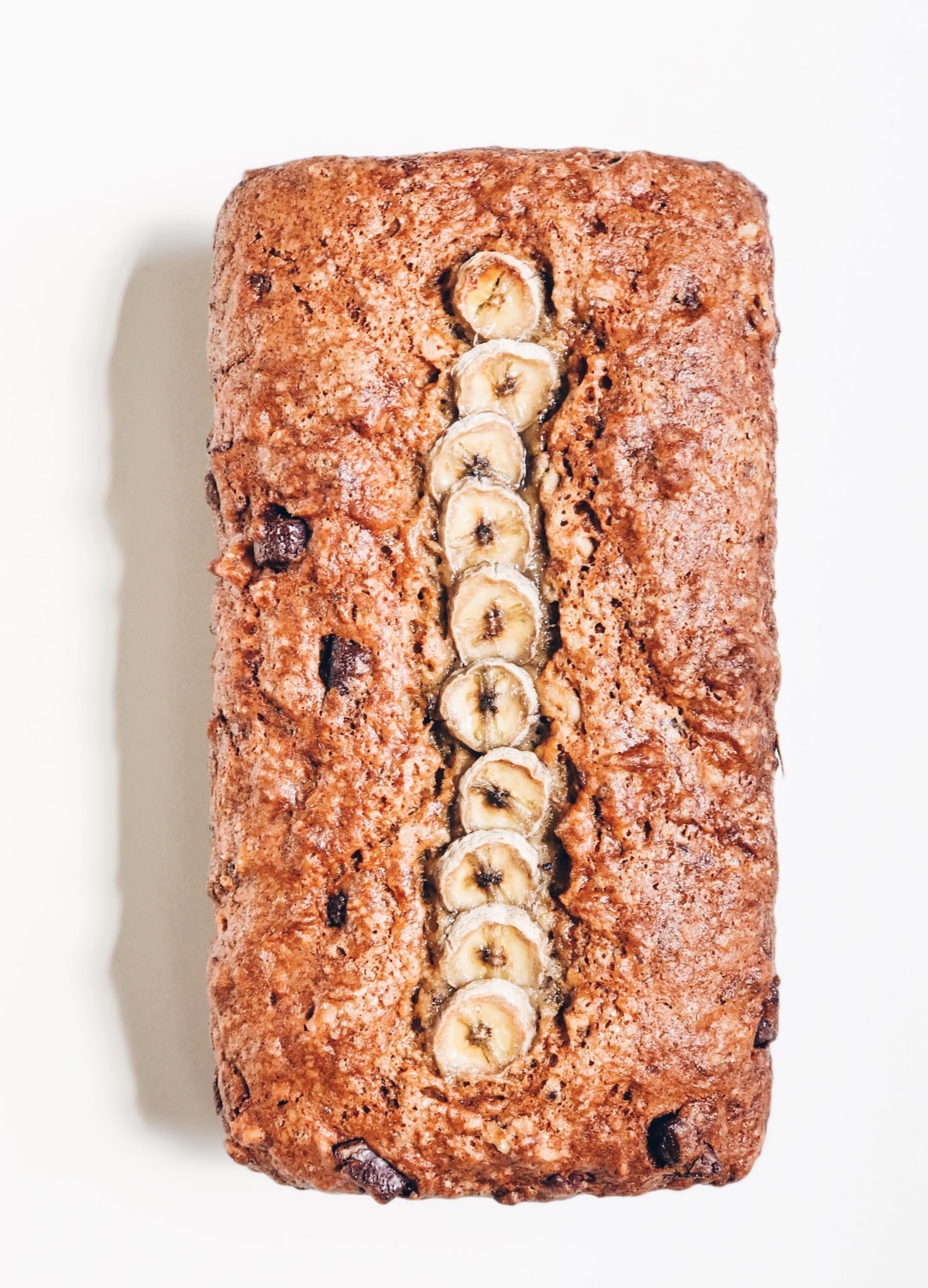 Ingredients
1 tablespoon flaxseed meal

3 tablespoons aquafaba

1 tablespoon apple cider vinegar

canned coconut milk to make 1 cup coconut milk

2 cups white spelt flour

1 teaspoons baking powder

1 teaspoon baking soda

1 teaspoon ground cinnamon

1/4 teaspoon salt

1 cup mashed very ripe banana*

2/3 cup coarse coconut sugar, or 1/2 cup finer grained raw sugar

1/4 cup neutral tasting oil

2 tablespoons maple syrup

1 teaspoon pure vanilla extract

1/2 cup chopped dark chocolate or chocolate chips

1/2 cup chopped toasted walnuts

lengthwise sliced banana for topping, optional
Instructions
1
Stir the flaxseed meal and aquaba in a small bowl to make a flax egg; cover and refrigerate for at least 1 hour. Remove from fridge, stir again and set on the counter.
2
Preheat oven to 350 degrees F. Line a 9 x 5" loaf pan with parchment paper or coat with oil; set aside.
3
Add the apple cider vinegar to a glass measuring cup and then add enough of the coconut milk to measure 1 cup; stir and set aside for 15 minutes.
4
In a large bowl, whisk the flour, baking powder, baking soda, ground cinnamon, and salt together; set aside.
5
In a medium bowl, whisk the mashed banana and sugar together. Whisk in the milk, flax egg, oil, maple syrup, and vanilla extract until well combined. Scrape into the flour mixture and stir just until almost combined. Add the chocolate and walnuts and stir just until blended; do not over mix or the bread will not be tender.
6
Pour into the prepared pan and sprinkle the top with a little coarse sugar if you like. Place in the oven and bake for 65 to 70 minutes, or until a tester inserted in the top comes out clean. Remove pan to a cooling rack for 10 minutes, before removing bread from the pan to a wire rack to cool completely before slicing. If you used parchment paper, then carefully remove the bread from the paper before leaving it to cool.