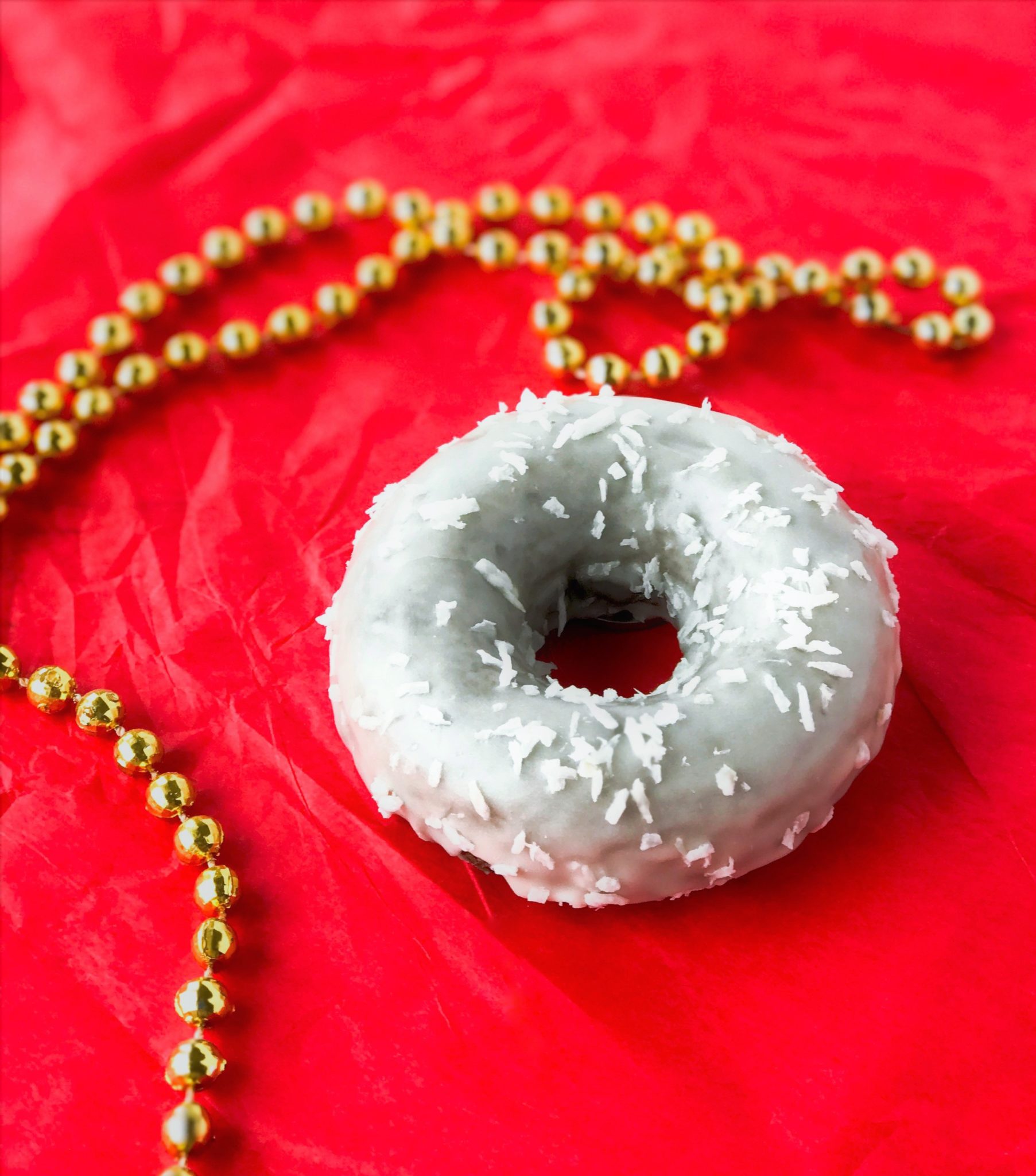 Hope Santa doesn't mind that these donuts taste like luscious devil's food cake… after all it's just the chocolate version of angel's food cake, right? Well the very rich, lush, and naughty version. lol
I used non-dairy eggnog for the liquid, because I have been on an eggnog binge since I first tasted Califia Farms Almond Milk Holiday Nog. It is soooo good!! I've been using it in practically everything. Smoothies, baking, yeah just about everything. It has a rich taste, without being cloying or having that strange aftertaste that some plant based versions do. Even my husband, who usually dislikes eggnog, really likes this a lot. So yeah, I used it in these bad boys too.
This comes together very easily, and the baking soda reacts with the cacao in a way to insure the deeper color and also the fluffy tenderness that devil's food cake is known for. For the glaze, this time I used organic (and vegan friendly) confectioner's sugar. I really prefer melted non-dairy chocolate, but I didn't realize that I was completely out until I went to make it. Ugh! I wrote down the recipe for both, so you can chose whichever you like. It's a lush treat, but it's gluten free, refined sugar free (if you don't use the glaze), and vegan. I think Santa is actually going to love this more than the usual cookies and milk!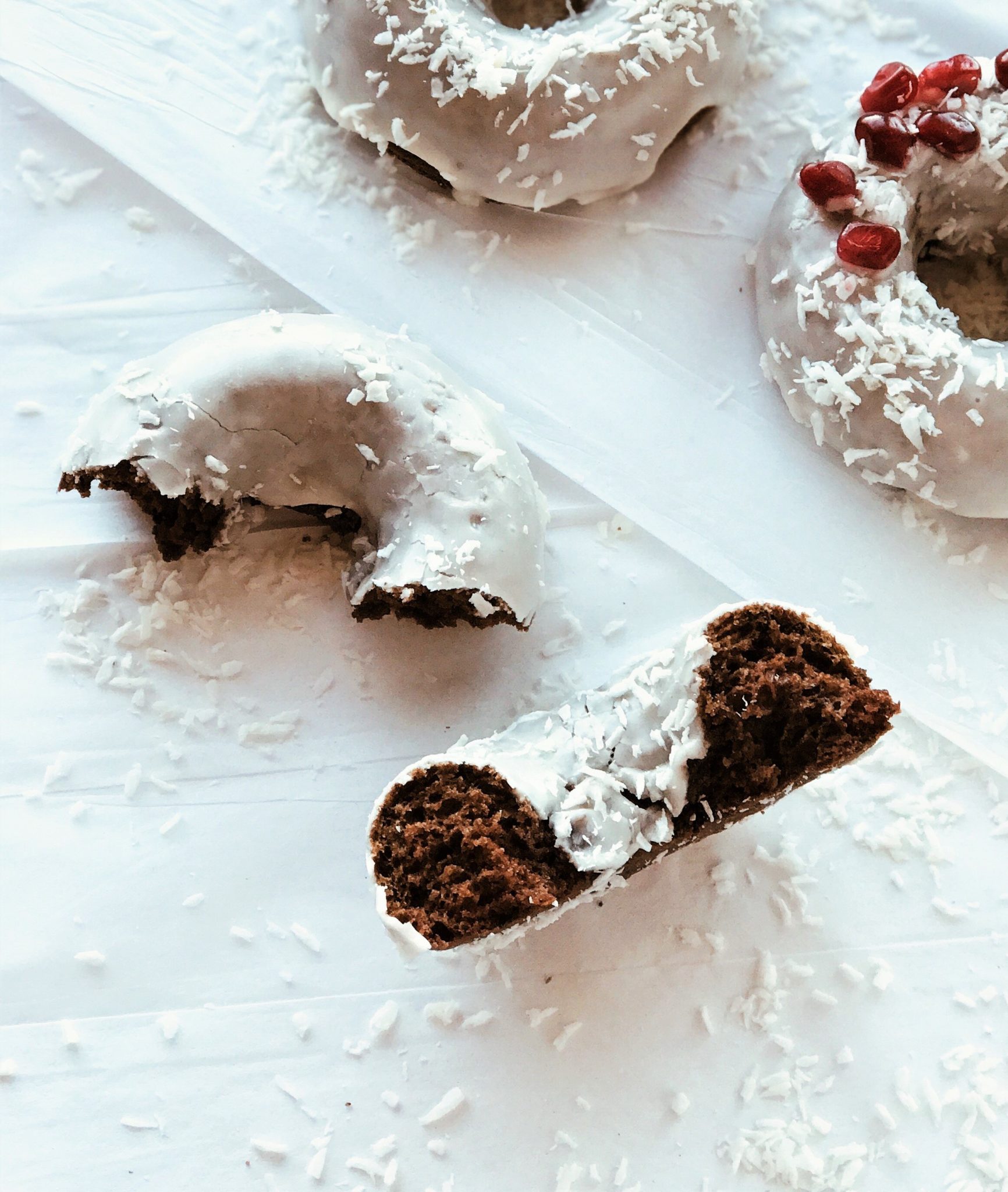 Ingredients
1 tablespoon flaxseed meal

3 tablespoons water

3/4 cup white spelt flour or 1 to 1 gluten free flour

1/4 cup extra fine almond flour

1/4 cup organic cacao powder

1 teaspoon baking powder

1/4 teaspoon baking soda

1/2 teaspoon ground cinnamon

1/8 teaspoon salt

1/2 cup vegan eggnog, at room temperature

1/4 cup pure maple syrup

2 tablespoons melted coconut oil

1 teaspoon vanilla extract

Peppermint Glaze- 2 Ways
Melted Chocolate Version:

1/3 cup non-dairy chocolate chips

1 - 2 tablespoons coconut oil

1-2 drops pure peppermint extract

Confectioner's Sugar Version:

1 1/2 cups organic vegan powdered sugar*

2 tablespoons almond milk eggnog

1-2 drops pure peppermint extract
Instructions
1
Stir flaxseed meal and water in a small bowl; cover and refrigerate for 45 minutes. Remove to counter and preheat oven to 350°F. Lightly coat a 6 donut pan with non-stick cooking spray; set aside.
2
In a medium bowl, whisk the flours, cacao powder, baking powder, baking soda, cinnamon, and salt together; set aside.
3
In a small bowl (I used the glass measuring cup with the eggnog in it), stir the eggnog, maple syrup, coconut oil, flax egg, and vanilla extract together. Pour into the flour mixture and stir just until combined.
4
Spoon the batter evenly between the donut wells. Smooth the tops and bake for 15 minutes, or until a toothpick inserted in one comes out clean. Remove pan to a wire rack, and allow donuts to cool in pan for 5 minutes. Enlarge the donut holes a little if they closed up during baking. I use a wooden chopstick that has a blunt tip. Tap them out onto a cooling rack to cool completely before frosting.
5
Peppermint Glaze- 2 Ways:

6
Melted Chocolate Version: Melt the chocolate and coconut oil in a microwave safe container for 30 seconds. Remove and stir and then heat for an additional 20 seconds. If it still needs to be melted, then do so in 10 second increments; stirring each time.
7
Confectioner's Sugar Version: *whisk the powdered sugar in a bowl before measuring, and then spoon into the measuring cups: level off top with the edge of a dinner knife. Mix in the eggnog and peppermint extract until smooth.
8
Dip the tops of the donuts in the glaze and allow to harden before serving. For a thicker coating, dip the donuts twice.