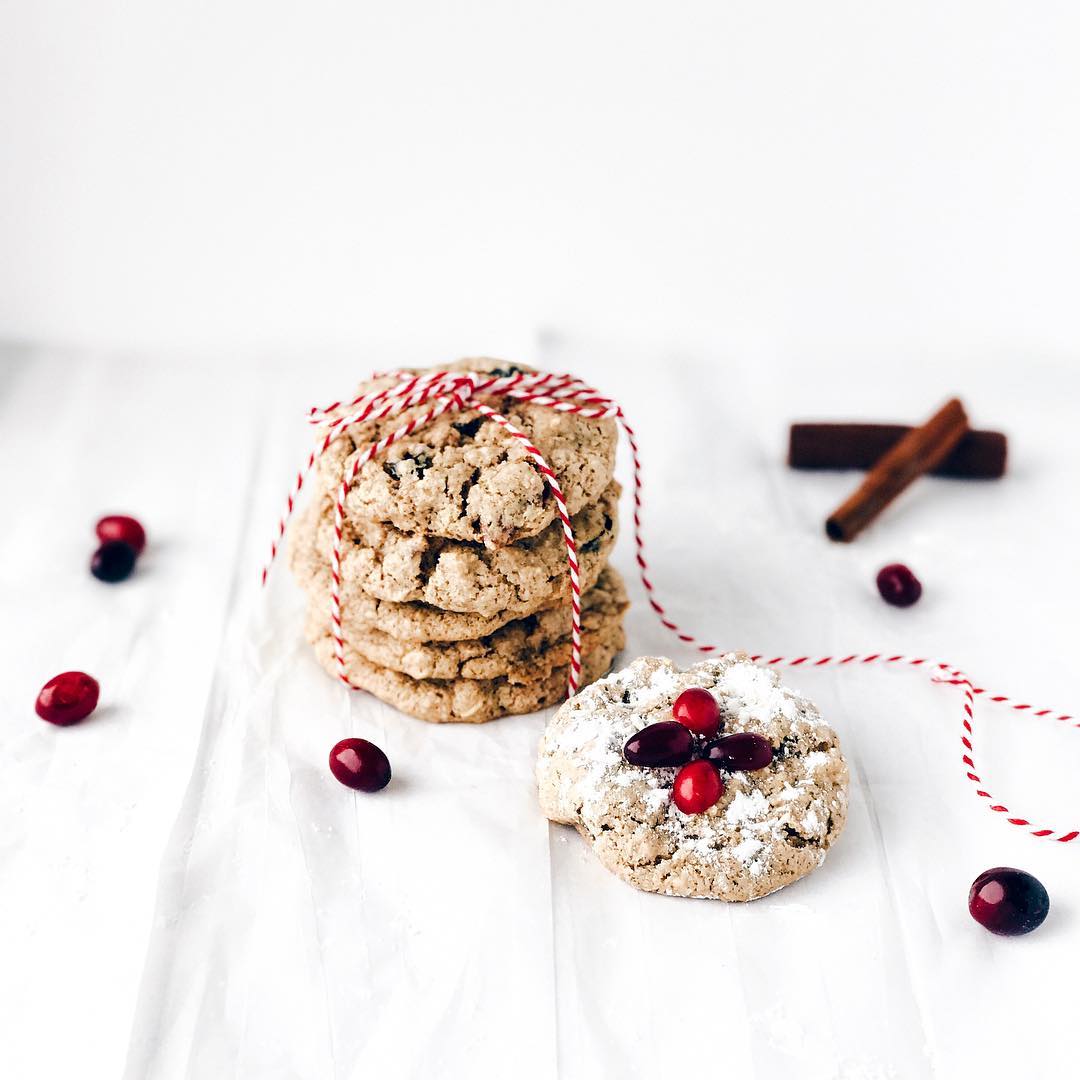 I made these cranberry pistachio cookies for our Christmas in New York City last year. They are slightly crisp on the outside, but very tender chewy inside. I love that combination so much! The cookies didn't last past a couple of days, so this year I'll double the recipe and make half with crystallized ginger and walnuts. I'm also rolling up a batch of gingerbread bliss balls, and I'll buy sugar cookies from a local bakery that makes really yummy vegan ones. Yah!!
When I was growing up my mom would make a HUGE variety of Christmas cookies. After being a mom myself, and knowing how much effort goes into it, I have no idea how she accomplished this every year. There were also 4 of us kids versus just the one I have. I did make a smaller variety when my own daughter was growing up, and it really was so much fun making cookies with her. Nowadays I make just a couple of different types, but we enjoy them… maybe too much. 😂
Cookie making as a vegan is different, but my baking enjoyment has actually expanded so much. It's fun veganizing old recipes, but I'm also creating new ones. This cookie dough was one of the first desserts I created. (You can read my nerdy experiments about it in this post .) I really love this recipe, because you can customize it however you like.
One thing to note… the dough will probably look too dry at first, and you may be tempted to add more liquid. Don't do it though, or the cookies will turn out oily. It honestly will come together, and this is what it will look like. I used the exact measurements in the recipe below, and you can see that the cookie dough forms perfectly. Raw cookie dough is also sublime, and I have made sweet bliss balls out of it.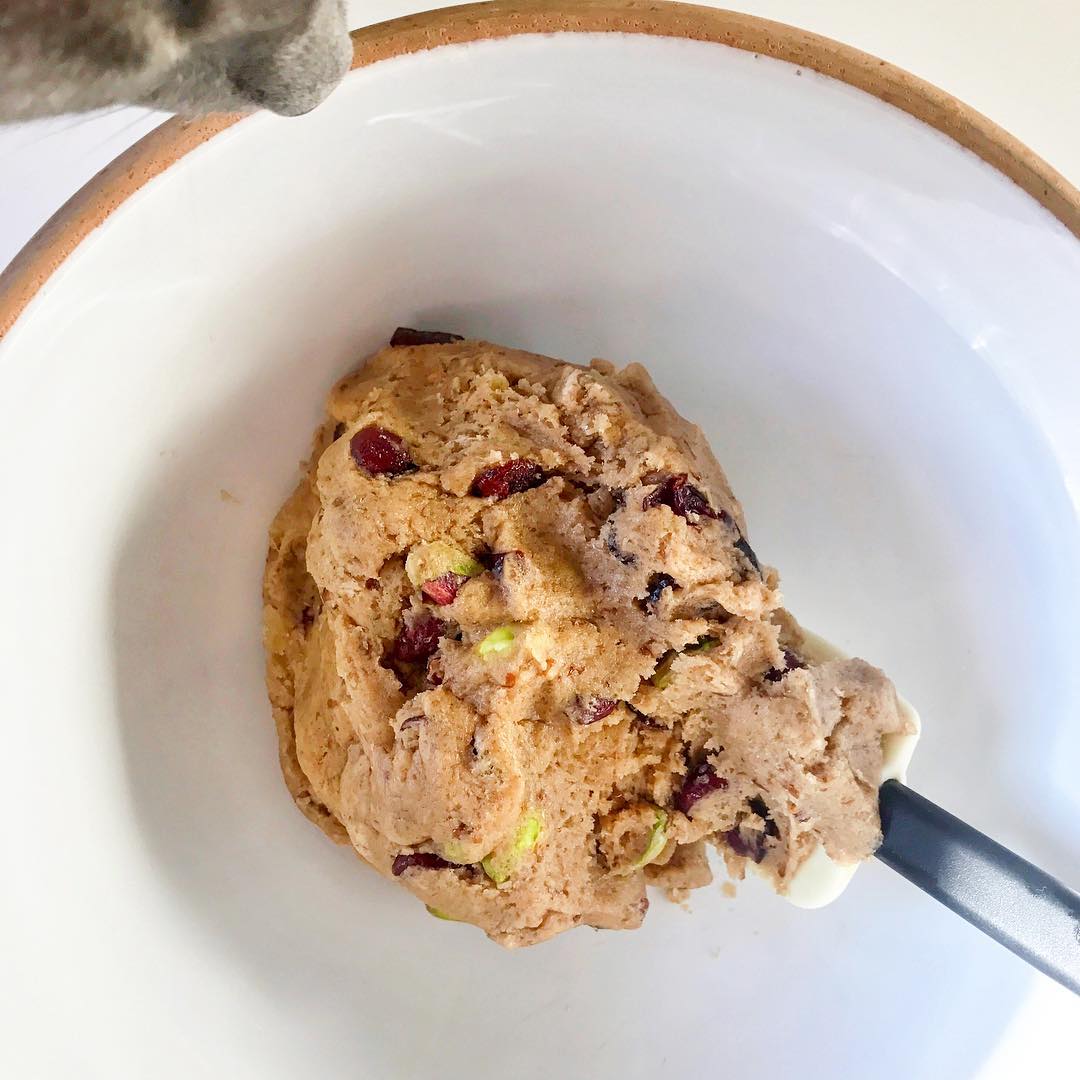 The photo above was from a previous post when I made these last year. My cat was helping out with the pictures like she always did. (She wasn't up on the counter though. This was placed on a board near the window, so I could get a decent shot on that rainy day.) And yes I still miss her very much, but it's easier to look at past scenes with her and smile now.
Ingredients
3 tablespoons water

1 tablespoon flaxseed meal

1 cup bread flour

1/2 cup all-purpose flour or white spelt flour

1/2 teaspoon baking soda

1/8 teaspoon baking powder

1/4 teaspoon fine sea salt

1/4 cup coconut oil, softened but not melted

1/4 cup non-dairy stick butter* at cool room temperature

1/3 cup + 2 tablespoons organic brown sugar

1/3 cup coconut sugar or cane sugar

1 teaspoon pure vanilla extract

2/3 to 3/4 cup dried cranberries

1/3 cup chopped pistachios
Instructions
1
To make the flax egg, stir flaxseed meal and water in a small bowl; cover and refrigerate for at least 1 hour. Stir once more and leave on the counter.
2
Preheat the oven to 350°F. Line 2 large baking sheets with parchment paper; set aside.
3
Stir up the flours a bit, and then spoon the flour into the measuring cups; level off the top with a knife. This will help ensure that you don't use too much flour, and it really does make a huge difference. Pour the measured flours into a medium bowl, along with the (pumpkin pie spice if using), baking soda, baking powder, and sea salt; whisk until combined and set aside.
4
In a medium mixing bowl, cream the oil, butter and sugars on medium speed until fluffy, 1 1/2 minutes up to 2 minutes. Stir in the flax egg and vanilla extract. Add the flour mixture and beat on low speed just until almost combined. It will look dry and crumbly, but it'll come together. This is when you add your preferred add-ins to the dough. You can stir it at this point, but I like to use my hand. If you've ever made yeast bread by hand, then it's like kneading. Just pick up the dough with one hand and press gently down, and keep turning and folding the dough over until the dough is mixed and the add the cranberries and pistachios until mixed in. Don't over stir or knead though, because it will make the cookies oily.
5
Scoop the dough by rounded 1 tablespoonfuls 1 1/2 to 2 inches apart onto the prepared baking sheets. Bake for 10 to 12 minutes, or until edges are lightly brown and tops look set. You can also make "monster" cookies by using 3 rounded tablespoonfuls for each cookie. You'll need to increase the baking time to 14-16 minutes. Remove pan to a cooling rack, and let cookies cool for 7-10 minutes on the pan before removing them to a wire rack to cool completely
6
Store in an airtight container for 3 to 4 days, or in the fridge for a week.
Notes
* I prefer the taste of Miyoko's KitchenEuropean Style Cultured VeganButter . It is pretty expensive, but the taste is absolutely amazing and worth the extra money. You can always use Earth Balance, but the taste will be different.