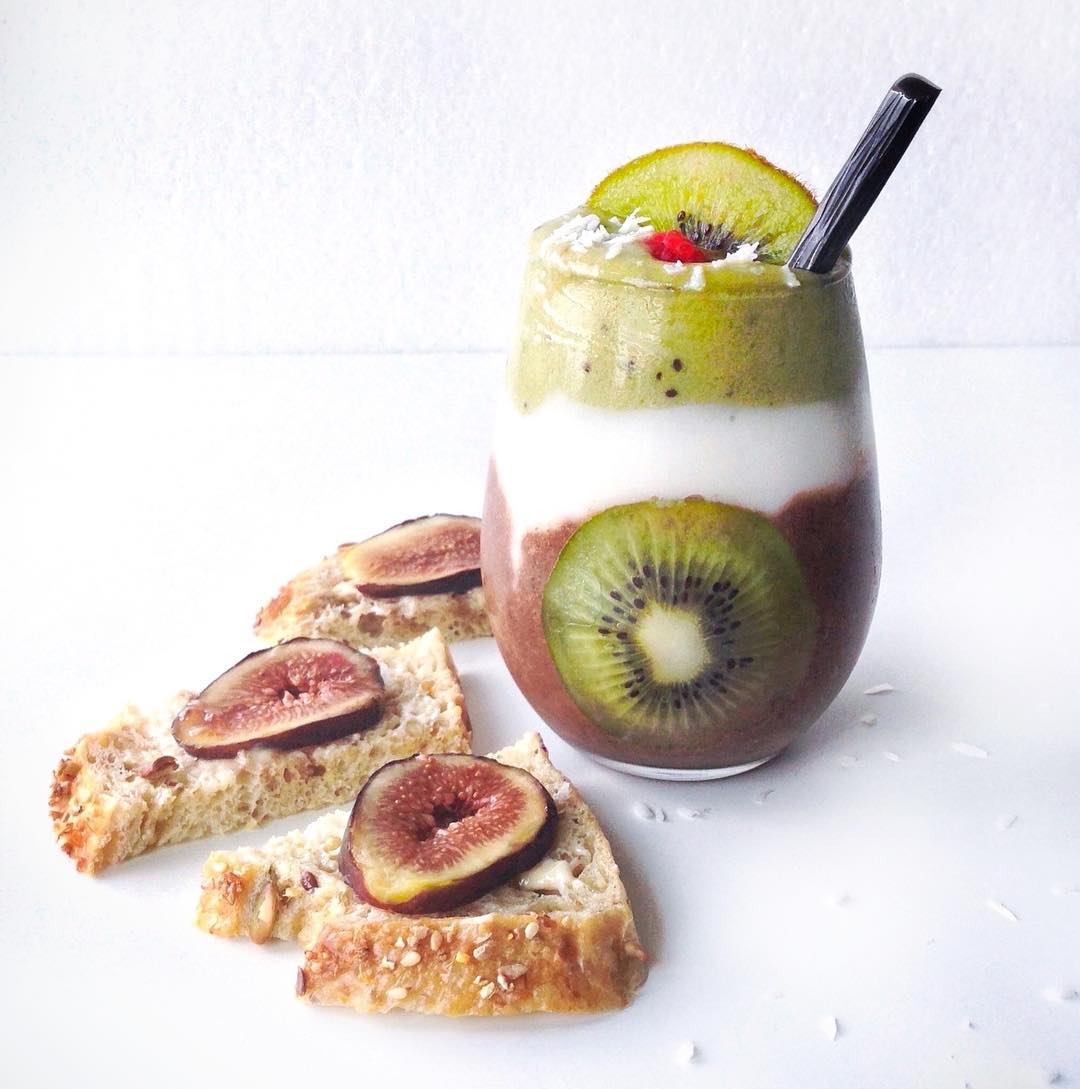 When I'm intensely focused on writing, or a new project, I have to force myself to take some much needed breaks. I'll actually forget to eat, and I don't even feel hunger, almost like I'm devouring words as food. I know how unhealthy this is, so I'm getting into the habit of making some simple meals ahead of time. One of those snack / light meals is chia pudding. I eat it with fruit as a slight sweetener, and add avocado toast or a light salad. They also make great on-the-go meals when you pack them into mason jars or little containers.
What I do is make up a big bowl of plain chia pudding and keep it in the fridge. I also store frozen sliced fruit in the freezer to make into nice cream and smoothies. That way I can make up a refreshing treat in about 20 minutes. This chocolate raspberry chia pudding with kiwi matcha nice cream is a perfect example of something I was able to put together quickly. I made the pudding and nice cream in less than 30 minutes the night before, and that included washing up. The next day I let the nice cream soften a bit and then just layered it with the pudding in glasses with some coconut yogurt and fresh fruit. It made a perfect sweet for after dinner. The flavors mingled together are decadent tasting, but this dessert is actually healthy- no refined sugars, gluten free, dairy free, and includes some simple but powerful super foods. Definitely a winning combination!
Ingredients
Chocolate Raspberry Chia Pudding

1 1/2 cups unsweetened plant based milk

1/4 cup of chia seeds

1/3 cup organic cocoa powder

2-3 tablespoons coconut yogurt

handful mashed fresh raspberries

sweetener to taste


Kiwi Matcha Smoothie / Nice Cream

3-4 ripe bananas

1-2 kiwis, skinned and chopped

matcha powder, to taste

sweetener to taste
Instructions
1
Chia Pudding: Whisk the milk, cacao, yogurt, chia, and raspberries in a bowl; taste and add sweetener. Cover and refrigerate for 1 hour, stir again, and refrigerate for 3 hours but preferable overnight.
2
Smoothie / Nice Cream: Slice the bananas. and place in a freezer safe bag. Freeze for a couple of hours to overnight. Once the bananas are frozen, let them sit on the counter at room temperature for about 10-15 minutes to thaw a bit. This makes it easier to churn the ice cream. I find that I don't have to continually scrape down the sides, and the mixture doesn't clump up and strain the machine. Blend the bananas, kiwi, and matcha powder in a food processor or blender until thick and creamy.
3
Assembly: You can either stir the pudding and nice cream together in a glass or bowl, or layer it like I did. Top with whatever fresh fruit and sprinkles you like.
Notes
This makes a thicker pudding, so the heavier fruit or layer doesn't sink. You can decrease the amount of chia seeds to 1/4 cup or less, or just increase the amount of liquids you add. You can also skip the coconut yogurt, but it does make a creamier texture.